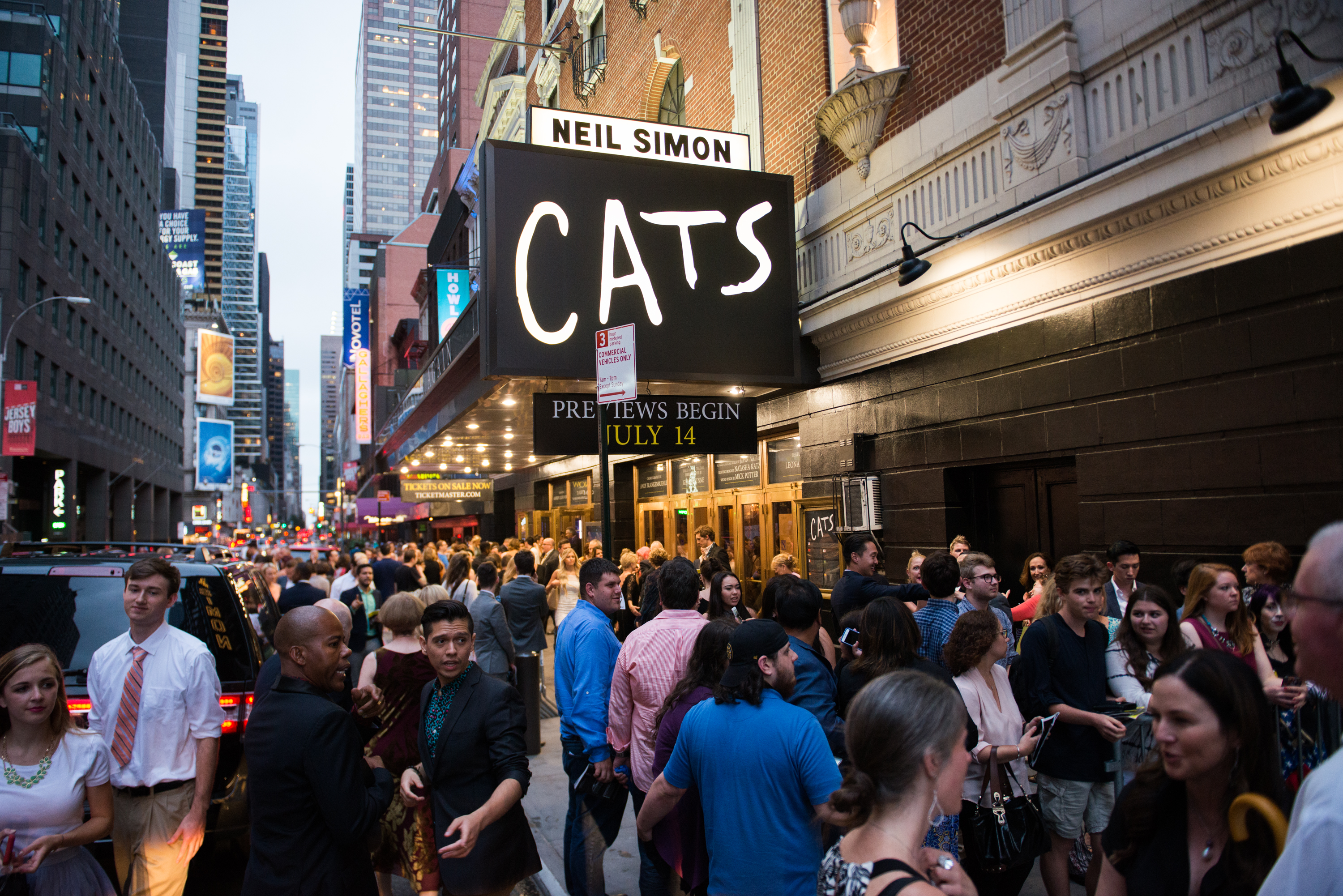 Producers of the Broadway musical Cats confirmed on Tuesday that the 2016 revival will close at the end of this year, rounding out 16 previews and 593 regular performances throughout its 17-month run. Cats will then launch a national tour starting January of 2018 in Rhode Island, reports Variety.  
The revival of Cats was no failure by Broadway standards, but its latests sales numbers show dwindling at the box office. The New York Times reports that the musical only brought in $759,699 last week, which Variety calls "a solid but unspectacular number for a large-scale musical." According to the Times, that number is also only 53 percent of the show's weekly potential.
Entertainment Weekly reports that Cats did not receive any Tony nominations and that this announcement "comes on the heels of several others on Broadway following the Tony Awards."
The Cats revival opened in July of 2016 with British star Leona Lewis starring in the role of Grizabella the Glamour Cat, who is best know for singing the musical's most well-known song "Memory."  Lewis left Cats, however, just over two months after making her Broadway debut.
While Lewis never cited a specific reason for her departure in early October of 2016, her performance was not well received by critics, most praising her singing voice but noting her apparent lack in acting skill. The Hollywood Reporter also reported that Lewis said she felt isolated in New York.
The Broadway hit, with music by Andrew Lloyd Weber and lyrics by T.S. Eliot, first opened in 1982 and ran on Broadway for 18 years, making the original production the fourth longest run of a Broadway show in history, according to Playbill.com.
It is difficult to make it as a Broadway revival, no matter how successful the show originally was. Times are changing and new original musicals often reflect the hot topics and interests of today's generation, such as Dear Evan Hansen—which won six Tonys this year, including Best Musical, Best Score, Best Actor in a Musical and three others—with a plot centering on a high school senior with a social anxiety disorder.
For revivals to sustain long-term success on Broadway, there are certain strategic trends they must follow. The popular revivals almost always showcase a high profile star. A recent example is the wildly popular revival Hello, Dolly!. On the poster for the show, Bette Midler's name sits right above the title, taking up just as much space, and written in the same font and color. And the screaming front-row fans who reach out their hands for the chance to touch Midler as she struts across stage as Dolly are there for the actress, not her character.
In 2014, Vanity Fair published a list of some of the most successful revivals in the last 25 years. For nearly every show listed, Vanity Fair mentions the headlining Hollywood stars—whether it be Chicago bringing in Brooke Shields and Jerry Springer or Cabaret bringing in Michelle Williams and Emma Stone.