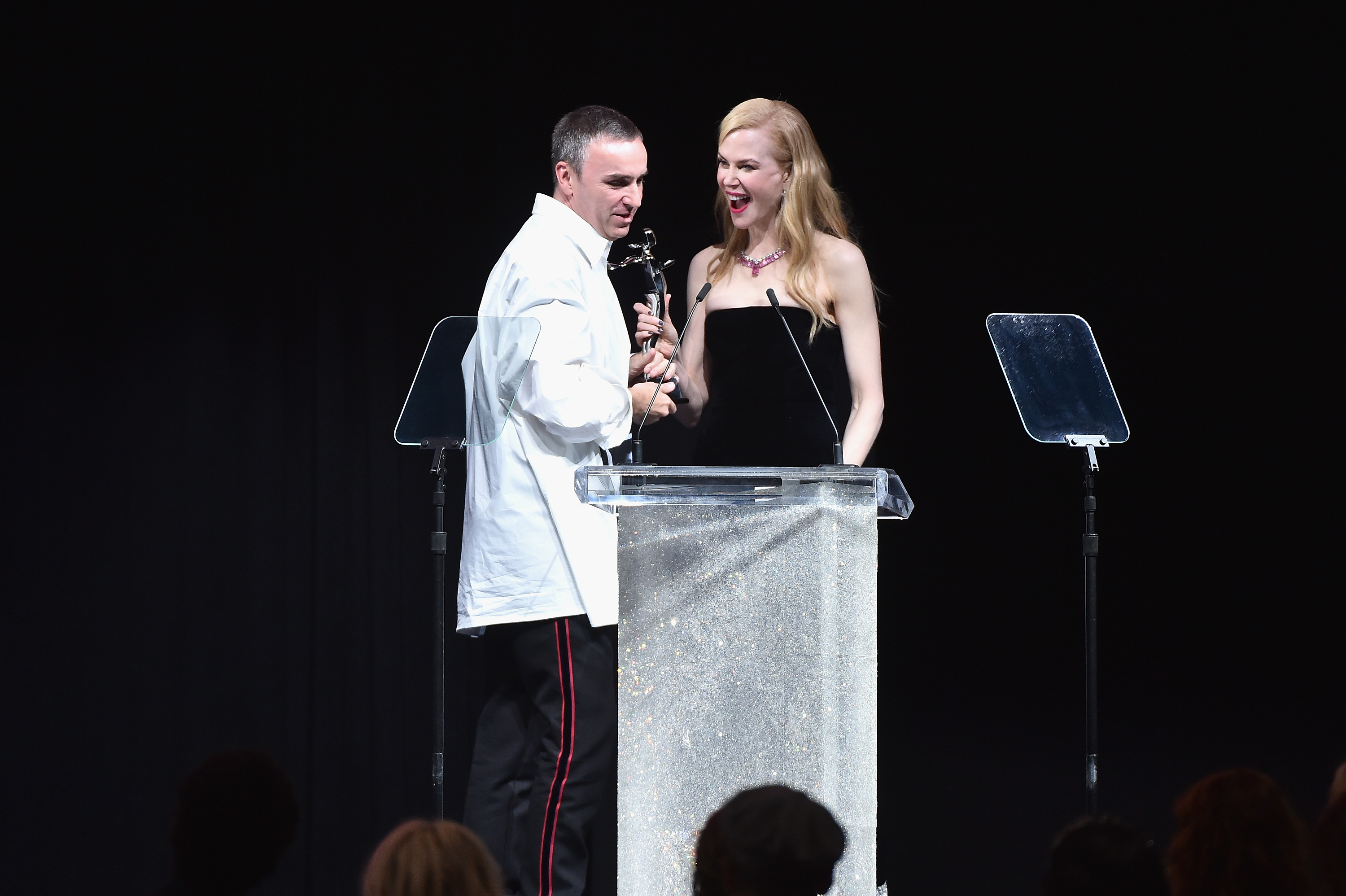 From the onset, the CFDA Awards looked as if they were going to be predictable. Host Seth Meyers' opening monologue brought up hot topics from the past few weeks: male rompers, that extremely pricey Chanel boomerang, Balenciaga's take on the Ikea bag and Donald Trump's hair. Early in the evening, he garnered a few whoops and laughs from the otherwise steely audience in the Hammerstein Ballroom.
Then, the very first award was doled out to none other than Raf Simons, for Menswear Designer of the Year for his work at Calvin Klein. He was followed by Coach's Stuart Vevers, who collected the Accessories Designer of the Year accolade. For a while, the evening's event really felt like a boy's club, celebrating the corporate, big design houses led by men. That even applied to Kenneth Cole, who was given the Swarovski Award for Positive Change for his AIDs work; his award was presented by none other than Jon Bon Jovi.
As a female member of the fashion industry, perhaps I'm biased, but I so wanted this evening to celebrate women, champion all of the stylish milestones they've hit and acknowledge the glass ceilings they have shattered. I've also been told that I'm a rather impatient person, because eventually, the evening took a turn and the ballroom was filled with the chic take on feminism that only this industry can provide.
Because truly, where else would you ever encounter Anna Wintour actually expressing emotion? For once, the Vogue editor in chief cracked her porcelain exterior and was near tears while honoring the late Franca Sozzani, her dear friend and former EIC at Vogue Italia. Though the editor's signature bob might have guarded most of her face during the six minute speech, Wintour offered a glimpse at her actual personality, with just a touch of self deprecation.
"I have occasionally, from time to time been called a demanding boss," she admitted. "But the truth is, I have many brilliant generals on whom I rely on to help set Vogue's standards. I trust their opinion and vision more than my own. Franca, as far as I could tell, was a one woman show. She trusted her artists implicitly, visionary artists like Steven Meisel and Peter Lindbergh and Bruce Weber. But the risks that she took, the vision that guided each issue was hers alone. Trust, and be yourself, that was a lesson Franca taught me and the courage we celebrate today." By the time Wintour said that last line, her voice started to crack.
She also mentioned how honored Sozzani would have been to receive an award on the same night as three other incredible women, who have championed so hard for women's rights: Gloria Steinem, Cecile Richards and Janelle Monaé.
At the end of the evening, this magnificent trio arrived onstage together and spoke one by one. Steinem started first and didn't miss the opportunity to give a shout out to her sparkly Michael Kors flares.
"I wondered what I could possibly say to you, because you're among the most creative and smart people on earth; you're definitely woke," she said to the room, to much applause. She went on, recognizing that there is currently more activism taking place in America than she has seen in her lifetime. But still, she encouraged our country's women to keep fighting for their rights and to recognize that it is a time of danger, comparing women in America to those stuck in abusive relationships.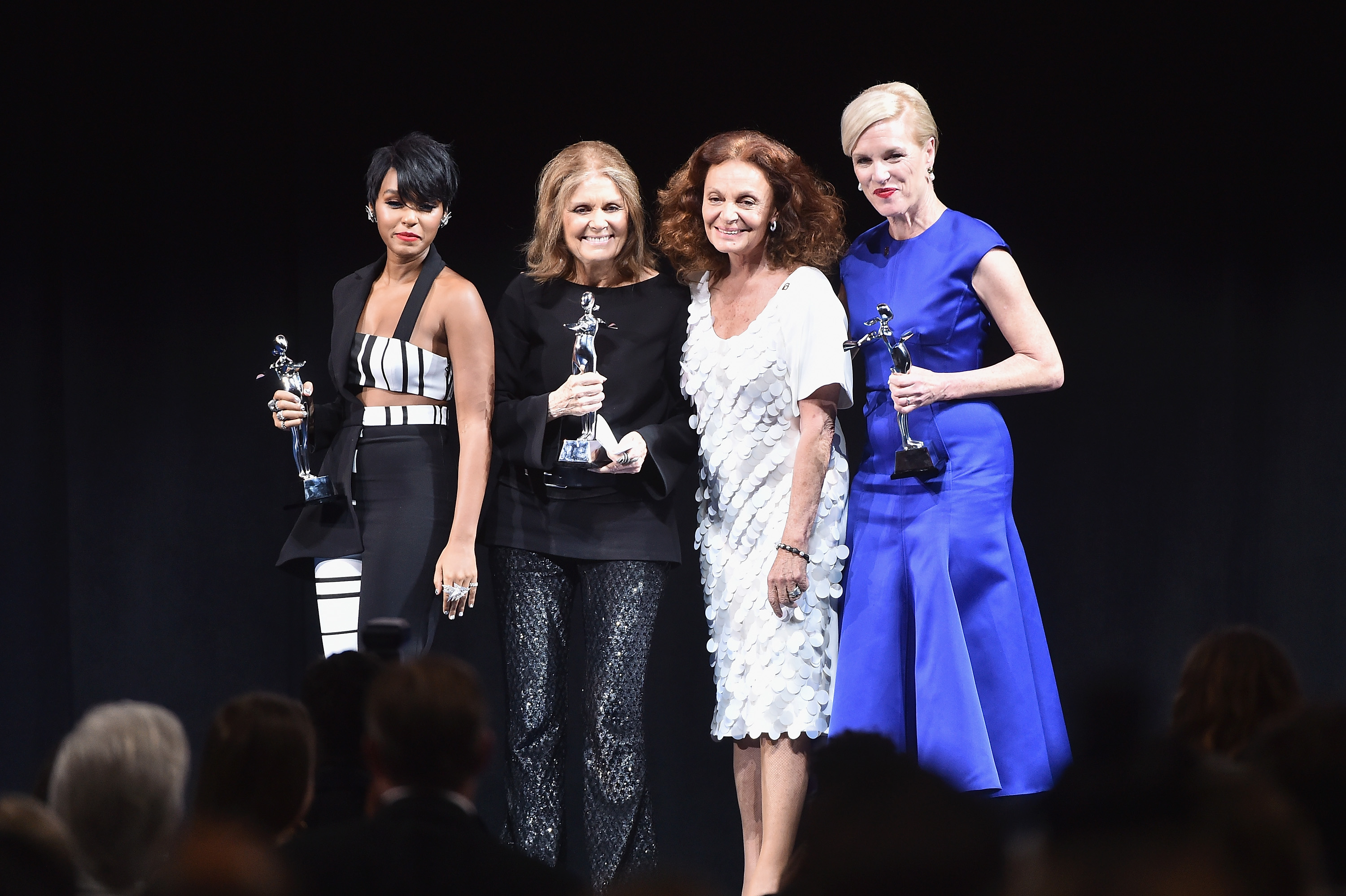 "Like a woman leaving a violent household who is most likely to be injured or killed because she is escaping trouble, we too are escaping trouble, so we have to be careful and look out for each other. Just like we would never tell a woman to turn back to violence, we won't turn back, ever," she urged the crowd.
Up next was Richards, who made the point that "healthcare isn't a privilege; it's a fundamental human right." The president of Planned Parenthood kept her moment short and sweet, but still empowering.
"The fashion industry has long celebrated bodily autonomy and free expression for the right of every person to live life on their own terms. At this moment, those rules are being threatened like never before, but you are standing up to fight back," she said. She also singled out designer Tracy Reese, who organized the Fashion Stands With Planned Parenthood campaign during the past Fashion Week and rallied the fashion troops behind the cause with that noticeable pink pin.
Monaé closed out the evening by reminiscing on the Women's March, back in January. It was there that she realized our mission as human beings: to take care of one another.
"Women's rights are human rights. LGBTQ rights are human rights. Poor folks' rights are human rights. Immigrant rights are human rights. Minority rights are human rights. So as human beings, let's never forget that none of us are free until all of us are free," she proudly declared.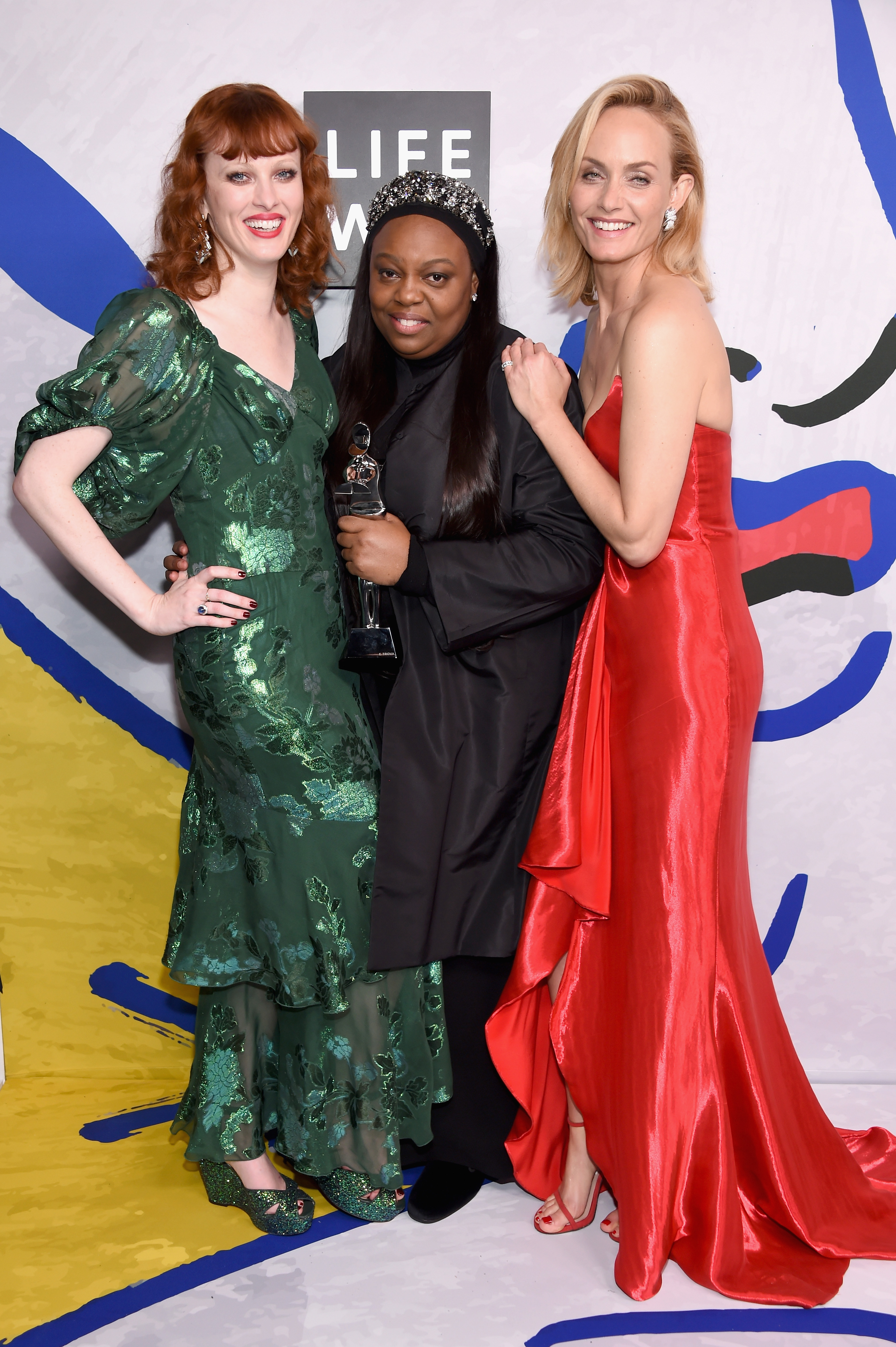 Earlier in the evening, Pat McGrath's doting fan club paid homage to her matriarchal stance in the beauty space, as she was given the Founders Award.
"Pat is hilarious. Anyone who knows her, knows that. She finds the sense of humor in any situation," gushed Karen Elson on stage, before handing off the CFDA statuette. "She just has this infinite capacity for making people laugh and feel loved. There's a reason her nickname is Mother. And we all love Mother so much."
In fact, many of the males who were honored during the evening made sure to acknowledge the strong, powerful women who helped guide their careers. Raf Simons was speechless while collecting his second award for Womenswear Designer, but it was mostly because he was standing on stage next to Nicole Kidman. When he eventually regained his ability to speak, he noted that the Australian actress had been an inspiration to him for years. Balenciaga's Demna Gvasalia, winner of the International Award, thanked his late grandma for inspiring his creative spirit and the Geoffrey Beene Lifetime Achievement Award recipient, Rick Owens paid due diligence to his endlessly inspirational partner, Michele Lamy.
Though it's undeniable that males still dominate the higher echelon of the fashion system, at the very least, women are being recognized for their behind-the-scenes support.