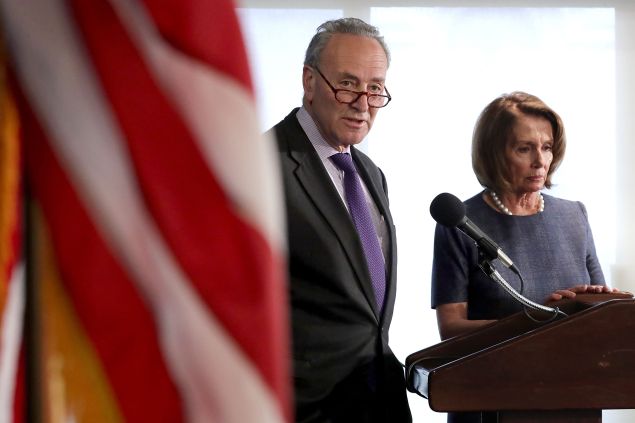 Senate Minority Leader Charles Schumer tore into President Donald Trump's decision today to withdraw the United States from the Paris Agreement on climate change—and even posted a mocking newspaper front page on social media with the headline "Trump to Earth: Drop Dead."
The top Democrat in Washington released a excoriating statement shortly after the president revealed in the Rose Garden that he would initiate the three-year withdrawal process from the accord, a deal former President Barack Obama helped negotiate and signed last year. The roughly 200 nations which joined the pact, part of the larger United Nations Framework Convention on Climate Change, had agreed to cap greenhouse gas emissions and contain global temperature changes.
Trump and other Republicans argue that the regulations would hurt the American economy and hobble job growth—but Schumer asserted the president is "endangering the future of the planet" and the country's international standing.
"President Trump's decision to withdraw from the Paris climate agreement is a devastating failure of historic proportions. Future generations will look back on President Trump's decision as one of the worst policy moves made in the 21st century," the senior senator from New York said in the statement, citing the threat of rising sea levels to coastal cities. "Pulling out of the Paris agreement doesn't put America first, it puts America last in recognizing science, in being a world leader and protecting our own shore line, our economy and our planet."
Schumer subsequently tweeted a fictional"World News" front page, recalling the famous 1975 Daily News cover after then-President Gerald Ford refused New York City federal resources to avoid bankruptcy. The graphic also noted that several business leaders had sought to discourage Trump from removing the U.S. from the accord.