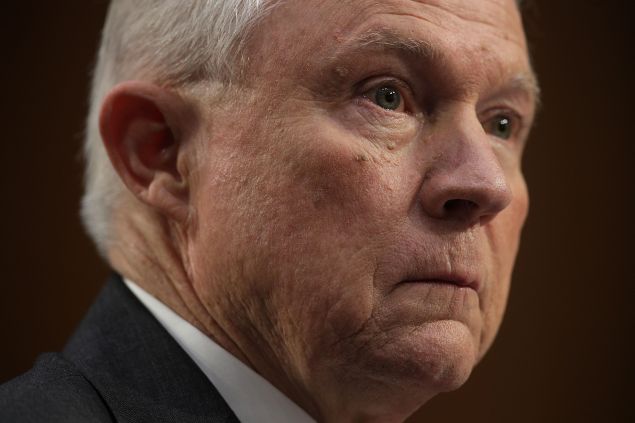 Senate Majority Leader Charles Schumer and Sen. Kirsten Gillibrand ripped into U.S. Attorney General Jeff Sessions on social media yesterday over his refusal to answer questions from the Senate Intelligence Committee about his conversations with President Donald Trump, particularly as relating to the firing of former Federal Bureau of Investigation Director James Comey.
The former senator from Alabama repeatedly invoked a vague and unsubstantiated U.S. Department of Justice "policy" and "principle" which he claimed privileged his discussions with the commander-in-chief from the committee members' inquiries. Democrats in particular sought details and clarity about the administration's decision to terminate Comey, who alleged last week that the president had confronted him prior to his firing with demands of "loyalty" and requests that he drop an investigation into former national security advisor Gen. Michael Flynn.
Flynn resigned in disgrace in February amid revelations he had lied to Vice President Mike Pence about his pre-inauguration conversations with Russian Ambassador Sergey Kislyak.
"Unfortunately, the attorney general repeatedly refused to answer pertinent questions from members of the Senate Intelligence Committee without offering a scintilla of a legal justification for doing so," Schumer wrote on Facebook. "This is part of a repeated and troubling pattern from Trump administration officials who clam up and refuse to answer questions about the Russia investigation."
Sessions had to recuse himself from the ongoing investigation into ties and possible collusion between Kremlin agents and the Trump campaign after news emerged that he had met twice with Kislyak during the campaign, despite having claimed during his confirmation hearing that he had had no contact with any Russian official prior to the election. Comey hinted in his testimony to the Senate Intelligence Committee last Thursday that there was an additional, undisclosed reason that the country's top law enforcement official had to bow out of the probe—and several outlets have since reported that the FBI intercepted Russian communications indicating that Sessions had held a third secret conference with Kislyak.
The attorney general's recusal did not, however, stop him from generating a recommendation that Trump fire Comey for his handling of the probe in Hillary Clinton's use of a private email server during her tenure as U.S. Secretary of State. The FBI operates under the jurisdiction of the Justice Department, and Sessions confirmed that Comey had approached him with concerns about Trump's repeated contriving of private meetings with him—meetings the then-FBI director deemed inappropriate.
But Sessions refused to answer questions about his conversations with Trump regarding either relieving Comey or about the Russia probe in general—a decision enraging to Gillibrand, who slammed the attorney general on Twitter.