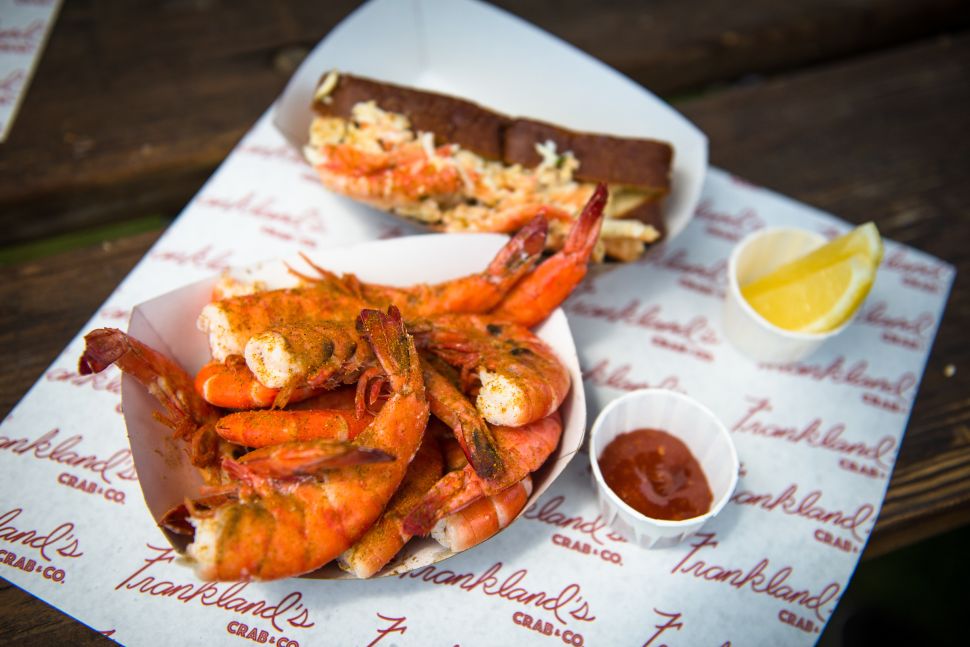 "It sounds crazy and impossible," L.A. pastry chef Margarita Kallas-Lee says. "But we like to take the impossible and make it possible."
Lee and her husband/business partner, Phillip Frankland Lee, were at the Arroyo Seco Weekend festival on Saturday and Sunday, repping their new Frankland's Crab & Co. seafood shack that opened a month ago in Encino. Frankland's shares a kitchen with Woodley Proper, the restaurant/cocktail bar the Lees opened in April. Meanwhile, the Lees are still running their Scratch Bar tasting-menu restaurant next door, and also working to open restaurants including another Frankland's and another Scratch Bar at Santa Barbara's Montecito Inn.
And, surprise: The Lees are opening yet another restaurant later this week. They'll announce the name very soon, but the new spot will be a speakeasy-style space inside Woodley Proper that will have a different food menu.
"We're at the festival today and tomorrow," Phillip says when I see him at Arroyo Seco. "Monday we have final R&D for the new restaurant. Tuesday is photo shoots. Wednesday is, like, one practice run. Thursday is media. Friday we open to the public. I mean, fuck it."
And on top of that, Margarita just announced she will be opening her first ice cream shop, Margarita's Homemade Ice Cream, at the Montecito Inn this fall.
"Everything will be composed," she says.
What this means is that every scoop of ice cream will be paired with its own flavored cone and sprinkles, all of which are made on-site. For example, Woodley Proper has triple-creme ice cream with lavender sprinkles on a sourdough cone.
At Arroyo Seco, Frankland's served peel-and-eat shrimp and crab rolls on brioche buns Margarita baked herself.
"She churned the butter by hand the day before to make the brioche," Phillip says proudly.
So this weekend of music and food, where chef Roy Choi might have been the most recognizable celebrity after headliner Tom Petty, was a reminder that festivals are where some of the hardest-working chefs and restaurant operators go into #beastmode so you can go into #feastmode.
Project manager Brandon Laterveer and chef Ashley Abodeely, who run The Nomad Truck and are working on the opening of downtown's NoMad hotel later this year, were there with their fancy hot dogs, chicken burgers and milk-and-honey soft-serve. Choi, who was repping his Kogi, Chego and Locol booths at the festival, popped by the truck for a quick bite.
Then Choi, who's been on a whirlwind festival tour that's also included Coachella (where the Lees and The NoMad Truck also served food), Aaron Franklin's Hot Luck in Austin, BottleRock Napa Valley and the Code Conference, reminded me that the way I first got to know him five years ago was at food festivals in South Beach and Pebble Beach.
Since then, Choi pointed out, festivals have only gotten bigger, image-based social media like Instagram has really connected the food world and drawn attention to it, and many chefs have reaped the benefits.
These are many other reasons, of course, that chefs like Choi have become more famous in the last five years. (Choi has appeared as a "Top Chef" judge; Phillip Frankland Lee was a memorable "Top Chef" villain.) But the overall result is that Choi, who recently appeared on "Gilmore Girls" and Katy Perry's "Bon Appetit" video, is obviously a huge star now. While weaving through the crowd to watch the Alabama Shakes, Choi was repeatedly approached by fans, some who called him by his nickname, "Papi."
Choi makes a good point about social media. Platforms like Instagram make fans feel like they have a glimpse into the lives of their favorite celebrities, including chefs. It makes fans more prone to saying hello. And Instagram is a great way to keep up on whatever scene you care about.
Five years ago, Choi and I spent a few hours together at his impromptu birthday party at Miami's Broken Shaker bar, which was still a pop-up at the time. I wrote a piece about the fun night when star chefs from all over the country made appearances: "Broken Social Scene" was a perfect newspaper headline for that story. After all, the band Broken Social Scene is a creative collective, and hanging around with a bunch of chefs after-hours offers a similar vibe. 
I bring all of this up because everything collides on the festival circuit. You buy a ticket, and music and food and technology are all part of the package. So I saw Broken Social Scene, one of my favorite live bands, slay at Arroyo Seco on Saturday. Then I found out that Elad Zvi, who is about to open an outpost of Broken Shaker at downtown's new Freehand L.A. hotel, was hanging out at Arroyo Seco. I didn't run into Zvi, who just opened his first L.A. restaurant, The Exchange, and also the Rudolph's Bar & Tea lobby lounge at Freehand L.A., but I saw his Instagram post.