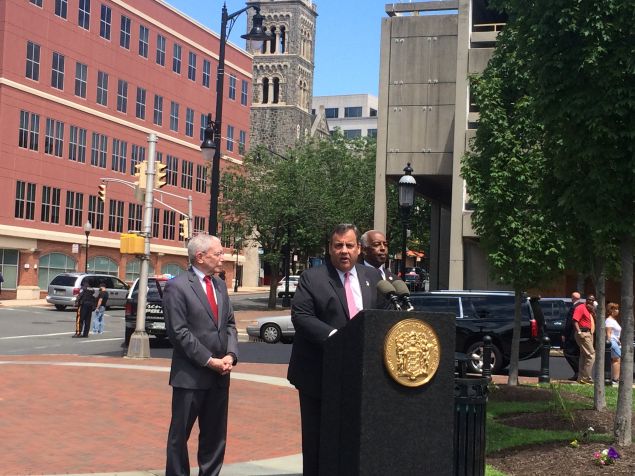 Gov. Chris Christie dismissed critics of his plan to restructure the state's largest health insurer, Horizon Blue Cross Blue Shield, telling reporters on Tuesday that some of the interest groups protesting the move "are bought and paid for."
New Jersey's largest business groups and Steve Forbes, the media executive and former Republican presidential candidate, among many others, have called plans to alter Horizon's board and cut down its reserves an example of government overreach into a private company. Forbes compared Christie to Venezuelan dictator Hugo Chavez on Tuesday.
But Christie said all those attacks were off-base and argued that Horizon was not a private company. Instead, he described it as something of an arm of the government, the only not-for-profit insurance company in New Jersey, created by the state 80 years ago to serve as an insurer of last resort.
"They are the only nonprofit insurer in the state, the only one with a charitable mission, the only one that has that type of charter that's given to them by the state of New Jersey," Christie said at an unrelated news conference in Trenton.
"This is not something that we would have the ability to do or the right to do with other businesses, but this business … was given special nonprofit status and special advantages that other insurers in this state don't have, let alone other businesses."
Horizon, which had revenue of $12 billion last year and net income of $85 million, is exempt from New Jersey's sales tax. But it paid more than $200 million to the state in other taxes last year. It has not been designated as the state's insurer of last resort since 1992 and is run by an executive management team appointed by a board of directors.
As a not-for-profit enterprise, any money it makes is stored up in reserves, although Christie and some Democrats have complained that the company could spend down some of that money on public health initiatives instead of sitting on it and paying its top executives millions of dollars in compensation.
Raiding Horizon's contingency fund would be expedient for the state government, which is perennially in a budget crunch because of rising costs and tight tax revenues.
The state Senate Budget and Appropriations Committee voted Monday to approve a bill by Sen. Joe Vitale (D-Middlesex) that would make Horizon an insurer of last resort once again and force the company to spend on subscribers or various public health initiatives each year that the state found it had excess money in its $2.4 billion reserve fund.
It also includes a mechanism for the state to raid the company's reserves if Horizon and the state banking and insurance commissioner fail to agree on surplus questions. The bill is not exactly what Christie proposed, but it's his best shot at overhauling the company along the lines of what he wanted.
"I think that it's good to have this conversation," Christie said Tuesday. "I've been trying to initiate this conversation for months and I'm glad we're having it."
The governor declined to endorse Vitale's bill outright, saying he would withhold comments until and if it landed on his desk. Vitale's plan faces long odds in the state Assembly. Speaker Vincent Prieto (D-Hudson) has said he won't consider any bill that singles out Horizon this week, as Senate Democrats want.
Democrats say that Christie has offered to sign off on their $34.7 billion budget plan for the coming fiscal year, which includes a surge in education funding, if they deliver a Horizon bill and a separate plan to fold the state lottery into the pension system. The budget and the lottery plan passed Assembly and Senate committees on Monday, but the governor kept his cards close to the vest when asked whether he was satisfied.
The state constitution gives Christie a range of powerful veto tools he could use before signing the budget into law, including a line-item veto with which he could slice off roughly $320 million Democrats added for schools and other programs.
"We'll have to see when the budget comes to me what else comes to me, and we'll consider all of this holistically as we always do," he said. "But I always reserve my right to exercise my constitutional authorities as I see fit regarding the budget."
Christie was less circumspect when he was asked about criticism from the state Chamber of Commerce and other groups and advocates who have blasted the plan as risky rush job being fast-tracked through the Legislature in the final week of the fiscal year.
"There are times that interest groups in this city are bought and paid for on a number of different levels, and I've seen that any number of times with the Chamber of Commerce," Christie said. "Go look at the Horizon foundation, and see how many people who are actually opposing this legislation got money from the Horizon foundation."
He added that the Chamber and the New Jersey Business and Industry Association, which also opposes the Horizon plan, have little influence in Trenton.
Those attacks were somewhat ironic, since the two business groups routinely have had Christie's back. They have endorsed all his budgets, his plan to replenish the Transportation Trust Fund last year by raising the gas tax, his move to repeal the estate tax, and his repeated vetoes of minimum wage legislation and higher taxes. When the business groups are in favor of something Christie does, it's common for the governor's office to blast out press releases with their statements.
A Horizon spokesman, Kevin McArdle, said that although the company is not allowed to turn a profit, it paid more than $500 million in federal, state and local taxes last year, "which is higher than our for-profit competition."
"Nearly every consumer, business, and labor organization in the State has opposed the governor and Senate's giveaway to special interests," he said. "Horizon stood up for our policyholders when the governor first proposed his $300 million reserve raid and we'll continue to oppose his radical plan that increases premiums and undermines the stability of the insurance that 3.8 million New Jerseyans rely on for health care."