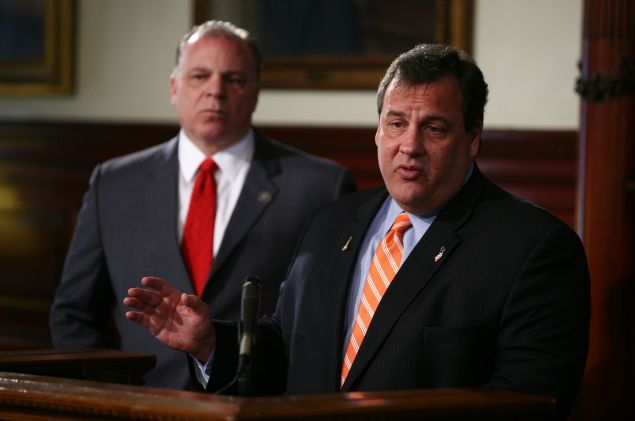 Gov. Chris Christie's plans to raid the reserves of Horizon Blue Cross Blue Shield and commit the New Jersey lottery to the public pension system were brought up Tuesday during a round of budget negotiations with the Democratic leaders of the Legislature, Assembly Speaker Vincent Prieto said Wednesday.
Christie, Prieto and Senate President Steve Sweeney met in the governor's office Tuesday to discuss the budget but didn't come away with a deal. The state has until July 1 to enact a spending plan for fiscal 2018. Christie has proposed a $35 billion budget, but Democrats want to add $300 million for various programs, including $125 million in increased funding for education aid and preschools.
Raiding Horizon's $2.4 billion emergency reserve fund is a top priority for the governor, who wants to use around $300 million of that money every year to fund a new government program to combat addiction and the heroin-death epidemic.
But Christie's strategy of singling out one not-for-profit private health insurer — the state's largest, with 3.8 million policyholders — for fiery criticism all year, and his surreptitious move to raid its emergency fund for disasters, has been called anti-capitalistic and misguided by a wide range of critics.
Christie is so committed to the plan, however, that he is making one last stand before his power begins to fade away after he signs his last state budget.
At a news conference Wednesday afternoon, Christie announced the Department of Human Services this week fined Horizon $15.5 million for lapses in processing Medicaid claims. He did not deny he made the Horizon bill and lottery proposal a condition of agreeing to the Democrats' school funding plan and state budget.
"I don't talk about the negotiations that I have with the Senate president and the speaker, and it has been the practice of the Senate president and the speaker over time not to talk about negotiations with me, so I'm certainly not going to engage in that," Christie said. "If we have an agreement to announce or a disagreement to announce, I'll be happy to do that at that time."
The Blue Cross Blue Shield Association requires Horizon to keep reserves of at least 550 percent of what's needed to pay all policyholder claims. Christie wants any funds above that level to be sent to the addiction fund, and the raid would be of roughly $300 million per year at Horizon's current reserve levels.
But Prieto has been critical of the Horizon raid and told reporters Wednesday that he had made his position clear this year.
In May, the speaker said the Horizon cash-grab would not get a vote in the Assembly because it was of serious concern to the entire Democratic caucus. He's also thrown cold water on Christie's proposal to convert the New Jersey lottery into an asset of the cash-strapped pension system.
"I will tell you those are things everybody knows the governor wants, and everybody knows where I stand on both of those issues," Prieto said Wednesday.
The Assembly Democrats were in an emergency caucus meeting Wednesday to discuss Christie's ultimatum. And Prieto's brief comments did not augur a good reception for Christie's new demands.
The Horizon measure was discussed at length during the caucus meeting and there's a "wide variance of opinion on the issue," said Assembly Budget Committee Chairman Gary Schaer (D-Passaic).
On the other hand, despite some concerns about the lottery proposal, Schaer said there was support for the bill, which was introduced last week in the state Senate.
"A belief overall that it would not be harmful and conceivably be helpful, so I think the general sympathies were positive towards the bill," he said.
Horizon supporters were seen in the state house on Wednesday handing out literature warning that such a raid would threaten its financial security and put policy holders at risk of premium rate hikes.
Horizon CEO Robert Marino told NJBIZ last month that consumers could expect to see a premium increase of "$600 for an individual policy and $1,700 for a family of four" if the governor signed the plan into law.
Voices as disparate as the conservative Wall Street Journal editorial page and the liberal think tank New Jersey Policy Perspective have called the Horizon raid bad policy. S&P Global Ratings said it might downgrade Horizon's credit rating if the plan gets enacted.
At the same time, Christie's move puts Prieto and Sweeney between a rock and a hard place with days left to wrap up the budget — Christie's final one in office.
The Senate president has insisted that he will not pass a budget without an agreement on school funding that adds some state aid for schools and redistributes money from overfunded to underfunded districts, as defined by law.
Sweeney and Prieto have proposed a plan to provide $100 million in additional school aid than what Christie has proposed and an extra $25 million for preschool education. The Prieto-Sweeney agreement would also redistribute $46 million in so-called adjustment aid, redirecting some money from districts considered to be overfunded under the School Funding Reform Act of 2008 and giving it to underfunded districts.
No lawmaker from either party has endorsed Christie's proposal publicly, although some Democratic senators privately have been more favorably disposed than Prieto. The Democratic and Republican nominees for governor, Phil Murphy and Lt. Gov. Kim Guadagno, both oppose the plan.
The Democratic-controlled Senate also has given a warm reception to Christie's plan to take the $1 billion-a-year lottery and fold it into the cash-strapped pension system for public workers. State Sen. Paul Sarlo (D-Bergen), the chairman of the Senate budget committee, is the sponsor of Christie's lottery plan.
But not all senators like Christie's plans. State Sen. Richard Codey (D-Essex) said Christie was lumping together three separate issues in a way that would hurt children and health care consumers.
"Governor Christie's ultimatum tying the funding for our children's education to him getting his way in grabbing $300 million from our state's largest health insurer at a time of extreme uncertainty in the health care market is a shot at our kids and a shot at all of our healthcare protections," Codey said in a statement Wednesday.
"If this wasn't enough, the governor also wants to use this moment to ram through a funding scheme with the state lottery that could jeopardize the funding in this state for higher education financial assistance, state psychiatric hospitals, and assisting the developmentally disabled, among others."
Update (3:06 p.m.): This story was updated to include comments from Christie at a news conference and Schaer after an Assembly Democrat caucus meeting.