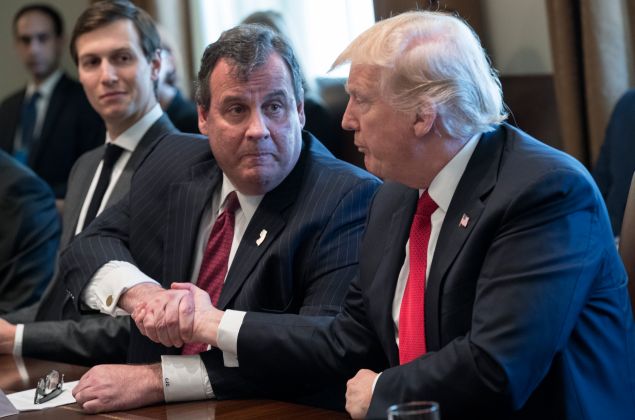 Gov. Chris Christie said special prosecutors are "generally a bad idea," weighing in a day after reports that President Trump was considering sacking Bob Mueller, the former FBI director leading a special investigation into possible Russian interference in the 2016 election.
Christie, a Trump adviser, had called Mueller a "good man" and "very able" at a news conference last month. But he was more skeptical of the whole idea of a special counsel on Tuesday at an unrelated news conference at Newark Airport.
Christie told reporters that "special prosecutor things tend to go off into all different kinds of tangents." He cited special prosecutor Ken Starr's 1994 investigation into Whitewater, an inquiry that later expanded to include former President Bill Clinton's affair with then-White House intern Monica Lewinsky.
"Remember that Bill Clinton hadn't met Monica Lewinsky until 19 months after the Whitewater special prosecutor was appointed," Christie said. "So, when I say I'm concerned about special prosecutors, it's not a partisan thing. It's that we have a history of special prosecutors running amok."
Christie said that he had "confidence" in Mueller's ability to do the job but that Congress could have investigated the claims instead of Mueller.
In February, Christie said that there was no need for a special prosecutor and that the "Justice Department can handle it." Mueller was appointed by Deputy Attorney General Rod Rosenstein in May, shortly after former FBI Director Jim Comey leaked a memo that recounted an uncomfortable conversation with the new president about the Russia investigation.
But the timing of Christie's newfound skepticism for special prosecutors on Tuesday was also somewhat politically convenient. During the 2016 presidential campaign, Christie called for a special counsel to investigate the Clinton Foundation.
Reports that Trump may fire Mueller remain unconfirmed by the president or the White House, but a friend of Trump's, Chris Ruddy of the conservative website Newsmax, has maintained that Trump is considering it as an option.
Rosenstein, for his part, said he would only dismiss Mueller "for cause," no matter what anyone else says. Testifying before the U.S. Senate intelligence committee on Tuesday, Attorney General Jeff Sessions, who has recused himself from the Russia investigation, said he had confidence in Mueller.