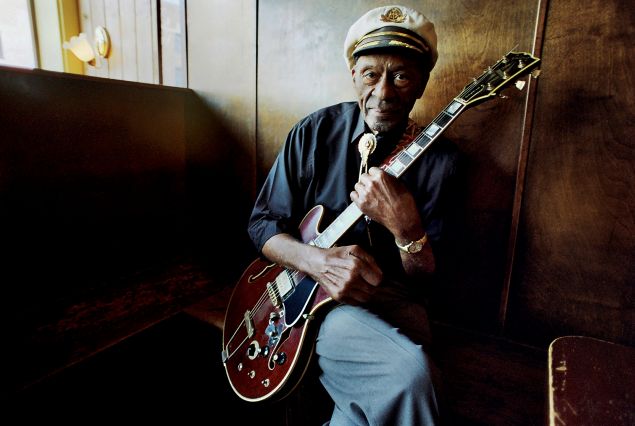 On his 90th birthday, when Chuck Berry announced that his first new record in 38 years was on its way, did the rock and roll legend know he was on the way out?
Chuck arrived last Friday upon a generation of ears that still regarded Berry's Great 28 collection of singles as the defining moments of his career. Berry's formula was solid and enjoyable beyond boundaries of race or class—a tight, streamlined take on the jump blues sound that artists like Louis Jordan and Wynonie Harris were playing before him, with Berry substituting their hillbilly lyrics about home cooking for songs about cars and girls.
"Consider this," Tim Sommer wrote a few weeks after Berry passed on March 18. "As Berry emerged, Bo Diddley was singing about chimneys made out of human skulls, the Treniers were howling about 'Poon Tang' and Roy Brown told us about 'Butcher Pete' (who hacks, whacks, and smacks his meat)."
Sommer writes that because Berry was more of a streamliner than an innovator of a sound, that "father of rock'n'roll" label often ascribed to him doesn't pass the smell test. But it doesn't mean Berry didn't write a trove of incredible songs. As Chuck makes clear, he'd been working on this collection since the '80s, and he checked out soon after its release was announced.
The trouble with Chuck isn't that the bulk of these songs aren't solid, but that they exist as more of the same after a long absence. As a final statement, we get very little into the man's inner thoughts, or his struggles with several accounts and lawsuits around sexual misconduct that dogged him later in life. While many artists changed their game, evolved, or got worse, Berry never altered his formula up until the end. And while it's important to separate our artists' personal lives from their art, knowing what is out there about Berry sometimes makes the whole "cars and girls" imagery ring with more fetish than nostalgia.
Nonetheless, when the album cooks, it sizzles, bolstered largely by an impressive roster of guests who carry the banner of Berry's streamlined rockabilly in our time. A strong solo from Gary Clark, Jr. lifts opener "Wonderful Woman" to that sock hop in the sky, and Tom Morello and Nathan Rateliff contribute vocals and solos to "Big Boys," a quintessential Berry-style tune about being a kid and wanting to cut with the older kids.
Elsehwere, Chuck's daughter Ingrid duets with her father on the country ballad "Darlin," and three generations of Berry guitarists contribute to the fourth sequel to Johnny B. Goode, "Lady B. Goode."
It's a shame that the family affair of "Lady B. Goode" lands which with such a thud, more novelty than inspiration. Understanding that Berry hadn't played live since 2015 due to illness, the idea that he spent much of his time enlisting the friends, family, and fans necessary to make Chuck pop, determined to infuse it with sounds more vital and involving than the strained production of 1979's Rock It, tells a nice story nonetheless. Other stories on Chuck, like "Jamaican Moon," wherein Berry sings in an awkwardly stilted island patois, lack such sentiments, and sound woefully out of touch.
If you listen for strains of Berry's addressing his mortality, they begin to present themselves. "Darlin', your Father's growing older, each year," he sings with Ingrid on "Darlin," "Strands of gray are showing bolder, come here/And lay your head upon my shoulder, my dear/The time is passing fast away."
"By talking a little bit about the elements that made Chuck Berry a genius, a giant, and someone who reshaped the music of our lives," writes Sommer, "I hope to show that by tearing down the myth of the father, we find someone so much better and worthy of our celebration, study, and mourning: A man who transcended his name, class, race, and time to become a sound loved by the entire world, but most importantly underneath it all, a true fan of music, like you and me."
That might put a name on Chuck's greatest accomplishment after all—a celebration of a genre so widely embraced, imitated, and perfected that Berry's own songs become an elemental, inter-generational blueprint of how some formulas simply ought to not be messed with.