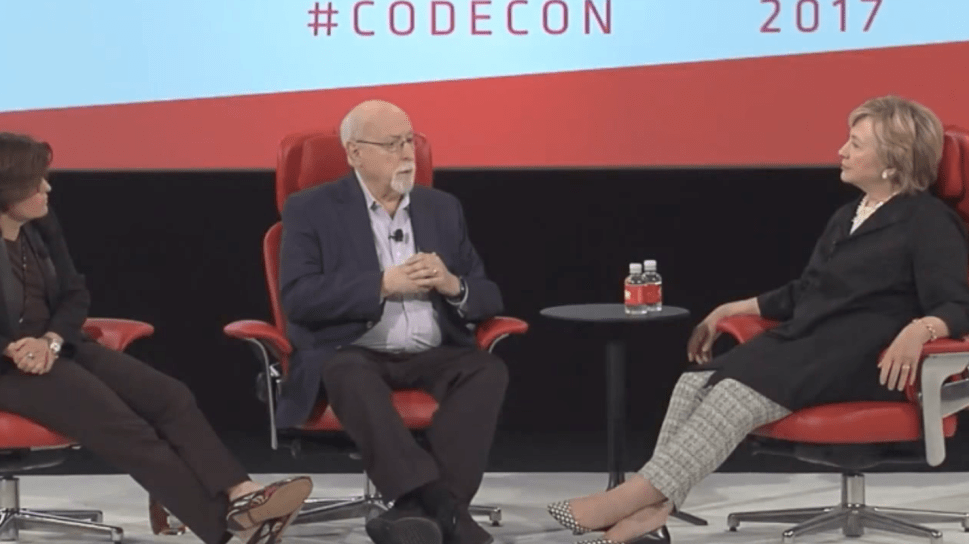 Not that long ago, it seemed Silicon Valley was as uninterested in faraway Washington D.C. as it was ignorant of it. Sure, tech executives were a rich source of campaign funds, but the prevailing ethos was one of leave-us-alone libertarianism personified by venture capitalist Peter Thiel.
No more. Judging from the overtly political tone at this week's Code Conference, the annual LA retreat for the tech industry's movers and shakers, the Age of Trump is a huge wake-up call.
For the conference's 700 or so attendees, dismay over presidential policies on everything from net neutrality to H1B visas was compounded by something of a guilty conscience about their own role in creating the world of tweetstorms and Facebook fake news that helped make President Donald Trump possible.
It was if all those luminaries who pride themselves on their ability to change the world finally took a hard look at the world they helped bring about—and didn't much like what they saw.
The result was three days of uncharacteristic soul-searching, as the industry's usual hubris gave way to what may have been the stirrings of an emerging social conscience.
The atmosphere was evident in everything from the selection of speakers—who included Hillary Clinton, anti-Trump conservative Evan McMullin, Planned Parenthood President Cecile Richards and New York Times Executive Editor Dean Baquet—to the messages delivered by tech executives not necessarily known for their political activism.
So you had Netflix CEO Reed Hastings, for example, describing Trump's attempted Muslim travel ban as "toxic" and "un-American," while LinkedIn co-founder Reid Hoffmann proclaimed, "I don't think there is any such thing as an alternative fact. That's George Orwell and Aldous Huxley-speak."
Laurene Powell Jobs, the philanthropist and wife of the late Steve Jobs who rarely appears at events like these, appeared on stage with California's Democratic Senator Kamala Harris to quietly excoriate the administration's policies on the so-called "Dreamers"—young people brought to the U.S. as small children by their undocumented-immigrant parents.
Jobs spoke of thousands of families living in "abject fear right now … there are families who are now pulling their kids out of school because they're really afraid of them leaving the house." Earlier this year, she discussed the issue with Trump in a meeting arranged by "someone that we both know who wanted to make sure he had a conversation with somebody outside the White House about it." He was, she said, "engaged in our meeting," but she came away with little optimism that things would improve.
The conference's tone was set early by Tristan Harris, a former Googler who now heads an organization called Time Well Spent that is dedicated to calling out the tech industry to take responsibility for the sociological implications of its products.
His main point is that consumer technology today is built around a constant sensory bombardment that is manipulating minds and destroying discourse. "It's about getting attention, not helping us communicate," he argues.
Harris has been on something of a guilt tour this year. He spoke at the TED Conference in Vancouver in March, and was at the center of a widely watched "60 Minutes" segment. This time, his audience included a healthy number of the people most responsible for the situation he decries.
Though Harris's message seemed to resonate with much of the audience, it wasn't universally embraced. While "I'm sure he means well," Facebook director and venture capitalist Marc Andreessen said, "I deeply, deeply disagree with everything he just said." Andreessen argued that Harris's views might resonate with "the .00001% of the population" so privileged that for them "this Internet thing is a big step down. For everybody else, the Internet is a big step up."
While Andreessen endorsed Clinton during the presidential campaign, at one point tweeting, "I'm with her," he sounded almost dismissive of the soul-searching going on around him. The Valley, he suggested, was far out of step with the center of the country. "Silicon Valley is extremely left-wing, extremely liberal," he said, adding that "99.99 percent of Silicon Valley last year voted for Hillary Clinton."
The former secretary of state indeed received a thunderous reception, including standing ovations both before and after her appearance—a rarity for this crowd. By turns relaxed, philosophical and defiant, she observed that 2016 marked "the first time that you had the tech revolution really weaponized politically." From Facebook's fake-news epidemic to the mystery of Trump's fake Twitter followers, "we have to figure out a way to combat this."
To be sure, the Code Conference wasn't completely taken over by politics. Android creator Andy Rubin took the wraps off his next venture, a new phone called Essential and a home-control device built around a new operating system he's calling Ambient. Intel CEO Brian Krzanich talked about drones, autonomous cars and whether Apple will keep using his chips in its Macs. CBS controlling shareholder Shari Redstone fretted that the National Football League is getting over-exposed.
But politics was never far from center stage. Conference interlocutors Walt Mossberg and Kara Swisher repeatedly asked interviewees whether they would run for office. Among those demurring: Andreessen, Hoffman, Los Angeles Clippers owner and former Microsoft CEO Steve Ballmer and Clinton.
Still, the Code stage featured at least one potential future candidate: Swisher herself, who has said she eventually wants to run for mayor of San Francisco.
Rich Jaroslovsky is an Observer technology columnist and vice president of SmartNews Inc. in San Francisco. Reach him at richj@observer.com or @RichJaro on Twitter.