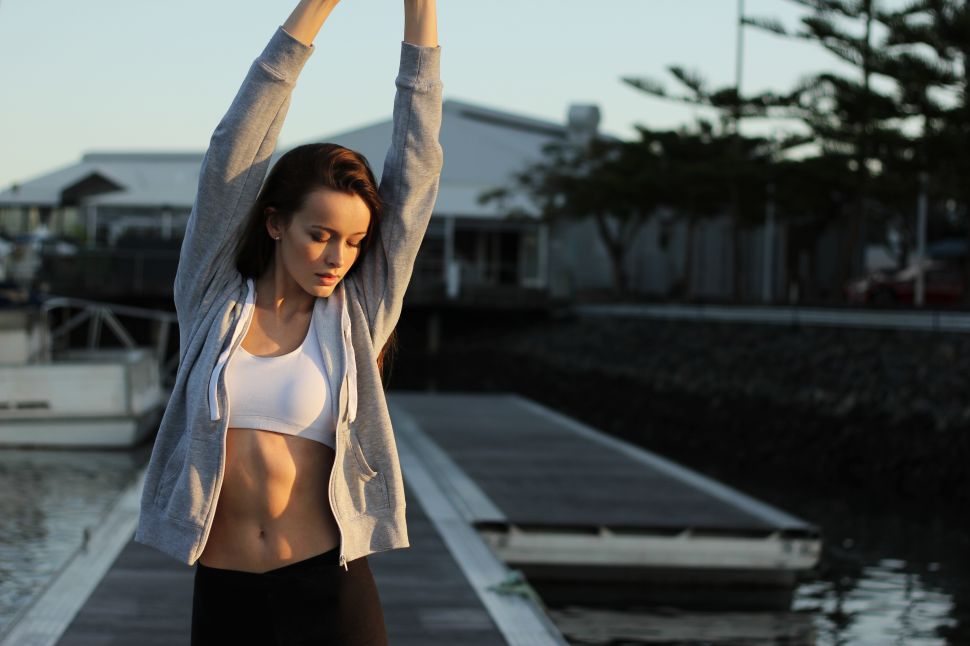 "I have six-pack abs," I once groaned to a friend when I was in the throes of yet another bout of extreme fitness that included full-contact karate, Pilates and hot yoga. "But I'm too miserable to enjoy it."
As a former professional dancer, I love hard workouts, competitions and strategized training that involves goals on a calendar. Now that I'm in my 40s, I enjoy running as a way to blow off steam and commune with nature. But for a year, my nagging runner's knee and IT band syndrome would flare up every time I tried to go more than four miles. Physical therapy helped, but I couldn't keep up with appointments and regimens without feeling like a mouse on a wheel. If I were being honest with myself, I needed to focus on other parts of my health, not just my machine.
I recently dropped out of the 2017 TCS New York City Marathon, which would have been my second foot race through all five boroughs. I mourned for a few weeks, but then I started to enjoy other interests, some I didn't know existed in my 5'10'' frame of habit and discipline. I socialized more. I relished an occasional cocktail, not just for the buzz, but for the artistic placement of the cherry and smart conversation with old friends. Far from being lushes, they were lively, thoughtful and active in the community. In quiet hours, I devoured thick books—history and Stephen King novels—that I had always meant to complete but never had the time. I cooked more salads and old-fashioned comfort foods like cobblers and dumplings, and I took up Ukrainian needlepoint for no other reason than I liked the pretty colors and delightful company in an unfamiliar part of town.
As I completed a row of stitches called the "gigolo's mustache," I noticed that my hips felt free from inflammation, even though I was sitting. My breath was easy and steady. After a night of deep sleep, I could concentrate on precision and the gossip around me without feeling like was missing anything. In short, I felt "well."
From my college days, I recalled a textbook diagram of the Six Dimensions of Wellness. Developed in 1976 by Dr. Bill Hettler, co-founder of the National Wellness Institute, the model included occupational, social, intellectual, spiritual, emotional as well as physical health. Each category was an equal piece of a holistic pie that created a circle. If any of these items grew too large or too lean, a person might feel "out of whack," as I was feeling with my punishing exercise regimen.
When an individual experiences unbalance, he or she should focus on other components of the pie, according to Dr. John Munson, who worked with Dr. Hettler for 40 years at University of Wisconsin-Stevens Point, the first health promotion/wellness program in the United States to achieve academic accreditation. I had the privilege of speaking to Dr. Munson on the phone.
"Most medical models of health have paid more attention to physical fitness and nutrition," Dr. Munson said. "Those models are focused on disease prevention, not about what you'd like to achieve in your life or the power of the whole."
Now 73, Dr. Monson—whom I consider a wellness pioneer—told me he is an international trip leader currently organizing photography safaris to South Africa. An outdoorsman, he stays in shape to keep up with the demands of fishing and hiking, which give him pleasure and a sense of achievement. Doing what he loves allows him to experience all six aspects of wellness, a term that has become so common it is hard to determine its meaning.
The body reigns supreme on Instagram, as evidenced by thousands of photographs of young muscular people drinking shakes on the seashore, but buffness does not equate wellness. (I should write that in needlepoint.)
"If you're a large person, you can be healthy," Dr. Munson explained. "You can do many things. You're just a large person."
Yet exercise may be a good starting point to balance all aspects of wellness, Dr. Munson said. Someone who wants to run triathlons will have different needs than someone who desires a healthy heart. With an appropriate workout plan, whether strenuous or moderate, individuals can meet many of their other wellness needs.
As someone who first calibrates my health through fitness, I understood. When I listen to my body, I hear what I have to say.
Here are four ways you can pump up your wellness regime and reach your potential this summer, according to Dr. Munson:
Sign up for health-related classes and programs in respect to the six dimensions of wellness. Such activities can include walking clubs through faith-based organizations, the Y or community groups.

Consult a wellness coach who may charge between $30 or $200 an hour, depending on the services. A professional can help design a program in regards to individual goals.

Maintain good friendships that support healthy habits and thriving lifestyles.

Plan a social event like a camping trip or competition that will strengthen relationships and provide a sense of fulfillment.
Ann Votaw is a freelance writer in New York who has a M.A. in Health Education. She teaches yoga and physical fitness to adults 60 and better.