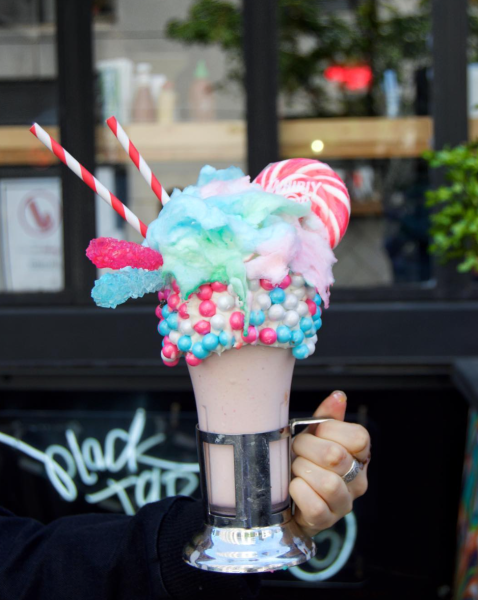 If you thought that unicorn beverages (and their follow up, the mermaid latte) were peak Instagram food, we regret to inform you that you were entirely wrong. This summer it's all about cotton candy that has been given the magical unicorn treatment. Okay, in reality, the circus mainstay is being paired with ice cream, but it's being done in some of the most inventive and social media friendly ways possible.
While Black Tap has provided New Yorkers with a tasty cotton candy shake for quite some time, this summer, expect to see many more mouth-watering and gorgeous treats that appear to be too good to eat. These desserts are certainly made for enjoying, but just make sure to get the perfect Instagram shot before you devour your pastel treat.
New Territories' gorgeous milkshakes have been blowing up Instagram feeds this year and due to the sweet treat's popularity, they've decided to create a version of this milkshake for those with #dairyenvy. On June 21, they released the Unicorn State of Mind Milkshake, which is made without lactose. They've also partnered with Lactaid to create DIY milkshake kits that come with Lactaid brand milk and ice cream. Though this treat was inspired by New York City, you don't need to reside in the city to recreate it at home; just check out their recipe and get your blender ready.
Ruimilk, the well-known social media phenom in Flushing, Queens, has found a way to make soft serve even more fun: by adding cotton candy toppings. Seriously, these desserts look and feel like colorful clouds. The soft-serve shop is also a kid-friendly destination, as they have been known to turn animated characters, such as Hello Kitty, into ice cream creations.
Indulge your craving for both pizza and sweets with this unicorn dish from Industry Kitchen. Made with a rainbow crust, cream cheese frosting, pop rocks and, of course, cotton candy, what could this delicious treat taste like? A giant, fluffy sugar cookie, according to Cosmopolitan.
Although this cotton candy art hasn't made it to New York quite yet, Sugar Sugar, located in Ontario, Canada, has introduced a new form of unicorn treat: The Ice Cream Burrito. Three scoops of ice cream—bubble gum, birthday cake and cotton candy—topped with "unicorn dust" make up the inside of this sweet dessert, all of which is wrapped up in a cotton candy "tortilla," giving the confection its burrito shape.