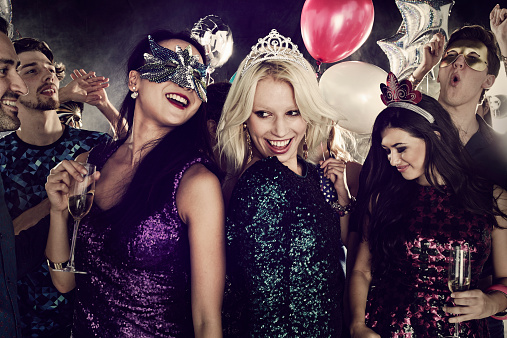 Who hasn't thought about batting for the same team after a bad breakup?
My friend Carly, fresh off the plane from Kentucky, changed her sexual preferences almost as soon as she arrived in NYC. She was 22 and new to no-mans land, when we first met.
"It's like being a celebrity when you date a woman!" She said excitedly as we walked through the park. "People stare at you when you hold hands and make out in public. Plus my wardrobe has doubled! Anne has the best taste in clothing and I think this bag is a real Chanel!"
I questioned Carly's motivation for her sudden change in sexual preference because she told me she grew up on the straight and narrow. She seemed way more excited about Anne's amenities, than Anne herself. "She said I could move in. She knows I hate Kaufman Hall. She owns her apartment in Brooklyn and It has a pool!"
"How long have you been dating?" I asked.
"Three weeks. Her law firm is sending her to Los Angeles Monday, so I'm crashing at her place. I'm having people over if you want to come by."
"Are you going to introduce her to your parents?" I asked.
"No way!" she screamed. "They'd freak! I'm not really a lesbian!"
The situation was reminiscent of Lindsay Lohan and Samantha Ronson so many years ago.
I knew Carly wasn't intentionally using Anne. When you're young, secretly dating a hot lesbian lawyer can be fun and glamorous. Alas it's not forever, some grow out of it and they're known as "Has-bians", especially if they have un-knowingly broken some hearts along the way.
I'd kissed a girl way before Katy Perry ever did. When you work at a strip club, eventually you'll end up participating in some sort of simulated lesbian charade. If someone offered you ten crisp Benjamins to simply kiss a girl for 20 seconds while on the podium, you would do it too. It was better that than making out with some gross hedge fund guy in pleated khakis.
One evening a drunk stripper from New Zealand cornered me in the club's empty locker room. She firmly pushed me up against the wall, grabbed me, and kissed me. I was stunned. "Give me your number." she whispered in her breathy accent, producing her wrist for me to write it on, so I did. She casually walked away smiling. I felt like I was in a really bad soft porn movie.
I told my friend Madge-the-hairdresser the story the next day as she highlighted my hair.
"So you made out with a stripper in a bathroom stall." Madge said, neatly closing foil against my scalp.
"I'm not gay, it just happened." I said validating myself.
"You weren't drunk. You're sober and you made out with a girl. Maybe you like women."
"No I don't!" I said freaking out, but not for long. Shortly thereafter I ended up meeting my ex husband and forgot all about my same sex encounter.
So many years later, I found myself wondering. Would I be more compatible would a female partner? Was I even attracted to women? Was this the beginning of some kind of sexual midlife crisis? I pondered this over lunch with my friend Lainie, she always has a solution and got straight to the point.
"I don't think you're a lesbian," she said. "You're the most boy crazy woman I know, but you could go to a Skirt Club party, check it out, then you'll really know."
Skirt Club is a super exclusive women's only secret society that hosts play parties worldwide. They have a strict screening process of selecting their participants. Reviewing an applicant's photo and questionnaire, to make sure there is substance along with sexiness to ensure physical and intellectual enjoyment, is to be expected. The price of admission, $150 guarantees free flowing cocktails, mocktails and a secure private setting. The strict rules: No men. None whatsoever. Don't even ask, they can not come. No photographs allowed. I applied and was granted access to an upcoming New York event.
Once again I was embarking on an experience for the good of journalism, I told myself. This was part of my mission to help educate others and discover more about myself. Who knows, may even much more than I expected to find.  I decided to go, even though I was scared shitless.
The night of the event, I hesitantly entered the mystery location. A gorgeous, tan brunette greeted me wearing nothing but a silk black robe, covering a lingerie set with a garter belt and thigh highs. We made small talk as she led me into the elevator. She had forgotten to push the Penthouse button…or had she? Was this a test for me to grab her and kiss her? I refrained. She finally pushed the button and I lost my courage.
"Here." Taking my wrist, I got goosebumps as she fastened a little brass key onto a piece of black satin ribbon. "Other first timers have on keys, so you'll have something in common."
Walking in, I was surrounded by all shapes and sizes of women. There were approximately 50 on the guest list for that night. Everyone was dressed, and undressed to impress, ranging from next-to-nothing lingerie to cocktail attire. Everyone seemed so relaxed with signs of any crazy or predatory sexual activity as the evening kicked off. I felt as if it were any normal kind of mixer. Working at the strip club, fawning over another woman was an act, but this was real life. I didn't know how to hit on a woman. At first I spoke to others with keys on their wrists, perhaps coming off more as friendly than flirty. I wanted to friend some of these women on Facebook but not necessarily make out with them. I made my way around the room determined to kiss someone. I attempted to make eye contact with a blonde who avoided my gaze, which I assumed was a polite way of being shot down in the world of womanly seduction. I had zero game with the ladies, it turned out.
The mastermind behind the gathering, Genevieve, was British and oozed sophistication and sexiness. Everyone was transfixed on her as she rallied us to listen to her introduction.
"For some of you, (coming here) tonight will be one of the most difficult things you will ever do. Come Monday, you can go into a meeting knowing that no-one one else in your office had a weekend that would surpass what you're about to experience. This is a safe space where we can let ourselves go and be free." She raised her glass of Champagne with the rest of the room and I nervously held up my fruity mocktail.
For the next 45 minutes there was a live demonstration of Shibari, the art of sensually tying up a partner. I had my reservations, but watched with the crowd in amazement. A petite blonde model was bound and gagged in some insane positions, making it look appealing. Turning my back for a moment to grab water, I turned around and suddenly there were half naked women making out, and doing body shots off of one another.
I'm far from a prude, and I've seen enough nudity in my life that would rival or at least be right up there with a doctor. I appreciated the opportunities the party provided and how comfortable of a setting it was to get wild with the ladies but I was too nervous. As soon as the lights went down and a game of spin the bottle began. I quietly made my exit, defeated that I had not made out with anyone, or at least grabbed a boob. I found myself wishing there had been something like this around years ago when perhaps I wasn't quite sure where I fell on the Kinsey Scale. Though it was an amazing experience, the Skirt Club proved for me that tricky and heart-breaking though life is, I still want to meet the holy grail in man form.