Let's start by talking about the nacho donut at Trejo's Coffee & Donuts in Hollywood.
It's a crazy-sounding mashup that totally works, a spicy and savory concoction with a nice balance of cheese, Trejo's own hot sauce, jalapenos, sour cream and chives. But there's a little sugar, too, and you really get the sensation of eating a donut.
"I love everything about it," Danny Trejo says. "It's good and spicy. We put a little Mexican flavor in there. If I give you the secret sauce, I'd have to kill you."
Trejo is a special kind of Bad Ass, of course, so I'm not going to press him on the recipe.
Trejo, the cool-cat actor also known as Machete, is having a great time slashing his way through L.A.'s competitive dining scene.
"Oh man, I'm blessed," says Trejo, who opened Trejo's Coffee & Donuts in May after launching his Trejo's Tacos/Trejo's Cantina chain and a taco truck with partners Ash Shah and Jeff Georgino last year. "A lot of celebrities try to open up restaurants. Everybody goes to see the celebrity. But if your food isn't good, it's not going to last."
So Trejo isn't just a hype man. He pops by his new donut shop on the regular to make sure things are up to his standards.
"I take a bite of everything I can," he says. "And, man, it's some good shit."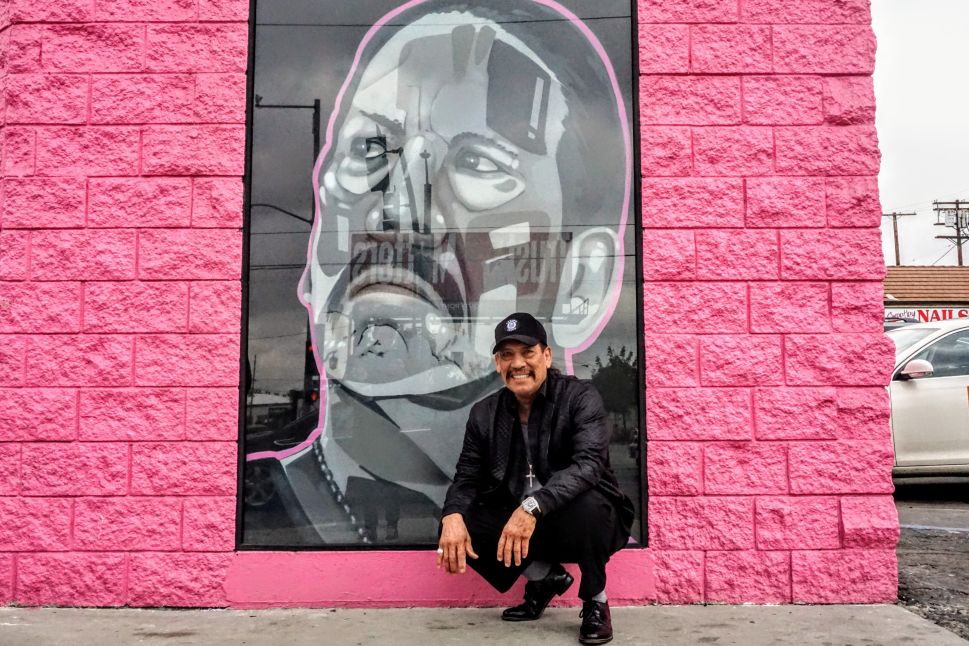 Trejo's a big fan of the O.G. donut, a classic glazed donut. ("It's the 'original gangster' or the 'old guy' donut," Trejo says and laughs.) He loves having horchata, Mexican chocolate, tres leches and margarita donuts that celebrate his heritage. But it's the pineapple fritter that's really been rocking his world.
"It's to die for," he says. "If you eat three, you'll be down on Fifth Street begging for more money to buy another. You taste it, and it just blows up in your mouth."
Trejo's overall goal with his restaurant empire is creating an alternative to bad fast food. So Trejo's Coffee & Donuts, located in the former Donut Time space that was featured in the film "Tangerine," has tapped pastry chef Dianne Crame (Boa Steakhouse, The Bazaar by José Andrés and Patina) to create its sweet and savory treats. The donuts aren't excessively sugary, so I felt fine about my growing son pounding five donut holes in one sitting.
"You can still have the joy of eating a donut, but it's not overwhelmingly bad for you with all that sugar," Trejo says.
Plus, Crame's repertoire includes vegan cake donuts with flavors like dark chocolate and peanut butter. There's also the vegan Low Rider with bananas, almond milk and cinnamon.
"Trejo's Tacos has a lot of vegan options, so I wanted to make some vegan donuts," say Crame, a vegetarian who also enjoys eating her own maple bacon donuts without the bacon.
But this is still a donut shop that embraces the classics, so Trejo's is catering to a lot more than a scenester food crowd.
"The police love our donuts," Trejo says. "That's the best test of when you've got a good donut."
The shop, which also sells Trejo's own blend of roasted-in-L.A. coffee, opens at 7 a.m. and has sold out of donuts on several days. Trejo has come a long way from when he used to make coffee by sifting it through a paper towel, and he also points out that he's not drinking "jailhouse coffee" anymore either. His days of being a drug addict who went to prison are long behind him, and the 73-year-old L.A. native has a thriving new business with huge ambitions.
"We have a line around the block," Trejo says. "We're investing in a bigger kitchen, so we can make more donuts. That way, we can get the late-night trade."
I have a feeling that nacho donuts will be popular with the midnight crowd.