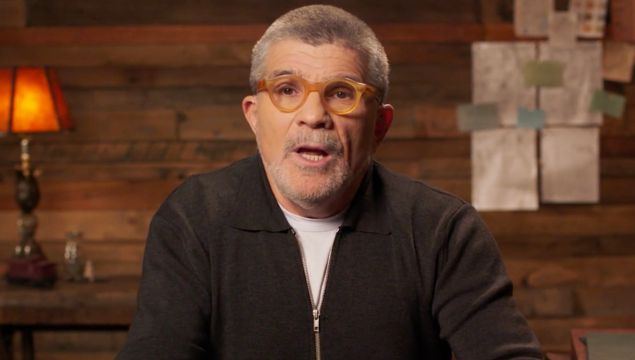 Usually, it's quite a challenge to get inside the mind of someone who is considered an expert in their field. Generally, you'd have to spend copious amounts of time and money to gain the necessary admission to hear him or her drop pearls of long acquired wisdom.
Now, the access aspect has been lower and the convenience factor has been increased with a new series entitled MasterClass.
Under the tag line 'MasterClass Gives You Access to Genius' the online entity hosts seminars with notables in their respective field such as Gordon Ramsey Teaches Cooking, Steve Martin Teaches Comedy, Christina Aguilera Teaches Singing and Kevin Spacey Teaches Acting, among many others.
One of the most accomplished artists offering a multi-layered lesson plan is David Mamet.
Mamet is an American playwright, essayist, screenwriter, and film director, His style of writing, featuring dialogue marked by a cynical, street-smart edge precisely fashioned for maximum effect, has earned him numerous honors including a Pulitzer Prize as well as several Tony and Oscar nominations. Having written over 30 plays and 15 books in addition to numerous screenplays, Mamet is perhaps best known for crafting the scripts for Glengarry Glen Ross, Speed-the-Plow, The Verdict, Hoffa, The Edge, and Wag the Dog.
In his MasterClass on dramatic writing, Mamet's online sessions cover a plethora of topics, including the Purpose of Drama, Dramatic Rules, Structuring the Plot, the Writing Process, Lies & Truth and the Life of the Dramatist. He breaks down uncovering story ideas, creating characters, setting the scene, crafting dialogue, and refining the plot. Specific case studies are included in the lesson plan as well.
Mamet says that he decided to participate in the program because, "They had a spectacular roster of people who had done it before me so I figured if it was good enough for them, it was good enough for me."
The 26-part lesson plan, which features sessions that run anywhere from six to 22 minutes, also includes downloadable documents and interactive assignments. In addition, the site allows users to interact with fellow students via an area called The Hub.
Whether he's teaching a live class or on tape like this one, Mamet says that his method of instruction remains the same. "I've been teaching for close to 50 years in various venues – universities, private classes, acting schools, etc. – and I've always felt that the important thing, whether there are people in front of me or l'm doing it like this, is to have a moderate, simple idea of what I'd like to cover and then talk about it."
A large portion of Mamet's instructional style features him outlining a concept and then relating the idea through what seems like an effortless story. About this he says, "I grew up in the Jewish tradition which is rooted in telling stories. Whether it's people sitting around the dinner table or the Hasidic masters trying to convey something about life – it's all done through storytelling and I think this helps people understand the underlining concept more clearly."
There's certain starkness to Mamet's surroundings during the videos, but one of the venues actually gives the viewer a peak into the acclaimed writer's personal workspace.
He explains the curious background, saying, "Well, it was sort of odd because [the production team] copied this cabin that I've worked in for decades. They photographed it and then they went through my archive at the University of Texas and copied a lot of my notes." Then he laughed as he added, "During production, I would pick up a sheet of paper from the desk and there would be something I'd written in 1975! The producers of this really did their homework and it made me feel quite comfortable and I think you see that onscreen."
Mamet declares that people who want to take the class don't need to do anything in particular to prep for the lessons, quickly saying, "That's the teacher's job – to teach you what you need to know, not expect you to bring things to this."
While Mamet does impart his insight into the writing process through the lectures, this particular process doesn't really allow for interaction between teacher and student. But, Mamet has his reasons for this, and, not surprisingly when he outlines his thought process, it's clear that he's simply bestowing more knowledge about yet another skill necessary for all writers to learn.
He reveals, "I tried teaching students and going over their work and it's just too hard. Here's the problem – in learning to write, you have to learn to take criticism from the judge from whom there is no appeal. That hurts like hell so you have to learn how to be stricter on yourself than anyone else could be. It's a legitimate human reaction to be affronted by someone telling you that your unconscious is no good." He paused slightly, then added, "I've been doing this forever but still if someone says to me anything other than, 'I'm crazy about [this piece],' you want to die or kill them, or both. These are feelings that I understand very well."
Mamet's clear about just who he wants to take his class, and he's not exactly reaching for the clientele you'd expect. "I say, 'only ne'er-do-wells need apply' and here's why – ne'er-do-wells always fly below the radar. They're off in the corner sulking and worrying about the nature of the world and thinking, 'am I ever going to amount to anything?' Those are the people from whom the universe picks the artists. If you've failed at everything and nothing makes sense you're the person I want to talk to."
Remarking about what he wants people to take away from his class, Mamet says, "Well, over the years people would often ask me what I did for a living and I'd say, disarmingly, 'I'm a gag writer.' Which, in addition to being a smarmy response on my part, is, to a certain extent, true. That's all a play is – it's an extended gag. It's like the concept of the way a joke goes – you listen because it's there and you know you're going to get a punch line and when you get to that punch line you're either surprised and delighted, or in the case of tragedy, shocked. This is how I want people to feel about this. I want them to have a good time and hopefully be surprised and delighted, and maybe even a little shocked, along the way."
Giving away a little bit more of what to expect during his lessons, Mamet adds, "So what I'm trying to do for people watching the class is distill the few things that I know and relate them to the audience."
In closing Mamet gives a small blast of the kind of storytelling participants will experience during his MasterClass, He says, "There was this late 18th century humorist named Tobias Smollett. In addition to being a writer, he was also a surgeon. He said about being a doctor, 'If you studied it for years and years and someone asked you a question, at the end of the day you're going to give them a response based on years of distilled wisdom and it's either going to sound foolish or like unutterably worthless common sense because they haven't gone through the process.' Thinking like that, it may be that the things I'm saying in this MasterClass will either sound foolish or like worthless common sense but the only thing I would say is, this how I make my living so I'm pretty sure these things I know and that I'm telling you work. So just try it out, you might find that you really enjoy it."
The sign up for David Mamet Teaches Dramatic Writing, please visit the MasterClass site here.