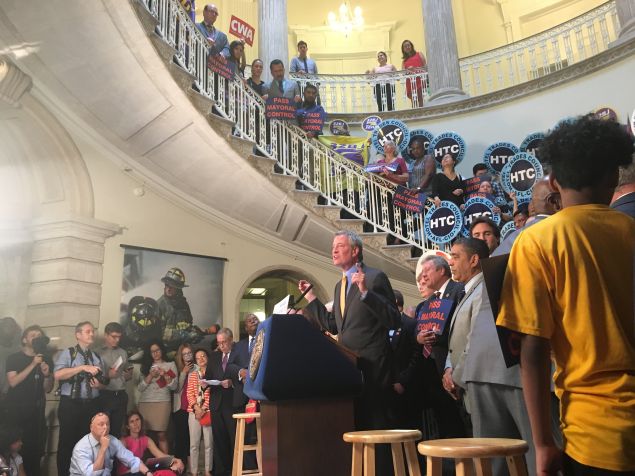 Mayor Bill de Blasio, joined by elected officials and advocates from across the five boroughs, issued a single demand to Gov. Andrew Cuomo and the State Legislature from the City Hall rotunda this morning: "get together and pass mayoral control now."
The Albany legislative session ends this week, and the governor, the Democratic Assembly and the Republican-run State Senate have not yet reached an agreement on extending the receivership program that grants the mayor effective power over the city's public school system. State Senate Majority Leader John Flanagan has said he will not support renewing mayoral control unless the number of charter schools are increased, an approach Cuomo has endorsed, while Assembly Leader Carl Heastie's conference packaged the renewal with several tax proposals.
Charter schools are unpalatable to the teachers union-backed Democrats in the Assembly, while the taxes in the lower chamber's bill are unpalatable to the State Senate GOP.
"There's only three days left," the mayor said. "Three days left. Our children's futures hang in the balance. Three days left…and here is the simple answer, and I say this to the Senate, the Assembly and the governor: get together and pass mayoral control now. This is something that unites so many of us."
Without a renewal, the city's education system—servicing some 1.1 million students—would revert to the former arrangement of local school boards, which was frequently criticized as inefficient, inequitable and corrupt. De Blasio warned that this regression would ultimately cost the city an additional $1.6 billion over the next 10 years.
The mayor told reporters that he sat down with Cuomo last Wednesday and discussed the matter "at length."
"I asked him to lead," de Blasio said. "I said, 'We need you to step up and be the one who brings everyone together. We understand there's differences between the Assembly and the Senate. We understand they're held by different parties. That's why we have the governor."
Cuomo recently told NY1 that he did not think mayoral control would be extended. De Blaso declined to characterize his conversation with the rival Democrat, and said that the two have spoken on the phone repeatedly since.
"I will be very straightforward: there was no agreed upon script for public comment after that meeting," he said. "That was certainly not what I was thinking. But again, look—the governor, when he puts his mind to something, he can be very, very effective and it's a chance now to break through this gridlock and get it done."
The mayor also said he had conversations with Flanagan at the beginning and the end of the session as well as more recently. He noted Flanagan recently stated that he understands that mayoral control "is the only system that works" and that he put forward three bills that would extend it.
"So that presents very clearly a consensus," de Blasio said, even though Flanagan's legislation would loosen rules on charter school expansion.
De Blasio said he also has had "multiple conversations" with state Assembly Speaker Carl Heastie, Bronx State Senator Jeff Klein, leader of the Independence Democratic Conference, a group of breakaway Democrats that enjoys a power-sharing deal with the State Senate Republicans.
"I've made the point to all of them: we will work with you on any subject of concerns but do not let this lapse because you then literally—on July 1, the new world begins and it's not a good new world, it's a bad new world," de Blasio said, speaking about Cuomo, Heastie, Flanagan and Klein.
The governor's office did not immediately respond to a request for comment.
Comptroller Scott Stringer, who has often clashed with de Blasio, argued that his longtime foe deserves continued control over schools "based on his record of managing this system." He insisted that the universal prekindergarten initiative could not have been implemented without it.
Stringer also took a jab at the IDC.
"I wanna say to the IDC, this is a defining moment, folks," Stringer said. "You're either with us or you're against us. I ask you today, the IDC, call the roll and stand with New York City."
The splinter faction slapped back at the comptroller, noting Klein had proposed his own mayoral control bill.
"Maybe Scott Stringer forgot to read the newspapers," said spokeswoman Candice Giove. "We all stand at the ready to negotiate this crucial extension that creates accountability for the public school system in New York City. We hope all parties could come together to reach an agreement on this issue."
Michael Whyland, Heastie's communications director, said that it is the State Senate that has failed to deliver.
"We passed our mayoral control bill last month," Whyland said in an emailed statement. "The Senate should do the same."
When the State Legislature passed the $15.3 billion budget in April, it did not include a continuation of mayoral control for public schools. At the time, they mayor noted that the state legislative session runs into June, asserting that "that fight's gonna continue."
Republican lawmakers opposed including mayoral control in the budget. In 2002, former Mayor Michael Bloomberg convinced the State Legislature to establish a seven-year receivership that enabled him to scrap the troubled Board of Education and replace it with the Panel for Education Policy, to which he appointed eight of 13 members.
The system temporarily expired in 2009, but Bloomberg quickly won a six-year extension.
Roughly 70 people were at today's rally, including Council members—among them Queens Councilman Daniel Dromm, chairman of the Council's Education Committee—labor leaders, clergy, business and civic leaders and advocates.
Congressman Adriano Espaillat, who mentored IDC State Senator Marisol Alcantara but recently signed onto a letter urging the turncoat coterie to rejoin the Democratic fold, also appeared at the rally.
"They wanna squeeze you but don't let them squeeze you, Mr. Mayor," Espaillat said. "Give the mayor control!" 
Hazel Dukes, president of the National Association for the Advancement of Colored People New York State Conference, said Flanagan's district "does not look like any district in New York City" and that "he hasn't educated here."
"This is no threat, no threat," Dukes said. "Listen Flanagan. Listen senators, especially those of you who come from out of district. You do what's right for our children or you go and find another job."
Scott Reif, a Senate GOP spokesman, said Flanagan is concentrating on extending mayoral control.
"If Mayor de Blasio's cronies want to engage in cheap political attacks and call it leadership, that's their prerogative," Reif said in an emailed statement. "We are going to stay focused on extending mayoral control and increasing opportunities so every child can receive a first-class education and follow their dreams."
Following the mayor's rally, the New York City Coalition for Educational Justice held a rally outside of City Hall calling on de Blasio to put racial justice at the forefront of his education agenda.