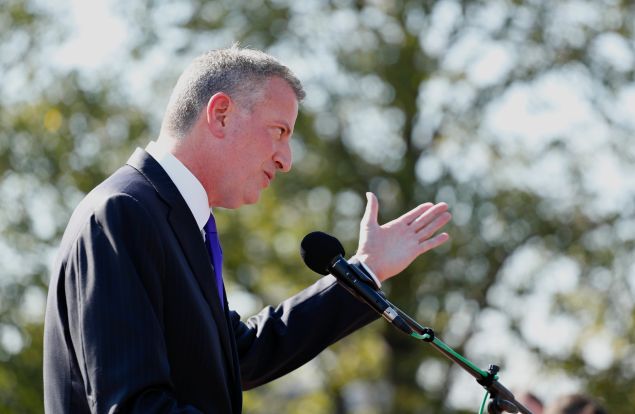 A few days ahead of the July 4 holiday weekend, Mayor Bill de Blasio announced in a Medium post this morning that the city will cover about $2 million of his legal bills, arguing that the funds are directly connected to his "public service and decision-making in government."
In March, federal prosecutors and Manhattan District Attorney Cyrus Vance announced that they would not file any charges against de Blasio or his aides in connection with his political fundraising efforts. The mayor retained Barry Berke of the high-powered firm Kramer Levin Naftalis and Frankel to deal with the dual investigations.
The New York Post reported that the mayor's legal fees were costing the city $11.6 million, according to contracts released by City Comptroller Scott Stringer. In February, the mayor said he would establish a legal defense fund so that taxpayers would not have to pay for his defense. But he would not, however, commit to refusing donations from individuals and entities with business before the city.
In the post published on Medium, titled "Our Legal Bills," de Blasio said a large fraction of the bills— about $2 million — "relate directly to my public service and decision-making in government."
"I have been reluctant to ask taxpayers to shoulder the burden of my compliance with these reviews," de Blasio wrote. "But after giving this a great deal of thought, it has become increasingly clear that the most appropriate course of action is to let the city cover the costs for legal work tied to my government service, as it would for any of its employees in a similar situation."
He said that legal bills pertaining to some non-government work evaluated during the probe will be financed by private dollars donated to a legal defense fund, which he said will require raising roughly $300,000 "to satisfy my outstanding debt."
The mayor said that he and members of his administration spent most of the last year conducting a multi-agency review of his administration's actions both inside and outside of government.
"While the investigations eventually came to their natural conclusion, as we knew they would, the significant legal bills we accumulated during this process remain," he said.
At the end of March, the New York City Conflicts of Interest Board ruled that contributions to legal defense funds to cover invoices from lawyers are subject to a cap of $50 during any 12-month period — unless the money comes from a family member or a close personal friend — on the grounds that are essentially gifts to public servants. Exempting legal defense fund contributions from this limit would therefore require an amendment to the city charter or legislation by the City Council.
At the time, the mayor said he would contemplate pushing legislation through the Council that would allow him to set up a legal defense fund. But in his Medium post, de Blasio said that the city does not have any "realistic legal or regulatory framework" allowing for the operation of such funds.
"Members of the City Council have expressed interest in establishing such a framework," he continued. "While the Council's legislative process would dictate the regulations surrounding these donations, there is no doubt that any fund assisting me would provide full disclosure to the public so that everyone can see who is contributing and how much they are giving."