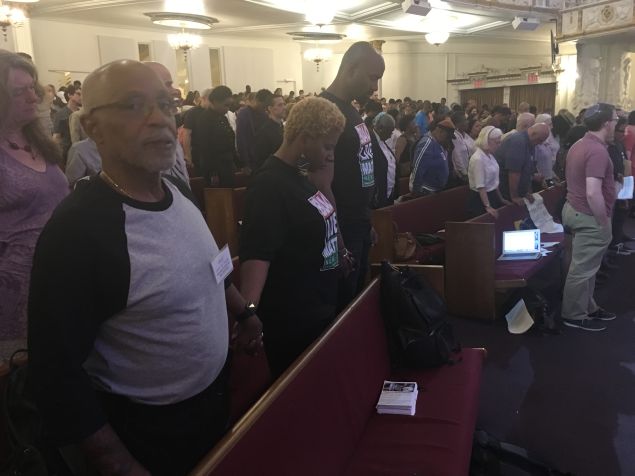 The three top candidates to lead the city—Democratic Mayor Bill de Blasio, GOP real estate executive Paul Massey and Republican Staten Island Assemblywoman Nicole Malliotakis—decided not to appear at a forum last night organized by faith groups and centered on the needs of minorities.
Massey, Malliotakis and de Blasio were invited to participate in the "Faith over Fear" discussion and debate at the First Corinthian Baptist Church in Harlem, an event put together by a coalition of 25 faith-based organizations and leaders from more than 100 congregations throughout the city seeking. Onleilove Alston, executive director of Faith in New York, told the Observer that they sent candidates an initial set of questions on specific themes the forum would address on Wednesday.
She claimed that Massey pulled out once he saw the questions on community issues, distressed at specific questions about criminal justice and discrimination against Muslims—a decision that left her "disappointed" in the Republican contender.
"As you will hear tonight, each of our questions are respectful and will be asked in a respectful manner," she said. "When a crisis occurs, the faith community—we are the first people who respond. We are the first people who are called on and so all we want to do tonight is ask the questions about the issues that impact the people we minister to."
Mollie Fullington, campaign spokeswoman for Massey, disputed the claim.
"The entire event changed at the last minute: the moderator, the tone, the format," Fullington told the Observer in an emailed statement. "The plan was for Paul to engage in an open-ended, open-minded discussion about the important issues of faith and the community and it is now clear it is an agenda-driven event."
Alston said de Blasio's campign told them a week ahead of the forum that the mayor would not be able to participate due to a scheduling conflict, though he agreed to appear before the group in July. But she said they were still disappointed given that he had been given six weeks notice.
Dan Levitan, campaign spokesman, confirmed this version of events to the Observer.
Malliotakis' campaign, Alston said, emailed them at 6:19 pm informing them that Malliotakis had stayed in Albany to cast a vote and would not be able to make the event.  A campaign spokesman for Malliotakis, confirmed to the Observer that the state Assembly was in session until just before 5 pm.
Malliotakis did offer to meet with some of their key coalition partners and clergy for a breakfast later this summer.
"This was a multi-issue faith platform that represented our agenda as people of faith because for far too long, elected officials have come to our pulpits, have come to our mosques, our temples and they have stood and given their agenda but we never had a chance to push in our agenda," Alston said.
The Faith Over Fear coalition includes African Communities Together, the Arab American Association of New York, Muslim Community Network, Muslim and Immigrant Coalition for Justice, Desis Rising Up & Moving, the Greater Allen A.M.E. Cathedral of New York and the Kairos Center at Union Theological Seminary. Its platform includes defense of immigrants, religious freedom, hate crimes and civil rights, expanding the vote, police accountability, affordable housing and climate change.
The only invited candidates to appear were police reform activist Robert Gangi, technology entrepreneur Michael Tolkin and former Bay Ridge Councilman Sal Albanese—all of whom won praise for coming out, and fielded questions about issues such as housing, immigration, criminal justice and religious freedom.
Green Party mayoral candidate Akeem Browder—brother of the late Kalief Browder, the young man who killed himself in June 2015 after being jailed at Rikers Island for three years there without trial and more than 400 days in solitary confinement—showed up despite having been told that there would not be enough room for him. He voiced disappointment upon learning that Malliotakis, Massey and de Blasio would not participate.
"By the law, as a tax exempt company, you must open your doors up to all candidates," he said. "So we told them this and they said, 'Well, they have limited space.'"
Browder entered the sanctuary and sat with Albanese, Gangi and Tolkin, but eventually agreed to move to the front row of seats. He was later allowed to take part in the discussion.
"That's all we want to do, and as New Yorkers and people of faith, we have a right to ask questions about what impacts us," Alston said, regarding their questions. "And so I thank those who did show up tonight. We are here for faith, justice and community. We are not here for politics."
In an email, Alston explained to the Observer that the coalition sent invites to the six candidates that publicly declared their intentions to run for office, live in New York City and have the highest number of individual contributions to their campaign—in accordance with the May 2017 Campaign Finance Board reports. The final list of candidates was Malliotakis, Massey, Albanese, Gangi, de Blasio and retired NYPD detective Bo Dietl.
They invited Tolkin after two candidates declined the invitation because he had the next highest number of individual contributions.