Broadway shows (most notably Hamilton) have utilized sites like Facebook and Twitter as marketing tools for years, but no musical has really used the barrage of social media as a plot element.
At least until now.
The Broadway hit Dear Evan Hansen (which recently won six Tony Awards) tells a highly emotional story of love, loss and loneliness in a modern day high school—I'm not ashamed to say I cried like a baby when I saw it.
Since the show's characters are millennials, social media plays an integral part in their day-to-day lives. And it ultimately leads Evan Hansen himself down a rabbit hole that spirals out of control.
The show's producer Stacey Mindich and book writer Steven Levenson recently appeared on Kara Swisher's Recode Decode podcast to discuss these aspects of the story. They both admit from the get-go that even though they're not big social media users, they knew it had to play an integral part in the show.
"Social media is a snowballer that amplifies other peoples' lives," Levenson says. "We are all looking and seeing how much fun everything else is that's happening."
This is especially true in the case of Evan Hansen, a high school student with social anxiety disorder who Levenson describes as "an open wound of a person."
Over the show's eight-year development period, during which apps like Snapchat grew ubiquitous, Mindich says that social media became the backdrop of the show, and even its own character.
And while it might seem like Broadway would take the easy way out and make fun of pretentious millennials, Levenson didn't want the show to be that obvious.
"It's more interesting to reach something real," he says. "Social media has become a refuge for a lot of people."
But that refuge has a dark side, as Evan finds out. When he tells a lie to help the grieving Murphy family, whose son Connor has just committed suicide, social media amplifies that lie into a viral movement called #YouWillBeFound. While the experience proves cathartic for people around the world, Evan is tortured by his actions.
At the end of the show, though, Evan seemingly gets a chance at redemption—which leads Swisher to play devil's advocate and ask the creators whether he's suffered enough for his actions. Not surprisingly, they both jump to Evan's defense.
"We're all a little bit like Evan," Mindich says. She actually connected the story to her own son, who got in trouble for a video he posted on Snapchat.
"This character has paid a terrible price, and they're all better for it," Levenson adds.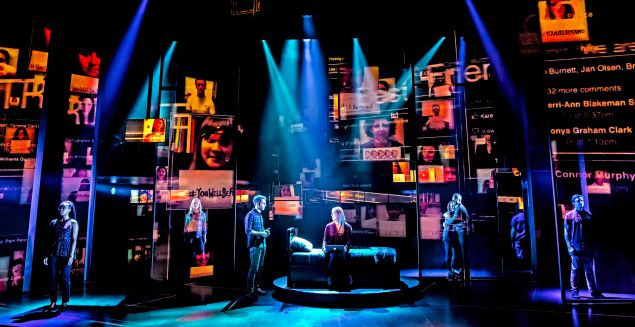 It's not just the content of the story that involves social media, however—it's also the execution. Projections on the stage display text messages, Facebook statuses and YouTube videos.
Everything comes to a head during the Act One finale "You Will Be Found," in which the audience is basically brought inside the internet. As Connor's story spreads, the stage fills up with videos which show people holding up signs reading #YouWillBeFound.
"I felt like I was on my phone, being assaulted by media," Swisher says.
All of those people are actual Dear Evan Hansen fans (or "fansens") ages 18 to 80, who sent in videos from all over the world so they could be featured in the show.
The "fansens" also contributed to the show's poster art, which shows Evan's torso surrounded by a sea of faces. In the beginning those faces were stock photos, but thanks to the show's popularity the mosaic is now 100 percent fan faces.
In return for their social media love, these fans get a two-hour head start whenever the show releases a new block of tickets.
While Dear Evan Hansen has embraced technology, both Mindich and Levenson say it should serve as a cautionary tale for people who use their phones constantly (even in theaters).
"The show begins with a boy in his room with his computer and ends with a boy and his mother, with no screens between them," Levenson says. "People should leave the theater more mindful of the way they're using technology as a crutch."
"Go home and hug your children, forgive your mother and download our CD," Mindich said.