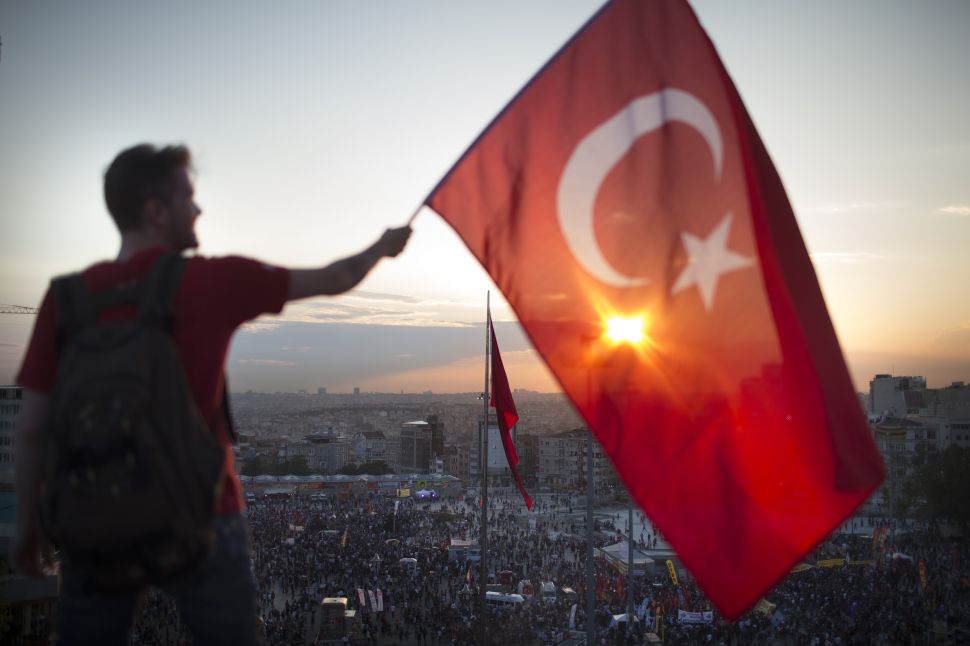 When Turkish President Recep Tayyip Erdogan came to Washington, he was hoping to coerce Donald Trump into supporting his plans for regional domination. Instead, Erdogan and his security forces beat up protesters outside the Turkish Embassy, giving Americans a major spoiler alert as to how things are run in his country. Congress took the first step against this bullying, but there is more we can do as Americans.
On June 6, the House of Representatives voted 397-0 to condemn the role of Erdogan's supporters in physically assaulting peaceful demonstrators. When you see the video, you'll see why Congress was moved to take action, and you can, too.
You're probably feeling bad for the Turks and Kurds facing growing oppression at home and wondering what you can do.
First, contacting your member of Congress clearly does work. Americans sought to encourage the House of Representatives to speak out, and they passed a resolution in overwhelming fashion. For a legislative body that once had a powerful lobby designed to back the interests of Turkey, it was a huge step. People are now beginning to understand the difference between Turkey the ally and the country's empowered head of state.
Second, there are people who need help. Thousands of Turks, ranging from reporters and law enforcement officials to students and teachers are being locked up simply for being a follower of Fethullah Gulen, the liberal cleric now residing in the United States, who Western intelligence agencies now realize was highly unlikely to have any role in the coup. Gulenists deported by more authoritarian states who bowed to Turkey (such as Malaysia) have been tortured. Other countries (Pakistan, Saudi Arabia and Bulgaria) have also sent Gulenists to the waiting arms of Erdogan's regime.
Hundreds have escaped the regime or are living in the United States. The government is demanding that they return, and the mood in the U.S. isn't great for accepting refugees.
These refugees are similar to Russians who fled the Soviet Union to avoid execution, imprisonment with torture or Gulag; These Turks will be in a lot of trouble if they return. Many of them are Gulenists. Their leader pays for advertisements condemning terrorism, supports capitalism and science, and preaches having Muslims cultivate closer ties with Christians and Jews. Most are university-educated with special skills. These people want to come to the U.S. We shouldn't send them back to imprisonment, torture, and possible death.
Finally, the Erdogan government has locked up an American without trial or formal charges, a story that will tear at your heartstrings. On October 9, 2016, Rev. Andrew Brunson, a North Carolina church pastor, was arrested in Izmir, Turkey. He was accused of being an armed terrorist simply for befriending and meeting with Gulenists in Turkey. For more than eight months, he's been held in captivity with little access to family and the U.S.
Sen. James Lankford, an Oklahoma Republican, has championed his cause, along with some conservative media outlets. As a nine-year-old, I remember the mainstream media counting the days Americans were held similarly in Iran, but they've largely ignored Rev. Brunson. Many speculate that Erdogan has offered to trade him for Gulen. It's hard to imagine our NATO ally Turkey treating us the way the Soviets and East Germans did, by trying to force a hostage swap, akin to the recent movie "Bridge of Spies." Contacting your representatives and senators will help give Sen. Lankford the support he needs to bring this American home. But don't take too long. Other Westerners, including Americans, have died in captivity in Turkey or perished under mysterious circumstances.
John A. Tures is a professor of political science at LaGrange College in LaGrange, Ga. He can be reached at jtures@lagrange.edu. His Twitter account is JohnTures2. 
P.S. For more about how democracy is dying in Turkey, see the Global Journalist program for June 8, 2017.