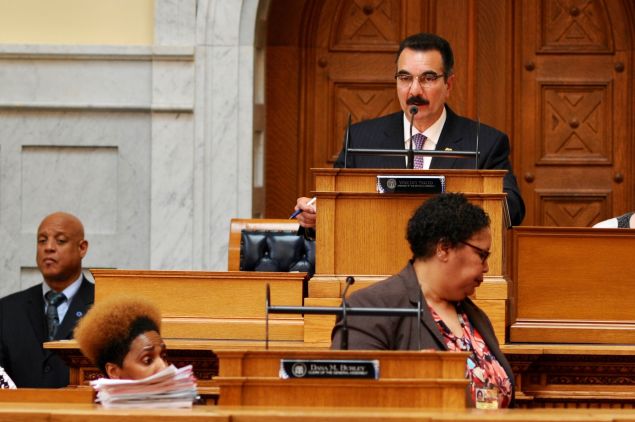 In an explosive development, a group of Democratic lawmakers is planning to oust Assembly Speaker Vincent Prieto on Thursday if he refuses to post a bill that would restructure New Jersey's largest health insurer, Horizon Blue Cross Blue Shield, three sources told Observer.
Gov. Chris Christie for months has been calling on lawmakers to pass legislation that would allow the state to raid the insurer's $2.4 billion reserve fund after he leaves office. Christie wants the state to take roughly $300 million a year from the not-for-profit company and devote it to drug treatment programs, a move that would provide relief for the cash-strapped state budget.
The state Senate Budget and Appropriations Committee approved a similar bill on Monday, sponsored by Sen. Joe Vitale (D-Middlesex). The bill has been fast-tracked this week and is up for a vote in the full Senate on Thursday. Democrats say Christie has agreed to an extra $125 million they added for schools in the new $34.7 billion state budget due Saturday, so long as they give him a Horizon bill and another, non-controversial piece of legislation.
But Prieto (D-Hudson) has been adamant that he will not post any Horizon bill for a vote in the Assembly, criticizing the idea as unfair and risky amid ongoing discussions in Congress about repealing and replacing the Affordable Care Act.
That resistance could put a premature end to his speakership.
In a conference call between power brokers in Essex, Middlesex and Union counties and South Jersey, Democrats agreed to make a run at Prieto during the Assembly voting session on Thursday unless he relents and posts Vitale's Horizon bill for an emergency vote, according to three sources with knowledge of the call.
The plan is to replace the speaker with Assemblywoman Eliana Pintor Marin (D-Essex) on a caretaker basis until the end of the year, the sources said. Pintor Marin would post the Horizon legislation, they said.
Prieto already had a target on his back.
Assemblyman Craig Coughlin (D-Middlesex) has announced that he has enough support to oust Prieto from the speakership, provided Democrats perform as expected in the November elections, when all 120 legislative seats and the governor's race will be on the ballot.
The Horizon mechanics have accelerated that process. Prieto would be thrown out Thursday instead of next year under the new plan. And Coughlin would give Pintor Marin the powerful chairmanship of the Assembly Budget Committee next year after he took over the speaker's gavel from her.
Sources said that the conference call was arranged by Essex County Executive Joe DiVincenzo, a Democrat who has been one of Christie's staunchest allies but who fell out of favor with the governor last year when he could not round up enough votes to save a controversial bill Christie wanted to punish New Jersey's newspapers by cutting into their revenue from publishing official legal notices.
Christie in his proposed budget for the next fiscal year zeroed out $31 million in funding for Essex County programs on crime prevention, recidivism, county jail substance abuse treatment, and a golf course. Democrats added $28 million of that money back into their budget plan, restoring all the cuts except the one for the golf course. But Christie could slice it all off with his line-item veto unless he is placated.
In addition, the extra school funding Democrats have proposed would send $27 million to Essex County, so DiVincenzo has around $50 million riding on the governor's good favor this year.
Two sources said that others on the call included Middlesex County Democratic Chairman Kevin McCabe, a strong Coughlin and Vitale backer; Union County Democratic Chairman Jerry Green; and Senate President Steve Sweeney (D-Gloucester). George Norcross, the South Jersey Democratic power broker, was not on the call, sources said, but would support the effort to make Prieto walk the gangplank.
Meanwhile, a highly placed Republican source said that "recently there has been an effort to reach out to Republicans to join the coalition based on the failure of the speaker to post the Horizon bill." And some Democrats are fretting about potential funding cuts for their districts or pet programs unless Prieto gets assurances from Christie as to what is safe and what could be axed.
Removing the Assembly speaker mid-session is a heavy lift. Under the rules of the Assembly, the speaker can be removed at any time with 41 votes. Democrats have 52 seats in the chamber.
But Coughlin has only 26 supporters in the current Democratic caucus; Pintor Marin would make 27. So the effort to oust Prieto would require Republican votes and an agreement with Assembly Minority Leader Jon Bramnick (R-Union).
Bramnick told Observer earlier this year that he was not planning to get involved in the leadership tussle between Coughlin and Prieto. But Christie is said to be bringing pressure down to bear on the Republicans, and some GOP lawmakers who stand to gain extra school funding under the potential budget deal may not want to pass up the opportunity to bring home more bacon.
Bramnick did not respond to a request for comment Wednesday.
Prieto declined to comment.
Correction (June 29): After publishing this story, Observer heard from several other Democratic sources, including some who were on the conference call, and is told reliably that ousting Prieto did not come up on that call.
However, the plan to remove Prieto from the speakership and replace him with Assemblywoman Eliana Pintor Marin was discussed among Democrats and was floated as an option in the event that Prieto did not post the bill to restructure Horizon Blue Cross Blue Shield.
This plan was described to Observer by a mix of highly placed sources in the pro-Prieto and anti-Prieto camps on Wednesday, and a Republican source later said there was an effort underway to enlist GOP votes. It appears that the plan lost steam at some point, and Pintor Marin herself told InsiderNJ that she would not participate in it.
Observer regrets the mischaracterization of the conference call and apologizes for any confusion, but stands by the rest of its reporting. The original text of this story has not been updated in order for readers to have a full picture of what transpired.