How will Apple smartphones look like on their 10th anniversary? There are rumors about the features; good news, bad news and constant updates on design concepts including the so much awaited new interface of iOS 11.
So how will iPhone 8 look like? Will it be just a bit better than iPhone 7? We certainly hope that's not the case.
Today I bring you my opinion on the design concepts that triggered my curiosity about the entire path Apple has taken to introduce to us a better iPhone in 2017.
The leaks of three iPhone manufacturing molds of varying sizes do not amaze us as much as the new high-tech features included in the innovative concepts we can see online. Designers have gathered a wide range of gossips to come up with new concepts and have been developing them for the last two years.
The eight models below have attracted my attention. Maybe not all of them are realistic, but they contribute to the overall hype and will give you a beautiful picture of what to expect in autumn 2017.
Concept designed by Thadeu Brandão exclusively for ConceptsiPhone.
As we can see, the home button is nicely integrating a touchscreen of its own. The bigger screen is always helpful, to be honest, like a rounded metal frame too. This might not be true, but judging by the size of the phone about the lightning port, it looks like this phone model is no larger than the iPhone 7 Plus.
If you are a huge fan of video making, the first question that comes to mind when looking at this design is—what's new and exciting about the camera in this concept? Not much. So it's a big minus for the concept for ignoring the much-anticipated news on camera design development. Or maybe it is just hidden? I am not sure.
I think it's pretty simple for the design concept of iPhone 8, as rumors included so much more amazing features that can be added.
Just iPhone 8 by Iskander Utebayev.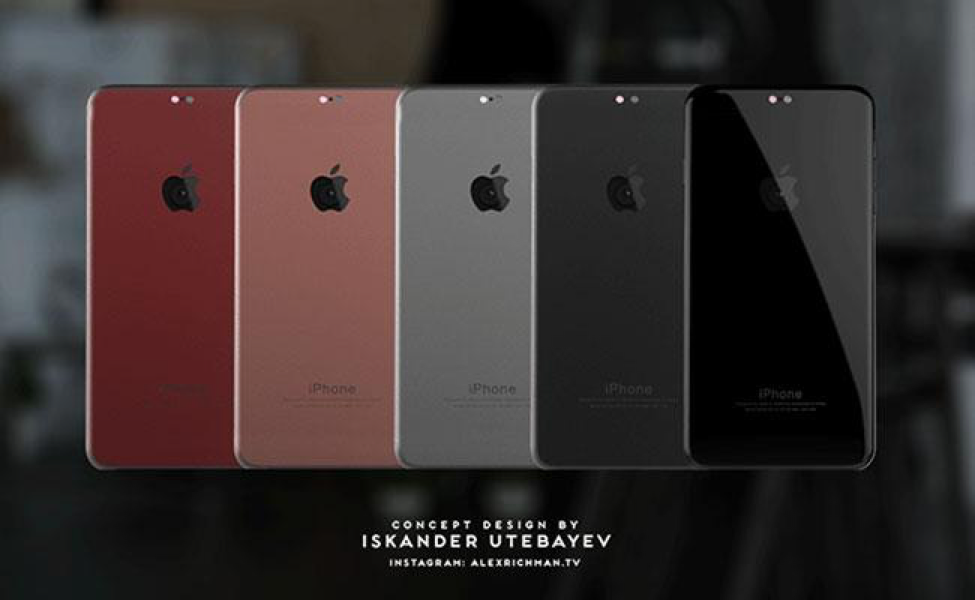 The widescreen seen in the first concept is taken further to a wraparound screen, what looks like a much sleeker choice.  Iskander Utebayev apparently took inspiration from Samsung's Galaxy "edge" model. The designer also plays with the devices' camera and puts it in the middle of the Apple logo. Not sure if we can expect such new twist to be confirmed by Apple branding strategists, but worth guessing.
iPhone 8 concept by Georgy Pashkov.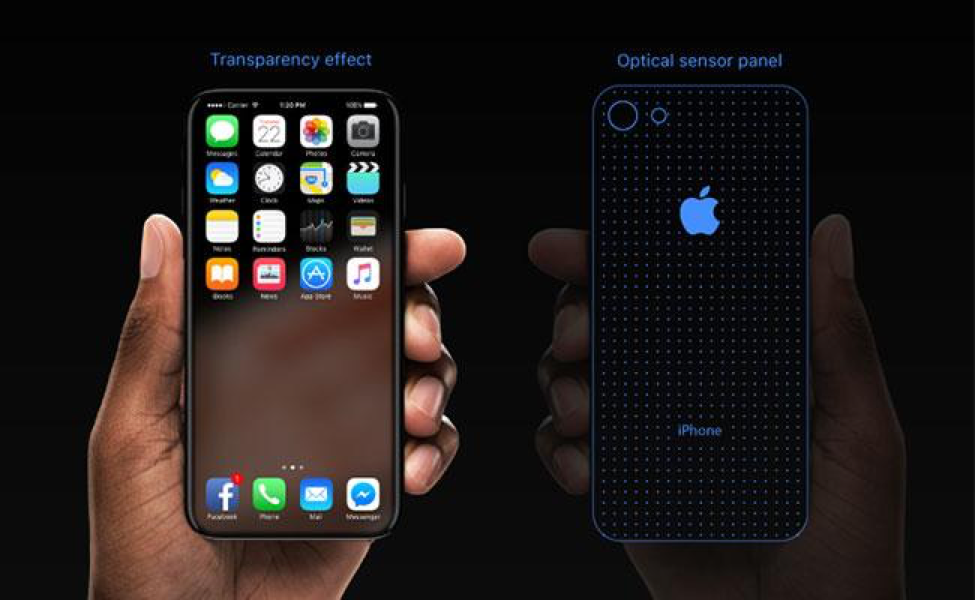 In this design, we can see physical home button built into the screen at the bottom of the device, similar to most concepts available online. But Pashkov takes the screen to the next level by making it all transparent. Optical sensor covers all back of the phone too.
Moreover, such new Apple 2017 device would also come with Piezoelectric Speaker. What is special about it? It allows the audio to come right out of the screen's glass panel.
Today we can also most certainly say that Pashkov rightly predicted fingerprint technology, which has confirmed my new rumor leaked on May 26th about touch ID integrated into the display. Apple supplier Taiwan Semiconductor Manufacturing Company (TSMC) confirmed the new feature during a technology convention held in Taipei. Based on historical reports, this new development has been a challenging project dating back to June 2015.
Fingerprint scanning technology sounds safe to many fans anticipating more secure devices in the era of increasing cyber security demand. We cannot ignore the fact that many apps managing all areas of our life—from health to finance—are held in that one gadget.
Not to ruin the hype, but Apple itself says there is still a one in 50,000 chance of its fingerprint scanner registering a false positive.
Regarding security, we expect Apple to provide us not just with new security features, but also to fix existing issues. For example, On May 26th, a new Apple rumor appeared about Siri bug that permits cellular data to be disabled from the lock screen without any Passcode.
More concepts take 3D sensing technology and apply it possibly for more security providing features.
iPhone 8 X Concept edition by Imran Taylor focuses on 3D technology and facial recognition feature.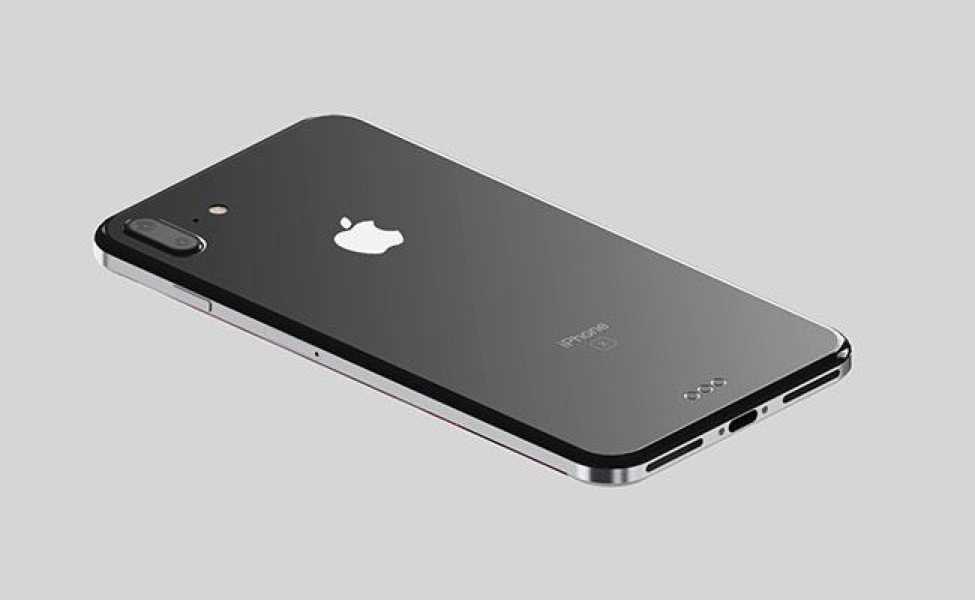 Facial recognition feature concept doesn't seem to be so unrealistic when we look at the history of acquisitions and suppliers.
Noteworthy is Apple's partnership with Lumentum to develop 3D sensing technology. It is pretty unclear though how the feature will be applied. It could be used for facial recognition, AR, or video enhancements. This year, in February, Apple bought Israeli startup RealFace, a cyber-security and machine learning firm specializing in facial recognition technology, while still owning crucial technology from Emotient. Facial detection and automated expression analysis in real-time can read our emotions, so you might not look at your next iPhone when you are sad. Emotient, a San Diego-based artificial intelligence startup initially served advertisers, doctors, and retailers.
Manufacturing of the 3D technology parts is becoming clear too. The Korean Economic Daily reports that a company called LG Innotek will supply Apple with 3D facial recognition modules for the iPhone 8.
The iPhone 8X has more answers about the new camera too. The camera in iPhone 8 X has even more exciting features, the ability to take augmented reality photos & parallax photos, the ability to measure distance and apply measurements to augmented reality objects.
Augmented reality is one of the big "known secrets" of Apple. Apparently, Apple might own an undisclosed research unit involving hundreds of talented employees working only on AR and VR.
Many members of Apple's AR/VR team may have joined the company through the acquisitions of PrimeSense, Metaio, Faceshift, Emotient and Flyby Media. In 2016, one of Apple's most notable hires was Professor Doug Bowman, who formerly led the Virginia Tech's Center for Human-Computer Interaction.
What we all feel is that the secret research unit is under a lot of pressure to make this year exciting for Apple loyal fans.
If AI is the primary focus for Apple, enhanced Siri version is much awaited in iPhone 8 edition.   We all need that effective assistant Siri to be developed this year in such fast paced life. Therefore based on the acquisitions story, Gabor Balogh nicely introduced not just new design features but also technical capabilities of the future Siri.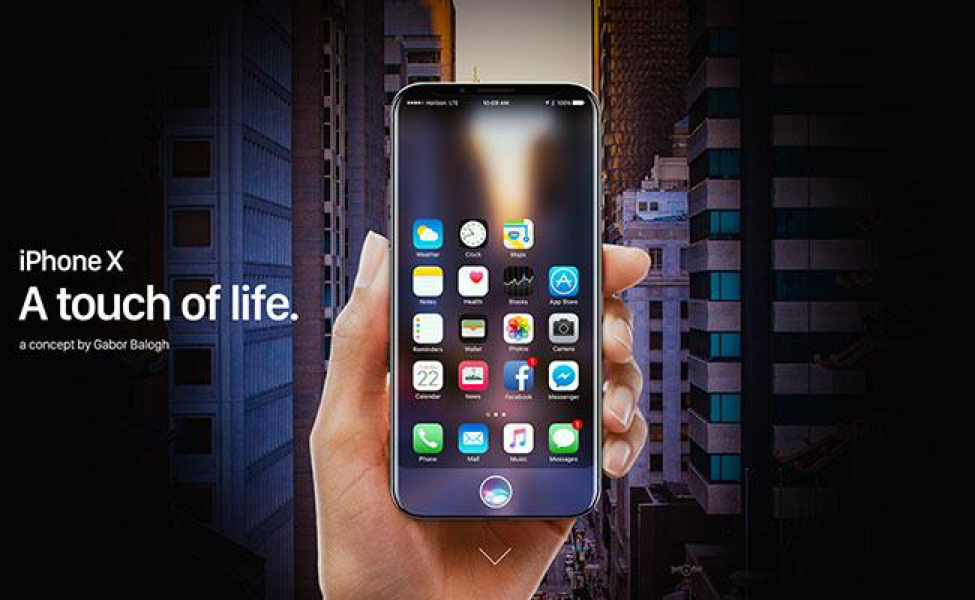 In this concept, pressing the Siri button would allow users to issue commands based on what they see at that moment. Siri would be interacting not only with your iPhone but also real-world objects that it sees in the live view.
Balogh takes the extra step and suggests that it could also be integrated with other apps, like Facebook, allowing users to watch live events applying different perceptions. If AR is developed to such a level, we could also enjoy much better turn-by-turn navigation.
Siri and the 3D camera might even be used for better human interaction. For example, Siri helping to get health data synchronized with an image that we get when we point at our loved ones. Can you imagine getting information about the state of health of people around you just by asking Siri?
Apple has thought about our expectations from digital assistant too. In fact, Apple has bought other companies that could benefit Siri current and future development. The companies include machine learning startup, Perception, and Language Processing outfit VocalIQ.
With so many features and functions, how will the battery handle all the greatness of the innovation?
This year, there has been news about the new processor handling AI. The new processor technology is expected to unburden the demanding AI tasks that impact battery life.
Can we confirm any design concepts by looking at what two prominent iPhone leakers have reported?
Benjamin Geskin has a strong reputation on Twitter for being one of the very reliable iPhone models leakers.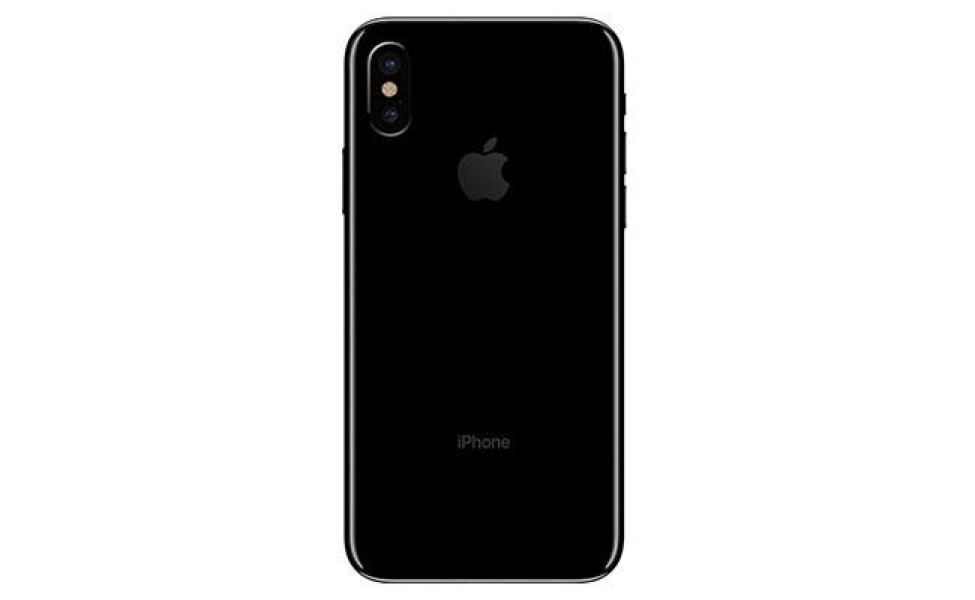 I have checked his account, and on May 24th, 2017, he outlined the following updates: New Premium Design, Full Front OLED Display, Wireless Charging, 3D Face Scan, 10nm A11 Chip, iOS 11 & AR Features.
All of the above have been seen in the concept designs.
As much as we all care where the camera is – in Logo or unseen by the naked eye, our eyes spend most of the time on iOS interface design.
The iOS 11 is an exciting topic. The last time iOS got a design refurbishment was with iOS 7, and many including me, believe it is time for a real change.
There are many wish lists on the new iOS 11 design. Some examples are:
Animated app icons with changing helpful information

Less intrusive volume interface.

Widgets that many iPhone users are fond of when they gaze at Android devices

Dark mode which was anticipated, but never materialized

Multitasking features like iPad's split view

Notification grouping. I vote for this one, prioritizing your apps without prioritizing the notification from 80 apps on the phone doesn't make sense to me.

Better locking apps options as a second layer security. Some apps like budgeting or online banking and transactions have particularly sensitive information, therefore I would even vote for three security layers on chosen apps.
More efficient management of apps and files, the ability to save time and security are the priorities of most iPhone users.
Apple has announced that it mostly focuses on Siri and Multi-user FaceTime calls. The company is said to be introducing the ability to make group calls via FaceTime video in a similar way to services like Skype.
What about the release itself? Based on certain rumors, iOS 11 might not be the epic announcement. It's still likely that Apple will drip-feed new features and interface pinches throughout the year.
Another Gadget leaker Steve Hemmerstoffer posted a new video on May 9th which has already received more than 1 million views and is based on official factory computer-assisted design schematic.
Not much information can be gathered from the video, but the camera bump has received much anger in the comments section. I would prefer the camera hidden in the logo.
We can have many guesses while watching this short concept video such as – iPhone 8 possibly having two front-facing cameras, even maybe one with depth-sensing technology.
Before this leak, Steve Hemmerstoffer shared an image that hints wireless charging.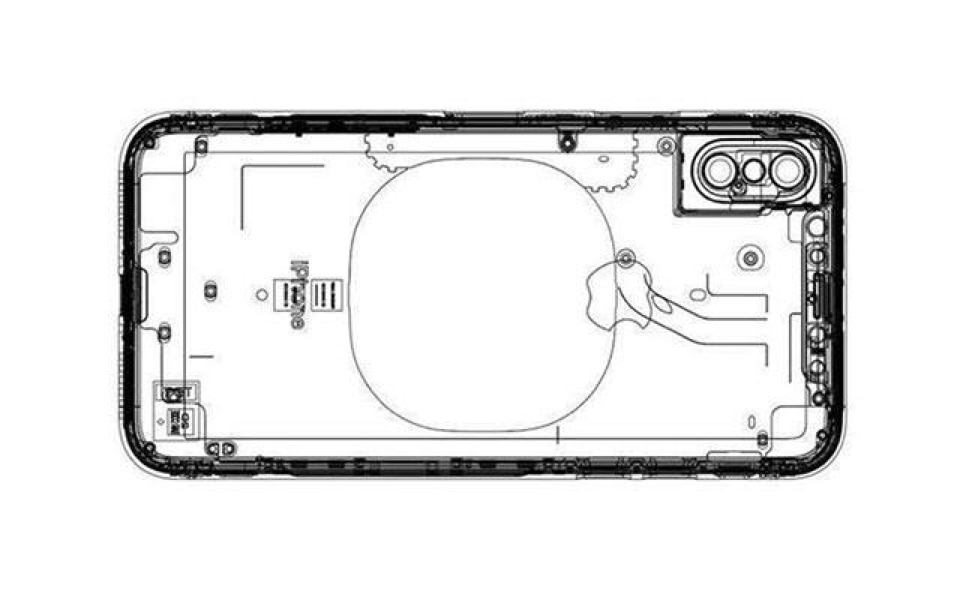 So if both—Geskin and Hemmerstoffer have evidence about wireless charging, this feature can't be far from the truth, or can it?
Without much guessing can we still be 100 percent sure that this is the model of iPhone 8? Apple is testing various prototypes of the iPhone 8. Even Hemmerstoffer admits on Twitter that this video may not be 100 percent precise. I certainly hope so.
What about the bad news and good news?
First, according to latest reports, next iPhone can be the most expensive yet, exceeding $1,000. The high price tag can be backed by a new OLED display that will stretch across the whole front. Another reason that is often heard is a significant memory upgrade.
Second, there are anticipated delays on the launch and shipping delays. But let's be honest, so much faith, ideas, anticipations, and dreams are surrounded by this new launch that we might no longer be amazed when we finally lay our hands on iPhone 8.
Apart from Apple reaching its goal to develop fingerprint sensor, other nice recent rumors that we all want to believe include a new report from analysts at JPMorgan that iPhone 8 may come bundled with a free pair of AirPods.
The AirPods link up to your iPhone or Apple Watch. These wireless earphones also contain a pair of microphones. That makes it easy for you to control your music, volume and check your battery using Siri.
Summary
As we can see, a history of AI startup acquisitions has fully empowered Apple with all necessary resources to create an epic launch for the special anniversary occasion, so the design and features expected have never been so numerous.
I believe that many iPhone enthusiasts would prefer some new exciting but safe features, while others might go for the simply cheaper option. All of the above design concepts just make the waiting much harder and creates stronger anticipation.
Personally, I first prefer security and more organized interface. Productivity is my top priority. You can only be prepared for "anything and everything" great this autumn.
Justas Markus is the Founder and CEO of Just&Tom and JustasMarkus.com. He is a passionate traveler and blogger at Entrepreneur.com, Observer.com, Business.com, Influencive.com and others.