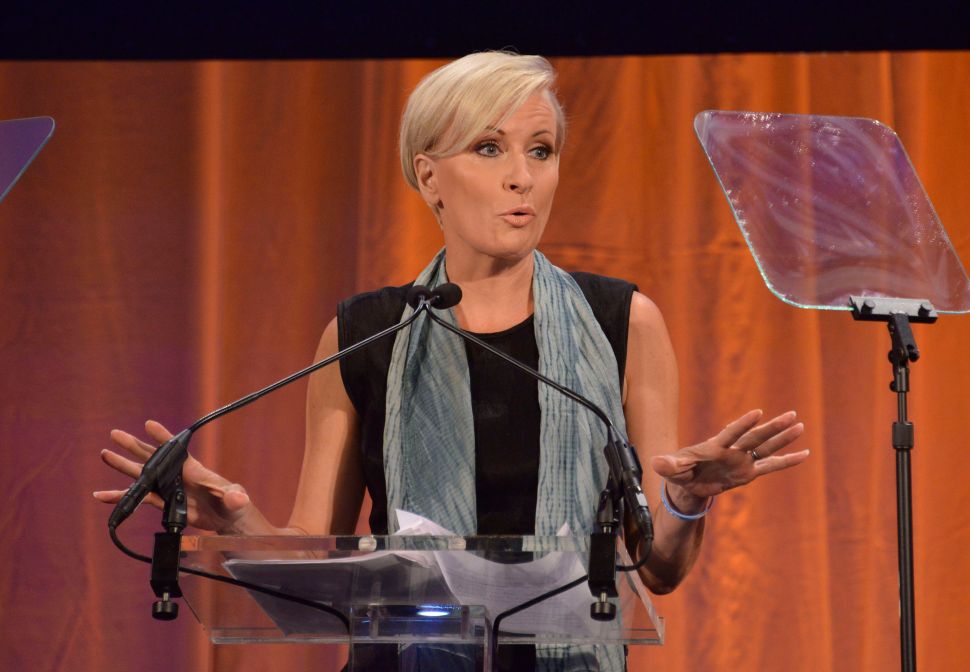 Amateur President Donald Trump displayed his rude and crude side again Thursday morning by insulting Morning Joe co-host Mika Brzezinski of MSNBC in a sexist and misogynistic rant.
Trump's comments temporarily obscured current, critical issues like his cruel travel ban against Muslim nations, his heartless and reckless attack on medical insurance, and his sinister smears against institutions investigating the scandal of Russian cyber spies who helped elect Trump.
Referring to Brzezinski's co-host and fiancée Joe Scarborough, Trump called them "low I.Q. Crazy Mika" and "Psycho Joe" and he said he refused to be interviewed by them last winter at his millionaire's retreat in Florida.
"(They) insisted on joining me," Trump wrote. "She was bleeding badly from a face-lift. I said no!"
Criticism came swiftly, not only from his own party but also from personalities on his sanctuary network, Fox News Channel.
Lindsey Graham, the Republican senator from South Carolina, wrote "Mr. President, your tweet was beneath the office and represents what is wrong with American politics, not the greatness of America."
A stronger statement came from A.B. Stoddard, a Fox commentator.
"President Trump has gone over the line once again," she said on air in the late morning. "He's absolutely impulsive in a way that really scares people. This is beneath the dignity of the office. He's in the wrong line of work if he can't take criticism from people on a morning show."
To be fair to Trump, it must be remembered that he often insults many people. But he seems to save his most vicious comments for women by ridiculing their faces or other body parts. During his presidential campaign, he mocked the faces of rival Republican candidate Carly Fiorina and Sen. Ted Cruz's wife.
When he was displeased by Megyn Kelly, who was then with Fox, Trump referred to her body bleeding from "her wherever," a reference to menstruation. During the campaign, recordings surfaced in which Trump bragged about greeting strange women he fancies by grabbing them by the crotch.
To be further fair to Trump, it also must be remembered that people often insult his appearance as well, including his large, orange head and his unnatural mop of blond hair. They also point out his peculiar habit of wearing long, red neckties that extend well below his belt line. Perhaps Trump wears his ties long to create a vertical line across his large belly to disguise his overweight condition. Or, perhaps he wears them so that the ties point directly to his genitals, where much of his consciousness seems to originate.
To be extremely fair to Trump on the issue of cyber-bullying, it has to be said that his third wife, First Lady Melania Trump, made a campaign speech against the juvenile kind of taunts at which her husband excels.
In respect for her, most news media outlets have avoided showing or even discussing the dirty sex pictures she posed for, naked, when she was a fashion model and immigrant to the United Sates and taking modeling jobs away from hard-working American female sex worker persons.
Trump's boorishness was a topic Thursday on the Fox show Outnumbered, which features one man sitting on a sofa surrounded by four women in short dresses. One of the women was Meghan McCain, daughter of Arizona Republican Sen. John McCain.
She said Trump caused her to be "grossed out" with comments about cosmetic surgery.
"Stay away from it, don't ever talk about that if you're a man, in general," McCain said. "I do believe this is beneath the dignity of the White House and the presidency."
She said she was concerned about the next generation of young Republican women.
"I don't want to be seen as a party that somehow isn't respectful towards women," she said.
Another sofa sitter, Trish Regan, said Trump needs to be dignified in his attacks.
"As soon as I saw the word `bleeding' I flinched," she said. "…Do not stoop to that level."