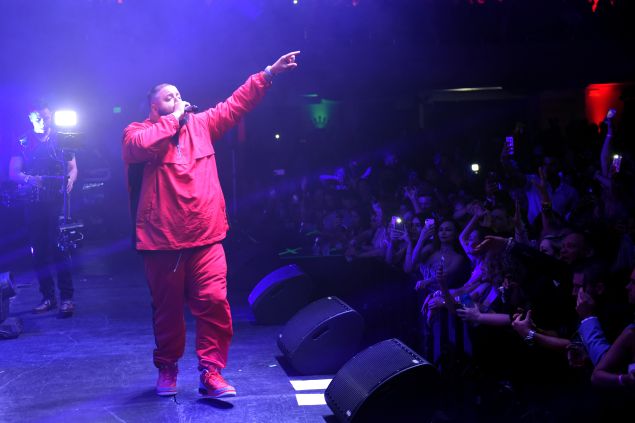 Welcome to Entertaining AF, a new celebrity column from Hollywood reporter Emily Bicks. 
If there was ever place to release your inner Victoria's Secret runway dreams, Maxim Magazine's Annual Hot 100 Party would be it. Walking onto the red carpet at The Palladium in Hollywood on Saturday night (June 24), I quickly realized that I was considerably overdressed. And I mean that literally. In a mini skirt and sleeveless tank top, I had way too much clothing on. Produced by Karma International, the Hot 100 Party is truly a fashion show of the most skin-baring, barely there dresses and see-through jumpsuits. This one event might be what keeps every body tape and nipple pad company in business.
The hostess of the evening, Hailey Baldwin, who earned this year's No. 1 spot on the Hot 100 list, showed off her supermodel pins in a white, backless mini. Her cousin, Ireland Baldwin wore a yellow floor length dress with tiered ruffles, which even with it's deep V-neck, seemed like a modest choice compared to the outfit Blac Chyna arrived in. Rob Kardashian's ex was sporting a platinum blonde bob, fedora, and a black sheer gown which would've revealed everything if it weren't for a few well-placed appliques. She was followed by an entourage of ladies, and a bodyguard the size of the Jolly Green Giant trailing close behind.
Nick Cannon was apparently standing right in front of me, but if my friend didn't point him out, I would've never recognized him. The America's Got Talent host looked like he stepped off the set of a remake of Coming to America, wearing a black do-rag head wrap, mirrored sunglasses, and shoes that sparkled more than the gold jumpsuit model Shanina Shaik was wearing, the latter of which was my favorite outfit of the entire evening.
Mirroring what most of men in attendance wore, Pauly Shore kept it casual in jeans and a blazer. Jamie Foxx was even more laid back in white sneakers and a royal blue bomber jacket. Standing out from the crowd in a perfectly tailored plaid suit was former San Diego Charger Larry English. Of course, I was really staring at the woman on his right arm, model Nicole Williams, who was as beautiful up close as she is in pictures. It was aggravating AF.
"She had me running around picking up her dresses," English said, in regards to his wife. "I was stuck in traffic for hours."
"I don't drive," Nicole said, with a laugh. "And it takes him like three minutes to get ready!"
I asked Nicole if she had a special routine on the day of big events like this, maybe she did an epic work out or took a steam shower before putting on $1,000 face cream all over her body. Her skin glowed like Kim Kardashian's and I found it imperative to find out her beauty secret.
Nicole, whose recent wedding to English will be featured on the upcoming season of WAGS on E! Network said, "I take it easy. On the day of events, I like to rest, sleep in, get up and just really take it easy. Then I start getting my hair and makeup done, so he's not rushing me around."
So, just "take it easy." Great. Awesome.
And when I asked her how many dresses she tried on before choosing the deep V-neck fringe number that fit her like a glove Nicole said, "Michael Costello designed this for me. He designed my wedding dress, he knows me and my sizes and he was like I have something for you. Just come pick up."
I swear to God, if this woman wasn't so genuinely without ego and lovely to speak with, I'd hate her. But as I found with most of these cosmetically blessed humans, they're super nice, good hearted people. Obnoxious, I know.
The Palladium on Sunset Boulevard is an art deco concert venue with 11,200 square feet of dance floor, and it was filled with nearly 2,000 guests. There were bars in every corner, music so loud you had to yell to hear what the person next to you was saying, and while this kind of nightclub atmosphere is typically my nightmare, the DJs were killing it with the music. Even the self-proclaimed too cool for school types in the velvet roped off VIP areas couldn't help but get up and dance.
My World on a Plate kept the party energized by putting out a food buffet. The meatballs marinara were the first to disappear, while my personal favorite, the blue crab deviled eggs were passed around throughout the evening. Belladonna Sweets served up an entire array of desserts for which model after model kept stopping to stare at, but never actually eating. I had two Rice Krispies Treats topped with white icing and gold flakes, and a chocolate cupcake because I'm a savage. But I needed to quickly moonwalk away before I broke the cardinal rule of partying: Don't eat to the point where you don't have room to drink. Sure, I made that rule up. But it's a good one.
Other than Too $hort making a surprise appearance on stage with DJ Khaled, the most entertaining part of the evening was the people watching. Each woman that walked by was like seeing a rare piece of fashion art up close. They all had picture perfect hair, or maybe it was a weave, it's very hard to tell when they're good quality, and makeup that airbrushed out any kind of blemish. One woman had a purse in which her name flashed in LED lights, while another wore a hot pink raincoat. Was this woman aware she was attending an indoor event in the famously drought-riddled city of Los Angeles? I don't know. But she was rocking it with confidence.
Unlike most major industry events, it's possible for non-show business folks to purchase tickets to Maxim's annual party, and it's easy to see why hundreds of men would shell out hundreds of dollars to attend. On stage, a dancer performed an impressive acro routine on a hula hoop which hung from the high ceiling, and once I got right up close, I noticed the other dancers on stage weren't wearing any clothing at all. Just boobie tassels and body paint with their butterfly wings.
Making my way to Nicole and Larry's table, for which I made a concerted effort not to keep staring at Shaik's gorgeous gold romper with envy, I found myself situated right next to the Baldwin girls. The two stuck together throughout the evening, hanging with model Justine Skye and Antje Utgaard, and everyone seemed to be genuinely enjoying themselves. No one was on their phone, glued to Instagram or Snapchatting. People were talking with each other, dancing, and refreshing one another's drink.
Other celebs in attendance included rapper Wiz Khalifa, who was rocking pink sunglasses and what looked like super comfortable iridescent hippie pajama pants, model Joanna Krupa, singer Christina Milian, rapper Lil Mama, and actress Peyton List. The party kept going until the wee hours of the morning which was impressive considering it was the night before the BET Awards, and many of the guests in attendance were expected to be there bright-eyed, and bushy-tailed the next day. But it's hard to go home when surrounded by some of the world's most beautiful people, endless bottles of Absolut Elyx vodka, good music, great food and bottles of Perrier Jouet Champagne getting popped every five minutes. I for sure couldn't.