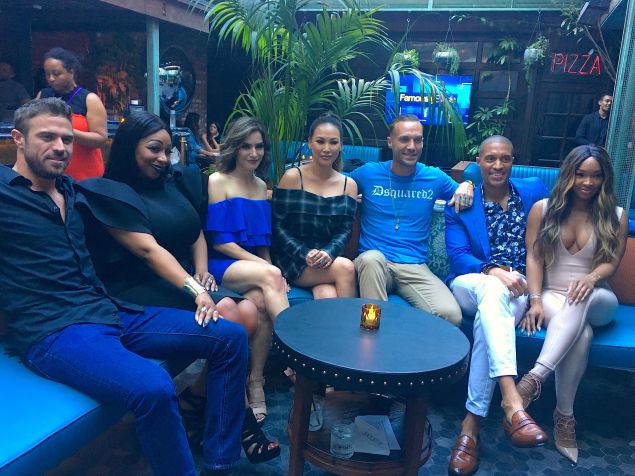 Welcome to Entertaining AF, a new celebrity column from Hollywood reporter Emily Bicks. 
On Wednesday night (June 21), cast members from E! Network's Famously Single gathered at Avenue nightclub in Hollywood to promote the upcoming Season 2 premiere. In a fun twist, the press day was planned to mirror that of a speed dating soiree, so while people ordered drinks at the bar, wagyu beef sliders, thai chicken skewers, and mushroom crustinis were passed around, and what could've been a series of stiff interviews were instead casual, easy conversations.
While DWTS alum Karina Smirnoff, Ronnie Margo-Ortiz from Jersey Shore, and fitness model David McIntosh couldn't make it, Tiffany "New York" Pollard, Malika Haqq from Keeping Up with the Kardashians, British personality Calum Best, Rich Kids of Beverly Hills' Dorothy Wang and Bachelor Nation's Chad Johnson, were all in attendance. The latter of whom, I debated whether or not I'd actually approach for interview. But more on that later.
Malika waltzed into the event wearing an off-white, skin tight unitard for which I still have no idea stayed it place, how she went to the bathroom, or breathed comfortably, but she looked incredible. And Tiffany's excitement when she spotted Malika was of absolute glee. These two clearly bonded during filming, and they spent a full five minutes taking selfies together. One for Instagram, Snapchat, and Twitter, an entire shoot for each of their phones.
Looking around the room, I did what any normal person would do in my situation, try to guess which castmates had hooked up with each other.
I asked Dorothy straight up. And while she didn't "get romantical" with any of her co-stars during filming, in comparison to Rick Kids she said, "The living situation was definitely not as fun. It was like being in camp, a frat party or a sorority house."
But being on Famously Single seemed to have been worth it, because Dorothy was excited to say that she's now actively dating.
"I know people love the dating apps, and it can work, but I've never tried them. Dating in Los Angeles, it's not like you can just meet someone on the street. It's always a setup, or a referral. I won't even go into a restaurant without a recommendation, so why would I date someone without a recommendation? They need to be vetted! I've always been picky. Even when I wasn't on TV. But this experience has made me not so timid, and not so cautious when it comes to dating. For me, I think it's about being open and giving it a try."
"I'm such a perfectionist," Dorothy admits. "I was like oh, dating is so awkward, and what do you say to the other person if it's a bad date? But you can have a bad date, oh my god, we had so many bad dates, and I came out okay. It's part of the process. Everyone has been rejected and everyone has lived to tell the tale."
Next, I approached Callum. Not just because this tattooed, tall drink of water was standing next to me ordering another Jameson and ginger while I got a second glass of champagne, but because I was genuinely curious as to why he was the only cast member from Season 1 to return for more.
So why'd you come back for Season 2?
Callum Best: I was very flattered they asked me to come back! The first time around, I ended up building a connection with Brandi [Glanville] in the house. We ended as friends, but it didn't evolve. This time, I wanted to do it just for me. To go through the whole thing and not get involved in any in-house romance or drama. And that's what I did.
In my youth, I was like nah to therapy. Like no one's ever gonna teach me something about myself I don't already know. But I've learned talking about things is really important. I haven't cried about losing my old man in years. All Dr. Darcy had to do was look in my eyes, say a few things, and I was like bawling. For me, this was about personal growth and what Dr. Darcy and [dating coach] Robert Mack had to offer. Not meeting a hot chick. [I'm] still single, though.
Uhm. Spoiler alert! 
What? No way. This filmed months ago.
Have you tried dating apps?
 Raya. A friend introduced me, and I used it for awhile when I was in LA and single. I only met about two girls on it. The idea of it is great, but it didn't work me. But saying that, social media is a huge way of meeting people.
So, you're more likely to just slide into those DMs? 
Oh, yeah. Definitely guilty of that, for sure. Not crazy about going in for a random, there's always some sort of six degrees of weird separation. I have to know somebody.
No. 1 dealbreaker?
In the UK, there's a lot of girls on Instagram where they have pictures of scenarios where I think that scenario isn't your scenario. Someone has created that scenario for them, and that puts me off.
Like girls taking selfies on a boat?
Yeah! Or like a brand new something… and I'm like hold the fuck on.
Do you think being a public figure affects your dating life?
I have a good judge of character. I've been in this business for 17 years now, so I can suss out [the thirsty ones] right away. When I was younger, I milked it. I [didn't] even care. But now, just meet the person and you'll find out soon enough what's up. I don't put up with bullshit. I'm not about it.
How did you like everyone in the house this season?
Everyone's a strong character. Unique in their own ways. David is from the UK as well, and he's been a friend of mine, so I knew I had a wingman. Me, Ronnie and Chad got along so well. It was like a full bromance.
Did you watch their prior reality series?
I knew of Ronnie, because his show was iconic for years. And the season before, I had done with Pauly D., who was like dude, you're gonna love Ronnie. All I knew of Chad was that he's kind of a bad boy, and had a reputation of being a dick. But when I met him, he was a lovely dude. What's cool for him is that he got an opportunity on this show, that maybe he didn't have on [Bachelorette or Bachelor in Paradise], to show a side of him people haven't seen before, and I think people will like him for it.
Interesting, I thought. And that's when I spotted Chad on the other side of the bar. Sporting a black button-down shirt, jeans, and munching on a chicken skewer, it was so true to form, I couldn't help but smile. I had to approach.
So, this series filmed end of last year. And now you're about to be on Bachelor in Paradise?
Chad Johnson: No, I didn't go. I was dating somebody at the time.
Was it someone you met on Famously Single?
Maybe.
Why did you join this show?
It's not that I couldn't get someone to date. It's that I date too much and can never decide who to choose to make it work with. I just hop from girl to girl to girl.
What the No.1 dealbreaker for you?
If I'm not laughing and having fun, I'm out. You don't necessarily have to be a comedian, but we kinda gotta laugh at the same stuff. Long term wise, the one thing I look for is if a girl just got out of a relationship. I don't date girls that hop from relationship to relationship. Like if you just got out of long relationship, and it's been a month, but now you want to my girlfriend, I'm gonna be like call me in six months. I'm gonna go date other girls while you have six months of alone time. You gotta figure out who you are.
How has being on reality TV affected your dating life?
Well, it's made it super easier to meet girls. For the most part, I think the one good thing is that they didn't just my face like a lot of other Bachelor people. They actually showed my sense of humor, and who I am. Girls already kinda know me.
And you think that helps?
Yeah! I think it helps. All the other guys on the show, everytime I see them they're like dude it sucks. I played this good guy role on TV and now I have to keep playing it off camera. And I'm like well, you screwed up.
How do you compare living with the Bachelor guys to the Famously Single men?
It was a totally different scenario from Bachelor. A full 180. From the Bachelor, I've hung out with one dude.. once? But outside of filming, I hang out with these guys all the time.
And you've since moved to Los Angeles?
Yeah, I love it! I'm right near Sunset & Vine. But I don't really go out a whole lot. I mainly did it because I'm doing so many interviews for all this stuff, and I hate flying constantly. I'm too tall to sit comfortably in airplane seats, unless it's in first class.
Have you tried dating apps? Tinder, Bumble… Oh wait, you'd probably be on Raya right?
Raya didn't accept me! Those dicks. But that was like last year, and you can only apply once. I'm still waiting for that e-mail. But I'm kinda dating someone right now. I think.
You think?
I don't really know. It's a weird scenario.
Okay, well. How do you compare dating in LA to Oklahoma City?
Dating is the same everywhere. The girls here are just hotter.
Do you have any regrets from being on reality TV?
I regret not going to bed on Bachelor in Paradise. But that's about it.
Would you go on another dating show if it doesn't work out with the woman you're "kinda dating"?
No reason not to. It's fun. I've dated several girls off camera now, and they don't understand how some stuff works. They see me flirting with a girl on camera and they get upset. But the girls who've been on TV, they get how it works. It's a different world. Some things are not cool in that world that are cool in this world.
Are you nervous for this show to air?
Not really. I was freaking out about the last show, but not this one. I snore. Work out. Date girls. Drink. We were in the house filming for three weeks, and everyone just clicked. We could use our phones, but nobody did.
That's impressive.
Yeah, they did it right.
Seems like you've changed since Paradise. Especially, in regards to social media.
I got so tired of people telling me what I could and couldn't do. They did that on Paradise, what I could and couldn't say, and on Twitter [same thing]. And I was like I'm gonna do whatever I want.  And now, I've proven it. I've killed the fun of it.
Well, it's been really great meeting you in person, because…
Wait.. I didn't block you on Twitter did I?
Yes.
What's your name?
Emily.
Emily… Emily what? Bicks?
Yes!
Did I unblock you?
No! And to be honest, I didn't follow you to begin with. But I got a notification, and I was like, "Oh wow, Chad!" But then I realized you went out of your way to follow me just so I'd see that I was now blocked. What did I do, man!
I don't know. Something! If I see one bad thing, I'll block anybody. It's not that I'm sensitive, it's just I have friends and I have enemies. I don't have anyone in between. If someone calls me abusive and misogynistic, immediate blocks. Even if someone is like I don't agree with you, [you're] blocked!
I did give you a lot of shit for Paradise. But you're not the only one. It's kinda part of the deal when you go on one of these kinds of shows, and then act the way you did.
Well, maybe the block was not undeserved.
Ha! Well, maybe.
Before I left the event, I saw on Twitter that I was no longer blocked. And while I may not have been a fan of Chad's prior actions on TV, I have nothing negative to say. He spoke to me with respect. Gone was the egotistical, meat eating monster he appeared to be during his Bachelor days.
Look, I understand negative critiques are hard to read, especially in regards to reality TV where the line between cast members' true characters and the personas portrayed on camera can so easily get blurred, especially through cuts and edits in post. And I can also see how critques can be taken much more personally for a reality star than say, an actor. If a professional actor is playing a villain, and reads that people hate his or her make-believe character, it's actually a compliment to their work.
But for a person like Chad, or any other cast member on this series attempting be themselves on a reality TV series, that same rule doesn't apply. It's tough. But when you voluntarily become a public figure, criticism is inherently part of the gig. And I give props to all of them. Anyone willing to have their personal lives taped, ya'll are brave AF.