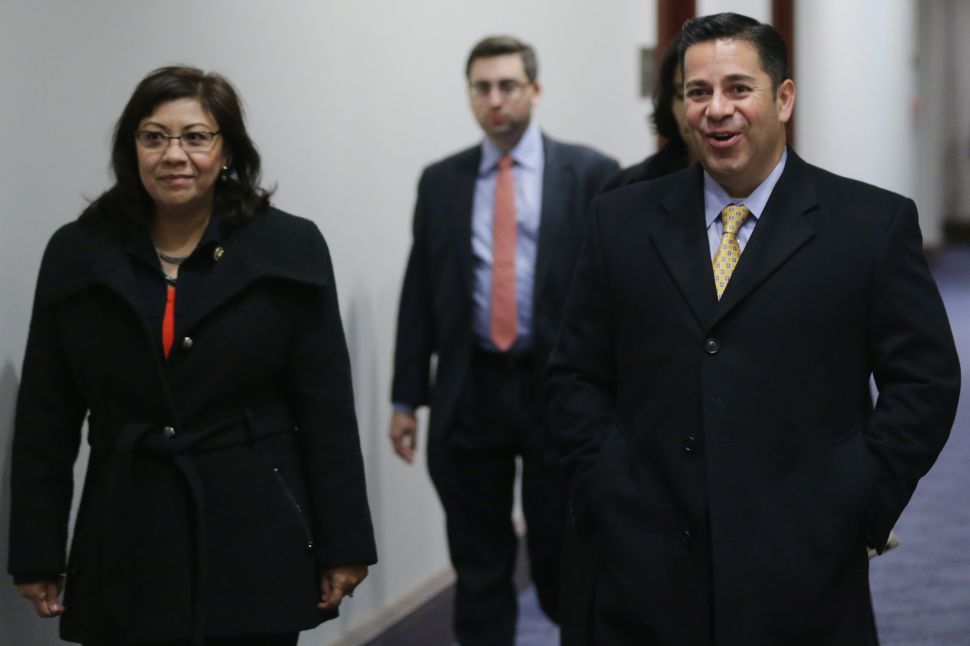 Avoiding reform after Hillary Clinton's embarrassing loss in the election, the Democratic Party re-elected Congressman Ben Ray Lujan as chair of the Democratic Congressional Campaign Committee (DCCC)—even though the number of Democrats in the House diminished throughout the Obama administration. In 2017, Democrats have already lost four special congressional elections. The most notable is Jon Ossoff's loss; the DCCC and Democratic establishment poured their resources into his race as they doubled down of the preferred strategy of the party's donors: focusing on moderate Republicans who voted for Mitt Romney in 2012 but switched to Hillary Clinton in 2016.
Since Ossoff's loss, Lujan and the DCCC have been scrambling to rally their party's demoralized base by citing the various congressional districts that they hope to flip in 2018. However, Lujan recently hit another obstacle: an allegation of an ethics violation regarding the June 2016 Democratic Party "sit-in" on the House floor in protest of gun legislation being blocked from a vote by Republicans. Lujan allegedly used a photo of himself at the sit-in in a fundraising campaign, a violation of House rules that prohibit using official resources, like offices or buildings, for political or campaign activities. The formal complaint was referred to the Office of Congressional Ethics by conservative watchdog group, FACT. Lujan's office denied the allegations.
So far, the DCCC's resistance to Trump and the Republican party has focused on making Jon Ossoff, a neoliberal candidate with a vague policy platform, the savior of congressional Democrats. All the DCCC has to show for their efforts is millions of dollars wasted on the most expensive congressional race in history. His loss is not an outlier: It was a direct result of the strategies of Lujan and Congressman Sean Patrick Maloney, a former advisor to Bill Clinton who was put in charge of the Democrats' autopsy after November 2016.
Lujan told Politico in October 2016 that he thought the Democratic Party could coast off of Trump's unpopularity to start winning races again. "We're seeing Trump's impact everywhere," Lujan said weeks before Clinton lost to Trump. Despite that loss, The Washington Post reported in February 2017 that Lujan and Maloney were considering writing off rural congressional districts altogether. The DCCC later held focus groups with people who voted for Mitt Romney in 2012 and Hillary Clinton in 2016, thinking that converting moderate Republicans is the path to victory.
Senate Minority Leader Charles Schumer infamously claimed in July 2016, "For every blue-collar Democrat we lose in western Pennsylvania, we will pick up two moderate Republicans in the suburbs in Philadelphia, and you can repeat that in Ohio and Illinois and Wisconsin." Jon Ossoff's recent loss in Georgia reaffirmed this strategy doesn't work. Moderate Republicans—whether they like Trump or not—have been willing to differentiate between Trump and the rest of the party. Yet Lujan's response to Ossoff's loss is to continue with politics as usual.
It makes little sense for the Democratic Party to try to convert moderate Republicans. Instead, this strategy is the preferred one of the party's wealthy donors. They want to see Democrats fully embrace policies that favor their interests, thereby abandoning the interests of working, middle class and low income voters that have traditionally made up the Democratic Party's base. As a result, their base has diminished in size over the last decade. Yet, the party insists on maintaining the status quo.
Democrats need a better message than being anti-Trump. Even though they are overwhelmingly popular, establishment Democrats have refused embrace progressive policies that offer solutions to the problems voters face in their daily lives. Last week in California, corporate Democrats sabotaged a single-payer health care bill that would provide health care for all. The message from this action and countless others like it is that Democrats don't care about voters or the issues facing them. The Democratic Party is grossly out of touch and indebted to a class of donors who have chipped away at the heart of democracy. Until the DCCC makes reforms to uproot the status quo, their losing streak will continue.