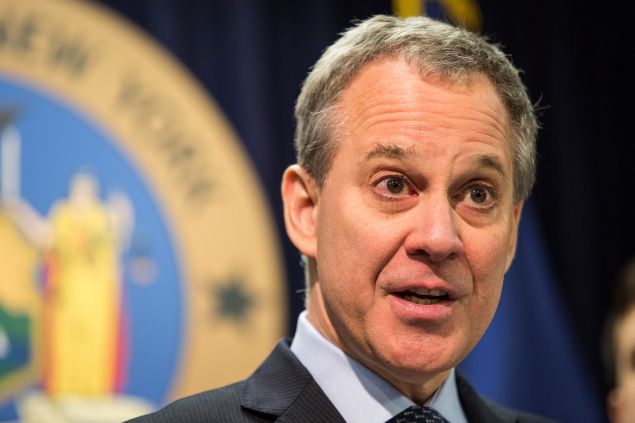 Attorney General Eric Schneiderman announced the arrest yesterday of Evgeny Freidman, formerly the owner of one of the city's biggest yellow cab fleets—and a top supporter of Mayor Bill de Blasio's successful 2013 campaign—for allegedly failing to remit more than $5 million in surcharges to the Metropolitan Transportation Authority.
Schneiderman, working in concert with the state Department of Taxation, unsealed a five count indictment of Freidman and one of his business partners yesterday. The prosecutor accused the pair of conspiring during the period between 2012 and 2015 to defraud the mass transit operator of the 50-cent impost the law lays on every taxi trip.
"The 'Taxi King' built his empire by stealing from New Yorkers—pocketing money that should have instead been invested in our transportation system," Schneiderman said in a press release. "No one is above the law, and my office will use every tool available to hold accountable those who cheat the system."
Freidman, a friend and associate to de Blasio, gave the mayor the maximum donation of $4,950 during the 2013 election cycle—and raised the pol roughly $45,000 more, according to city Campaign Finance Board records.
Two retired individuals by the names of Naum and Elizaveta Freidman, possibly the Taxi King's parents, also put in the maximum $4,950—using an address associated with the younger Freidman's corporate entities. Freidman's then-wife Sandra, who listed her occupation as "homemaker," chipped in $4,000.
The family also showered the campaign of former Congressman Anthony Weiner with their largesse. None of the Freidmans have donated to de Blasio in the present election cycle.
The medallion mogul frequently praised the mayor in the press, and received credit for brokering a ceasefire between de Blasio and Sergeants Benevolent Association head Edward Mullins, which allowed the city and the police union to ink a long-delayed contract. Many also saw Freidman's hand in the mayor's failed 2015 efforts to curtail the expansion of ride-hailing apps like Uber.
De Blasio's campaign did not respond to requests for a statement.
The arrest culminates a series of legal woes for Freidman, whose hack empire once spanned multiple cities and included 800 vehicles in New York alone. A previous Schneiderman probe into alleged wage theft against drivers ended in a 2013 settlement in which the businessman coughed up some $1.2 million in restitution—but not an admission of guilt.
He declared bankruptcy last summer, a consequence of the crashing value of medallions, and had to surrender dozens of the permits to his creditors. Then, in April, the city's Taxi and Limousine Commission refused to renew his licenses.
An attorney who represented Freidman in the past could not be reached for comment.