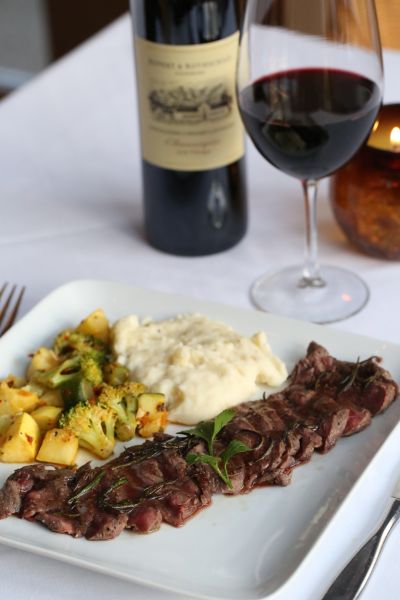 Denver
Fried Pig Ears and Rye Whiskey?
"Yes," says Christopher Straka, sommelier and manager of Hearth & Dram in Denver, CO. "Try those fried pig ears with a Moroccan spiced dip paired with Rye whiskey. If you prefer Bourbon, then fry up some bacon and get ready to party. Honestly, bacon goes with all whiskey—you can never go wrong with this pairing—it's to die for."
If you love chocolate, Straka recommends high quality dark chocolate (65-72% cocoa) and great Islay Scotch. "Yes, that's the Scotch that you don't like because it tastes like you're licking a campfire," he says. "But when paired, the chocolate mellows the heavy smoke flavors and brings out a hidden complexity."
Chicago
Anthony Rossi, sommelier of Chicago's Enolo Wine Café, suggests Madeira, a high alcohol dessert wine, paired with Halloween candy—like Snickers bars and Reese's Peanut Butter Cups. "Anything with chocolate and peanuts is a nice match for the sweet and salty flavors of the wine," says Rossi.
New York City
According to Roman Tartakovsky, Beverage Manager at New York City's North River Landing, the most interesting and satisfying pairing is Dom Perignon Champagne and Cheetos. "It sounds crazy and totally off, but the sharp acidity of the champagne complements the salt, cheese flavoring, and fat," says Tartakovsky. "Then you have the bubbles rushing around the palate, scrubbing away the little remnants so you can get back to that bag for another handful."
Nashville
Jeret Pena, creator of the bar program for Sea Salt in downtown Nashville, Tenn., loves pickles paired with tequila. "Smooth tequila can be vegetal or sweet… and beautifully complements the sour crunch of the pickles," he says. Fried pickles are Pena's top choice for the pairing.
Atlanta 
True Story Brands, a group of South African-inspired restaurants in Atlanta, offers some wild and crazy food pairings
The Biltong Bar: Biltong Grilled Cheese, which is Gruyere, cheddar, manchego, beef jerky, chutney on pita paired with a Speyside Scotch.
"Channel your inner kid-self, while simultaneously celebrating the old (wo)man in you."  Justin Anthony, owner of True Story Brands.
10 Degrees South: Ostrich Medallions (medium-rare, always, with red-wine and rosemary sauce, mashed potatoes, vegetables), paired with Kanonkop Pinotage from Stellenbosch, South Africa.
"Don't knock it 'til you try it—the mantra for anyone who's enjoyed ostrich before. Unusual on American menus, but best tasted at a South African spot, pairing even better with a red than you'd expect." Justin Anthony
Yebo Beach Haus:Ostrich Sliders (roasted tomatoes, arugula, rosemary aioli) paired with the Cuba Libre Old Fashioned (rum blend, vino chinato, lime rum, coca-cola reduction).
"The rich, slightly gamey ostrich sliders are surprisingly, nicely complemented by the tropical spin on a classic. Switch out your beef for ostrich, and bourbon for rum!"  Justin Anthony
Cape Dutch:— Braised Rabbit Leg (Belgian ale, grain-mustard sauce, shallots, carrots, spinach-whipped potatoes) paired with Duvel Belgian Beer.
"It might seem obvious, but most people would be hesitant to pair the two together and think they need to go with a wine. Think again." Justin Anthony
Los Angeles 
Kathryn Coker, co-owner and wine director of Esters Wine Shop & Bar in Santa Monica, Calif., suggests these off-the-wall, pairings:
"Bone Marrow and Voigonier—weird and awesome," says Coker.
"How about Stout and vanilla ice cream—a root beer float?"
Ester's curry cashews with Riesling: "Snacks can have wine pairings, too."
Unit with aged Greco di tufo: "Yes! Elevated and special."