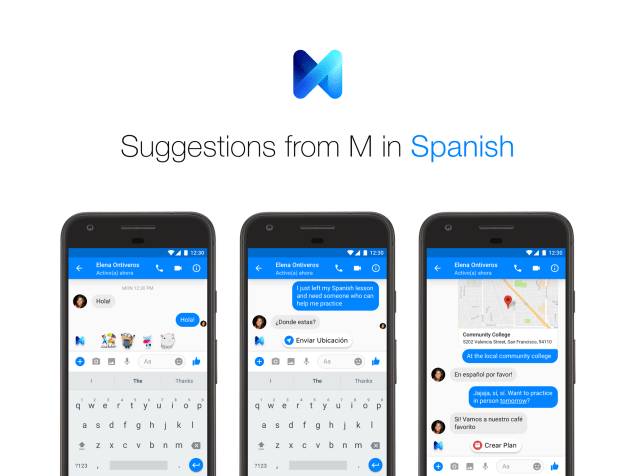 ¡Muy bien, Señor Zuckerberg!
Facebook (META) announced yesterday that its smart assistant M is now bilingual, offering Suggestions in both English and Spanish. The artificially intelligent bot, which is part of Facebook's Messenger app, is now available to all users in the U.S. and Mexico who have their language set to Spanish. Messenger will also switch its recommendations to Spanish if it detects that's the language a user is typing in.
The Spanish Suggestions bar can help users with everything the English one does, including sending stickers, sharing locations, making payments and hailing rides from Uber (UBER) or Lyft.
Facebook's post gave several examples of how the language capability works in practice. If someone asks "¿Dónde está?" the app prompts you to "enviar ubicacion" (send location). Or if a friend wants to meet at your "cafê favorito," Messenger will help you "crear (create) plan."
While bilingual Suggestions are only available in the U.S. and Mexico so far, those two countries alone include over 170 million Spanish speakers.
There's no word yet on when Facebook will offer Suggestions in other languages, or make it available in other countries.