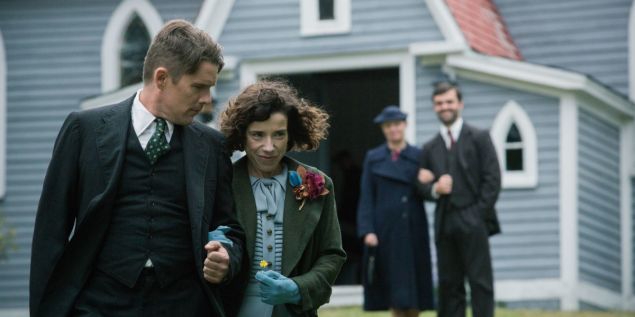 Cruel beautiful world (a title stolen from novelist Caroline Leavitt) perfectly describes the animating vision behind Aisling Walsh's magical Maudie. The moving biopic focuses on Nova Scotia folk artist Maud Lewis (Sally Hawkins), an obscure figure who couldn't stop her arthritic fingers from painting the world around her in vibrant colors on whatever surface she could access, from walls and windows to boards and post cards. A gorgeous color palette and a tactile sensitivity to the emotions and intelligence of rural people help to create an organic work that integrates brilliant casting, yummy production and costume design, and fine cinematography.
Hawkins is a favorite actor of mine – and if you haven't watched Happy-Go-Lucky in a while and need a lift, take a look.  She fully inhabits Maudie, looking out from under eyes aimed down by a curved neck, enjoying those simple pleasures she's allowed. She carries two things at once: the weight of her disability and the unquenchable lift of a temperament that appreciates beauty, which the rough landscape offers in abundance. She can't travel far but that doesn't inhibit her from seeing deeply – and Hawkins is an actress capable of showing how joy and kindness in adversity form a rare and beautiful type of bravery. Above all, this Maudie is a good woman whose primary need is simple and yet so difficult to attain: to create art in a secure environment.
---

MAUDIE ★★★★

(4/4 stars)

Directed by: Aisling Walsh

Written by: Sherry White

Starring: Sally Hawkins, Ethan Hawke

Running time: 115 mins.

---
Unlike the movies My Left Foot or Frida, Walsh's shimmering drama doesn't focus on the disability that folds and bends the slight heroine but on the strong individual spirit that animates her. Hawkins delivers a brave and affectless Oscar-worthy physical performance – we struggle along with her as she scuttles down the rutted roads of Nova Scotia or rises awkwardly from scrubbing a bare floor on her hands and knees. But the limits of her body are less impediments than the judgments of society, particularly those of her provincial Aunt Ida (Gabrielle Rose) and conniving brother Charles (Zachary Bennett).
Fleeing the constrictions of her blood relations, Maudie strikes out by taking a housekeeping position in the shack of crotchety fishmonger Everett Lewis (Ethan Hawke). He's no prize – short on social skills, rude, brutal – but he's also hard-working and wounded. Hawke dives deep and vanishes into the role. The actor may be over-broody here, but that could be because he didn't try to leaven a heartsick soul incapable of articulating his emptiness or his desires except in a childish anger. Everett's unspoken mantra: If you don't like me, I'll make sure I'm unlikeable.
Walsh works with restraint, even in an episode of what we would now call domestic violence. The big emotions unfold in small scenes of tenderness and connection, as the two broken individuals circle each other with suspicion and, ultimately a hard-won acceptance, even love. Even in moments of intimacy – Maudie dancing awkwardly on Everett's toes on their wedding night – he promises that this won't change his brusque personality in the morning. And it doesn't.
Bent as she is, Maud is a character that draws the audience into her world – but she's in no way precious. She smokes cigarettes. She snaps back. She takes her lumps. She bends under the world's weight but never breaks. This drama resists painting the familiar arc of an artist's rise from obscurity to acclaim and then a downfall from great heights. It is the art itself that is the light, the power of creativity to liberate an individual soul and be a daily force for good.
Tenderness, compassion and forgiveness: these lie at the heart of the relationship between Maudie and her husband, and of Sherry White's script. These are old-school values worth revisiting. Maudie celebrates the capacity to appreciate the world that lies framed within a window, to see the cruel beauty of the everyday and transform it into art. This wedding of craft and imagination also describes Walsh's textured filmmaking, connecting frame after frame of gorgeous vistas to an emotionally rich female-driven narrative about art's healing power and the potential for redemption in everyday acts of grace.