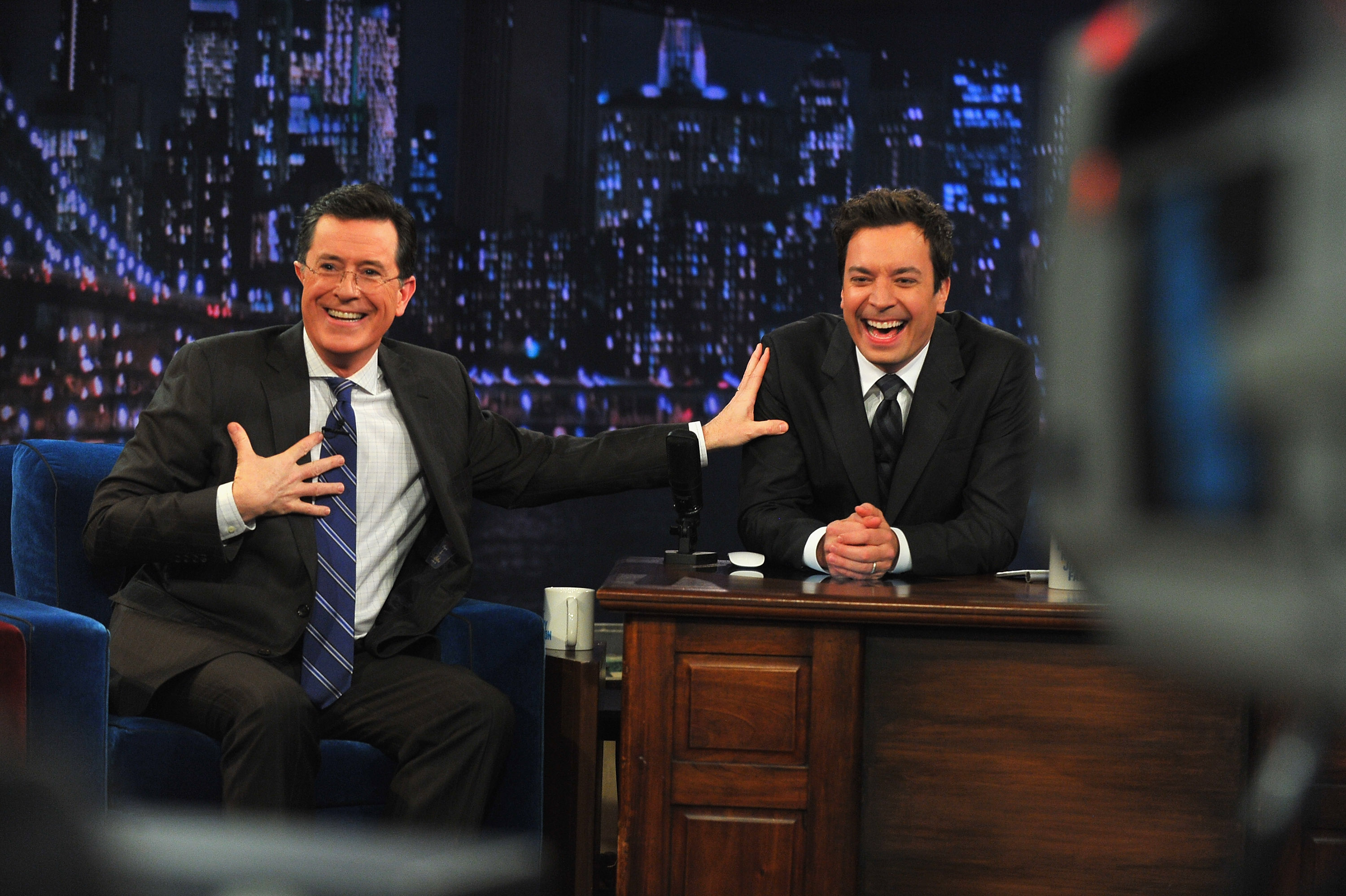 On weeknights at 11:35 pm, Stephen Colbert and Jimmy Fallon do battle.
Three shows occupy the 11:35 "late night" slot: The Tonight Show Starring Jimmy Fallon on NBC, The Late Show With Stephen Colbert on CBS, and Jimmy Kimmel Live! on ABC. This is where the late night giants reside.
Of these shows, there has been a clear hierarchy in terms of total weekly viewers for the last 5 months: Colbert on top, Fallon in second, and Kimmel bringing up the rear. Viewers are what they fight for, and the rankings speak to the desires and emotions of the American people.
The Hollywood Reporter writes that Fallon bested Colbert for the first time in weekly views since Donald Trump's inauguration in January. The victory may be fleeting as more data comes in, and Colbert's show was not on a normal schedule this week, but the ratings nevertheless indicate the close competition between the two hosts.
Fallon is kinetic, overstated, toeing the line between excitability and zeal. For proof, look no further than the articles, memes, and videos over the years about Fallon's endearing-but-bizarre tendency to burst into laughter at pretty much anything a guest says.
Colbert, on the other hand, wry and self-assured, is more tongue-in-cheek. He's so calm a presence that a brief dance or a goofy facial expression is unusual enough to elicit a laugh.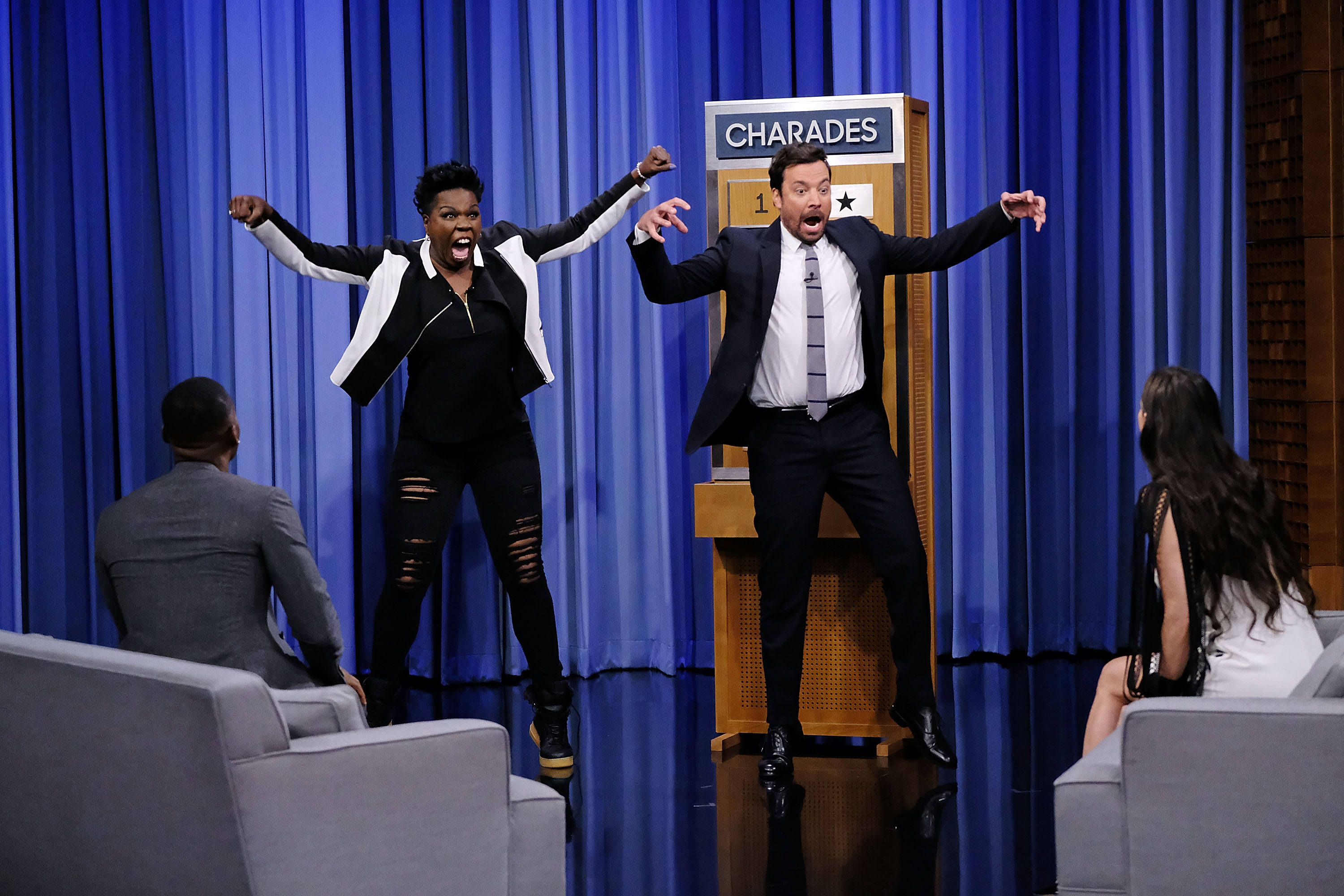 Fallon's show is largely based on variety, sketches, gimmicks, and celebrity appearances. The monologue and the extended interview have lost airtime in favor of bits and games like "Wheel of Musical Impressions", a segment in which guests sing songs while imitating celebrities unrelated to the song.
The Late Show With Stephen Colbert doesn't rely on bright lights and loud noises the way The Tonight Show Starring Jimmy Fallon does, because it doesn't have to.
Jimmy Fallon is a talented singer, impressionist, and physical actor who found fame on Saturday Night Live, and much of his show reflects that. While his musical bits are fun, his monologues (not the focus of the show) are shallow. He flits across topics, briefly seizing on things like "National Sunglasses Day", an unmissable opportunity to don a pair of shades and say "Are you serious?" in a silly voice, before jumping to an unrelated, equally forgettable joke. The sprinkled-in sketches feel uninspired and obvious.
There is very little that is slapstick about The Late Show, which garners laughs through clever punchlines and topical references. Colbert found fame through his satirical Comedy Central show The Colbert Report, and, despite abandoning his pundit character, brought his political comedy to CBS. His monologues generally flow better; they cover less ground, but cover it much more thoroughly. Colbert doesn't need to play off a sidekick the way Fallon does with announcer Steve Higgins.
Where Colbert is unabashedly political and takes shots at Trump and his policies in nearly every episode, Fallon certainly isn't going for the throat. Although reports in March indicated that Fallon might become more political to try to contest Colbert's late night dominance, his efforts are underwhelming. In a recent episode, for example, Fallon was bold enough to call Mike Pence boring and clever enough to wring a Trump's-inauguration-was-sparsely-attended joke out of the fact that the Senate healthcare bill will cost 22 million people their health insurance.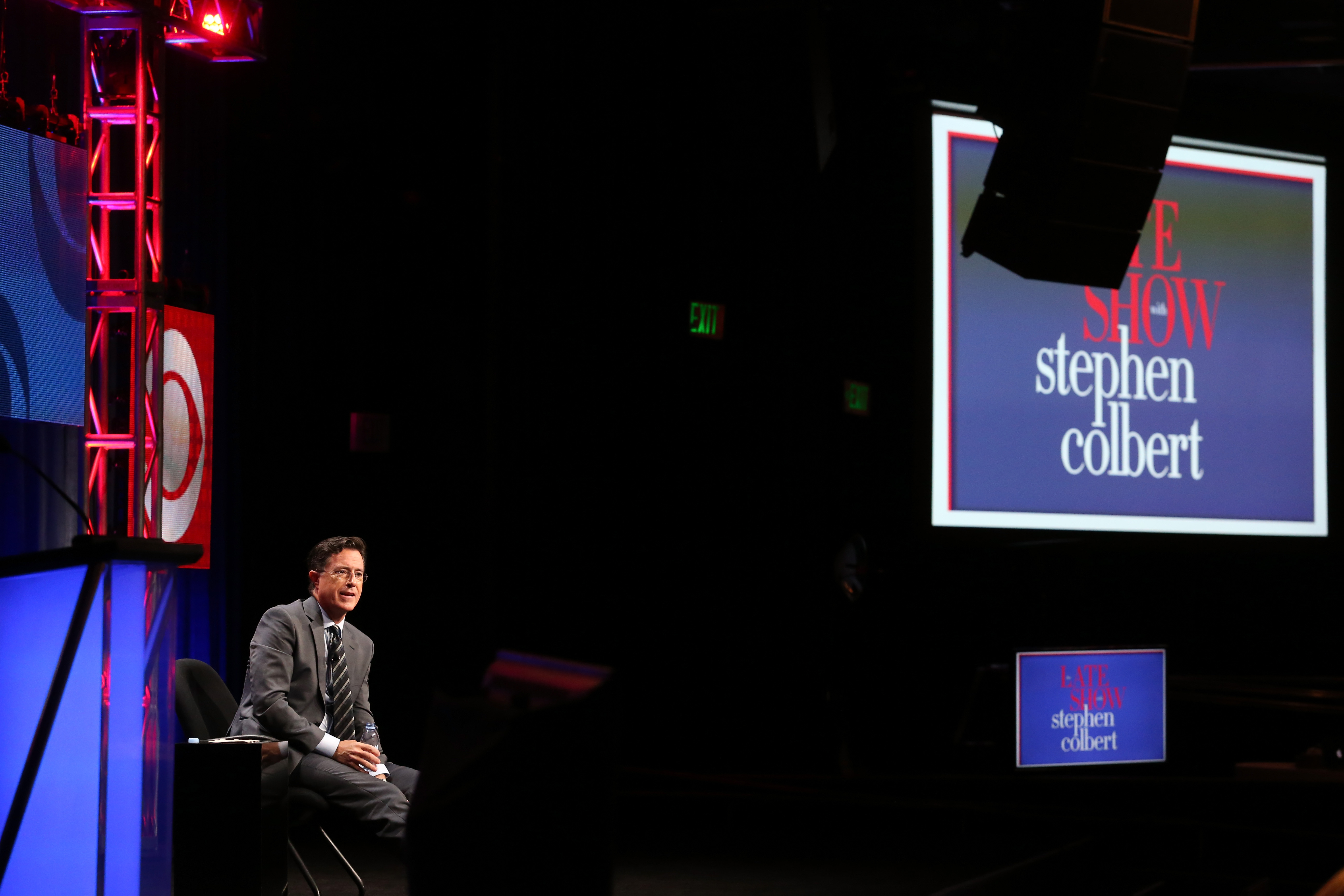 The two hosts may be differentiated by their interviews, too. Then-civilian Donald Trump stopped by both shows, a year apart, and the footage is remarkably different. In 2015, Colbert pushed him on the issue of the proposed wall and questioned him on his statements that Obama wasn't born in the United States.
A year later, when Donald Trump was the Republican nominee, Fallon laughed with him and boyishly asked if he could mess his hair up. Fallon also dressed as Trump and sat across from him in a fake-mirror setup, poking fun only at his pronunciation of "huge" and the vagueness of his job plan before allowing him to outline his tax plans. In the months that followed, Fallon was heavily criticized for normalizing the candidate.
It is all but unimaginable that Fallon would have gotten into a heated back-and-forth about Putin with filmmaker Oliver Stone the way Colbert did this month. In fact, Fallon probably wouldn't have brought Oliver Stone to talk anyway. Stone doesn't seem like the type to play beer pong with Fallon, to participate in a fake game show, or to let Fallon muss his hair. Colbert seems more likely to bring interesting guests than his rival.
Fallon is chipper, endearing, easily digestible, naturally viral. Colbert is more incisive, more serious, and often a bit less accessible. It is not for me to say which one is better, although I suspect my opinion is clear; the two serve different purposes, in some ways. In the hour before bedtime, it's easy to watch Fallon laughing with his guests, singing with the stars, or playing a game with the painfully-likable Chris Evans.
In Fallon's world, the sun always shines, and that's comforting. Colbert acknowledges the dark skies above and you laugh despite them, although the clouds remain. It's generally important to remember the clouds, but one cannot blame viewers for enjoying the sunny escape Fallon provides.
Jay Leno thinks that this escapism is exactly why Fallon is back on top, or at least awfully close, after five months chasing Colbert's lead. In a discussion on a Hollywood Reporter podcast a few days ago, Leno said "I think the reason Fallon is number one ― and I think he's number one again, it's been close this year, it's back and forth ― is because, at some point, you want to use TV as an escape. Look, I just want to have a few laughs before I go to bed."
The former Tonight Show host also believes that it has something to do with Trump. "I don't like Trump, I can't stand the guy, I don't like him personally. But the constant negative Trump stuff on a nightly basis? I think it has a debilitating effect on people. People are just, 'Oh, gosh, I don't wanna watch TV anymore. This is just the same thing every night,'" he said.
Leno may have a point. The same wind that has filled Colbert's sails and carried him to the top of the Late Night leaderboards may be blowing him in the wrong direction. It's no coincidence that Colbert's fortune (and place among the late night hosts) has risen after Trump's inauguration— picking apart the administration and its actions has become Colbert's bread and butter, and (largely Democratic) audiences reacted favorably. To many, this was a late night host talking about (and making them laugh about) the most important issues in America.
Colbert's rise didn't occur in a vacuum; American interest in politics seems to have increased after the election, too, accompanied by a spike in civic engagement. It makes sense that viewers would want more of what matters to them in their television shows. But they appear to be tiring of Colbert's formula.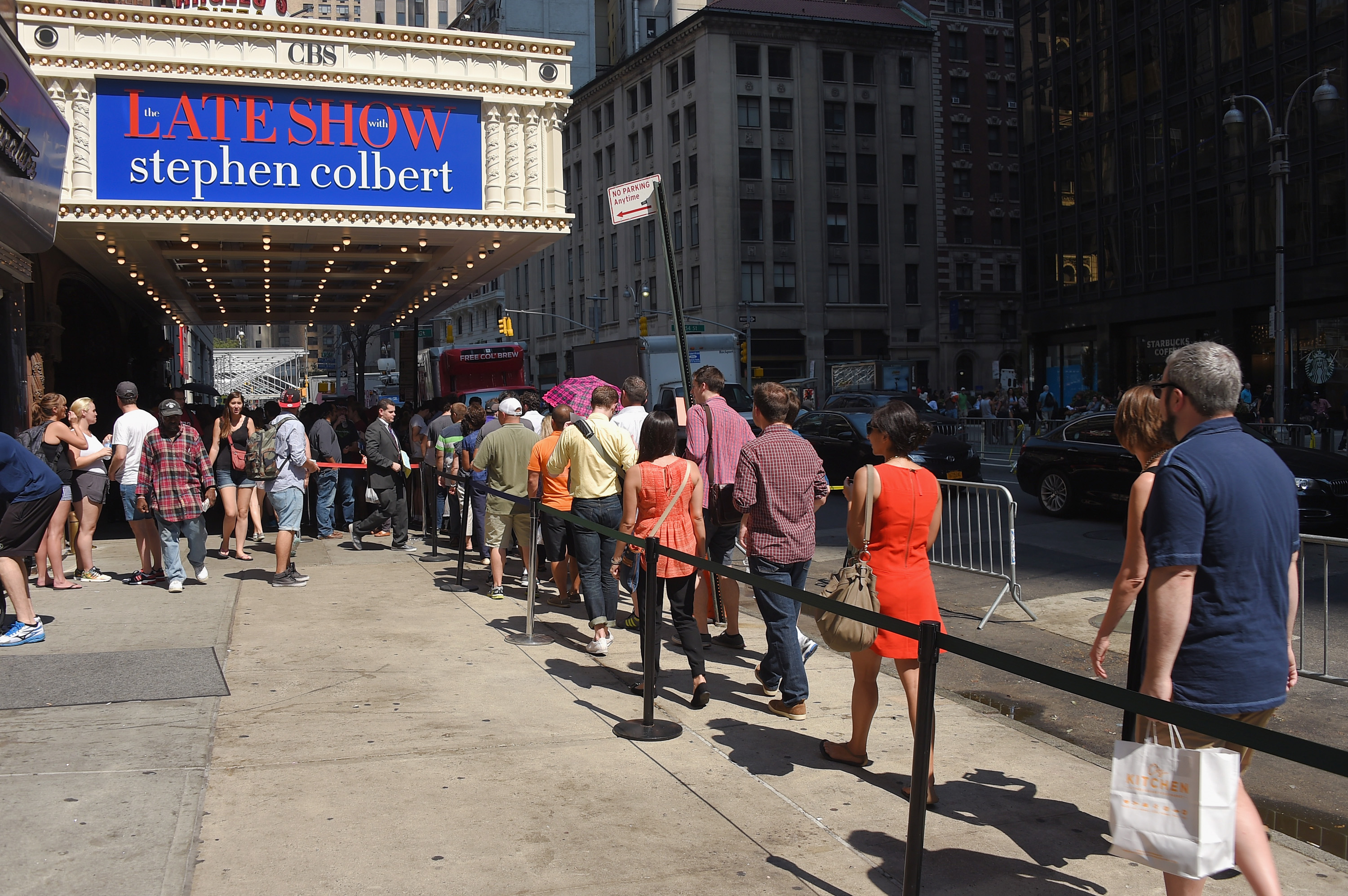 Vox calls it "Trump Fatigue Syndrome," the condition of exhaustion in regards to Trump-related media. This may be Stephen Colbert's next challenge: keeping his audience interested in commentary, however clever, on an administration they spend all day hearing about… while his competitor brings out a dancing Will Smith and blasts a wig-wearing Dwayne "The Rock" Johnson in the face with an air cannon.
Of course, The Tonight Show and The Late Show will enjoy millions of viewers each week, regardless of which one has the highest viewership. But each one is, at its root, entertainment, and the entertainment that people choose to consume speaks volumes about the desires and interests of those people— especially when the people have to choose between one or the other in the same timeslot.
Colbert and Fallon represent the constant struggle within entertainment between substance and distraction, between addressing the serious topics and lighthearted diversion, between incisive and slapstick. If Fallon continues to make a comeback, it may hint at a sort of political exhaustion among the American public.