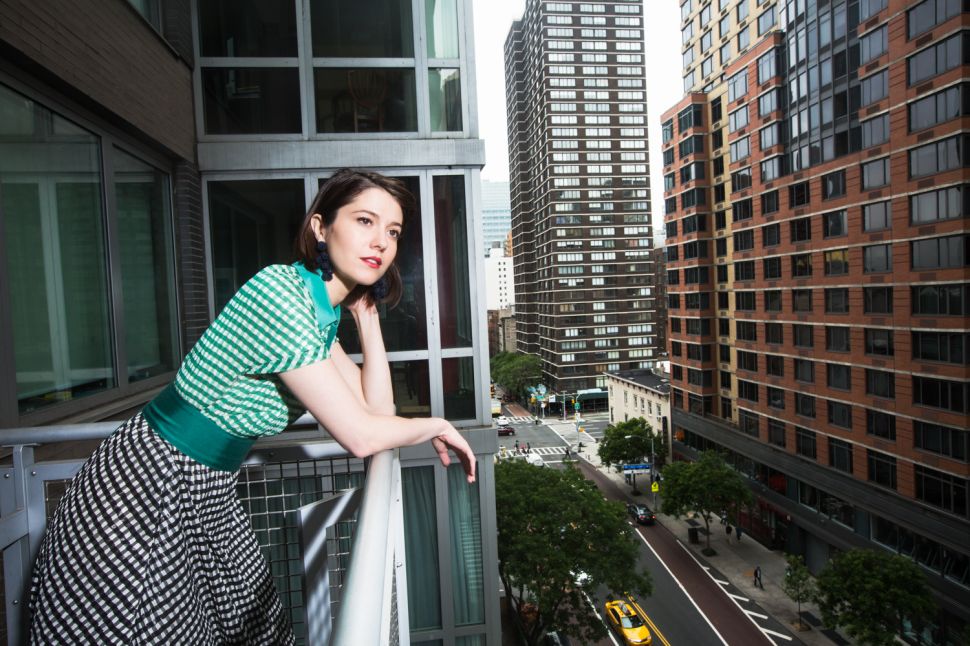 Mary Elizabeth Winstead—the current Fargo star who has wrestled John Goodman, hunted vampires alongside Abraham Lincoln and once rocked Scott Pilgrim's world—has some truly A+ advice for meeting new friends. Simply handcuff yourself to your new pal's wrist, traverse the frigid Midwest wilderness together, then end your evening by decapitating a man against a tree stump, preferably the gangly character actor DJ Qualls. "It was just a really nice way to get to know someone," the actress laughed, sitting across from me in an Upper East side apartment.
She's referring to a scene she shared with actor Russell Harvard, from the third-season Fargo chapter "Who Rules the Land of Denial?", an all-timer for Noah Hawley's anthology series that rivals the mesmerizing brutality of season two's motel shootout. Winstead's hard-headed, impeccably-named Nikki Swango and Harvard's deaf assassin Mr. Wrench, both fresh from a fiery prison bus crash, flee handcuffed into the woods, pursued by shark-eyed assassin Yuri Gulka (Goran Bogdan) and his associate, Golem (Qualls). A violent confrontation ensues. An axe is thrown blindly, a crossbow bolt pierces Nikki's leg, and in the end Qualls sits headless, the snow around him stained crimson red. It's a masterclass in escalating tension from Hawley, co-writer Monica Beletsky and episode director Mike Barker; think the "Pine Barrens" episode of The Sopranos if it was helmed by Hitchcock or Scorsese.
"By the end of it, he and I had our own kind of communication that was just ours," Winstead said of the grueling shoot alongside Harvard. The actor, like his on-screen counterpart, is deaf. "Obviously, I don't speak sign language, but I was able to pick up some things from him. Then, beyond that, we were wordlessly communicating the entire time time, helping him to know what was going on. When we were going to say 'action' or 'cut' we had signals for each other for all those things."
All told, the sequence required more work than your average Fargo bloodbath. While Ewan Mcgregor, Carrie Coon and the rest of the principal cast moved on to film episodes nine and ten, Winstead and a second unit stayed behind, often shooting into the night, to ensure the ambitious scene was captured in all its gory detail. Throughout, Winstead told me, each take in the Calgary cold offered its own unique hurdle, the natural darkness rendering communication with her cuffed companion, who usually communicates through lip-reading, near impossible. "That presented all new challenges for us," she said, "but rewarding incredibly ones. To see how Russell managed that, how he was able to take everything happening around him, internalize it and turn it into what he needed to do, that in itself was inspiring."
But still, "it went on, and on, and on," Winstead continued. "We were crawling in the snow, in the middle of the night, all night long. It was soaking wet. Exhausting. I got a lot of bruises, aches, and pains, not a lot of sleep."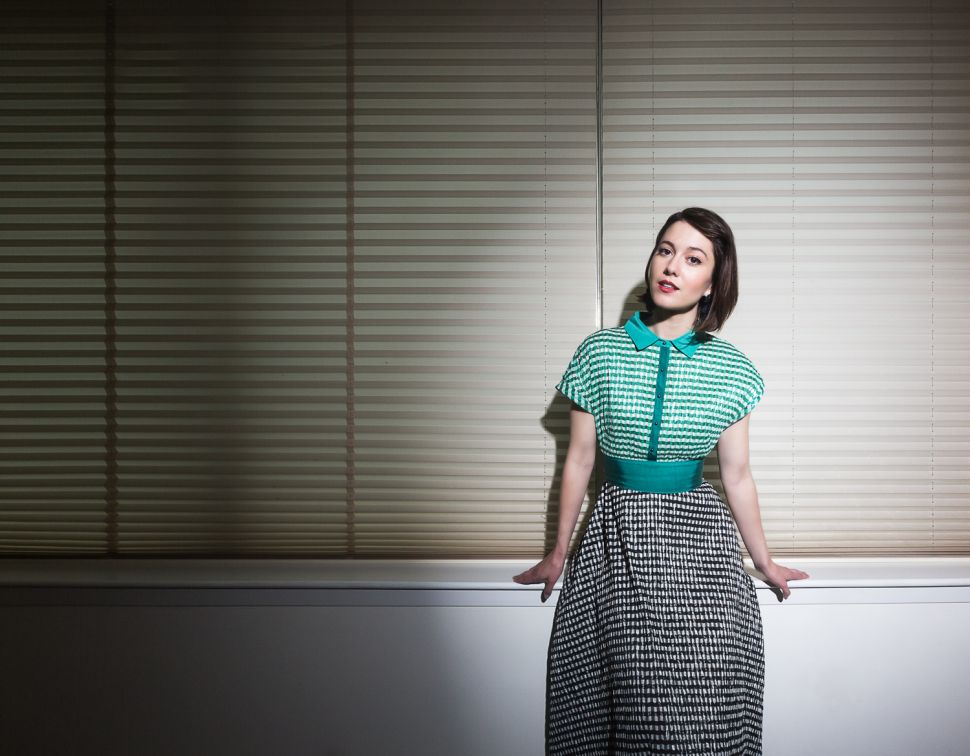 On the day we met, the actress was 100-percent less blood-covered than last I saw her, on-screen. Nikki Swango's hard-A Chicago accent gave way to Winstead's natural inflection, and the heat beating down on East 34th outside the window was the exact opposite of Fargo's trademark Midwestern chill. But you can easily see how Hawley matched Winstead to Swango; despite differences in style and background, the two both radiate an undeniable positivity, with Winstead simply applying this trait with less AC-assisted murder and more warm, wide-eyed earnestness.
She smiled. "It was so worth it, for such an incredible, epic sequence," she said. "It became a really special friendship for everyone involved. Decapitating DJ Qualls just brings people together. It's true."
"True" is a dangerous word to use, though, to describe any scene in Fargo. Any aspect of the series, really. Like the Coen brothers' film that gave the show its title and locale, every installment of FX's anthology series  begins with a title card letting us know "This is a true story." And it always is, essentially, true in the sense that Fargo often makes you feel something in extraordinarily human ways, playing with the idea that stories can be "true" because you recognize them, not because they actually happened.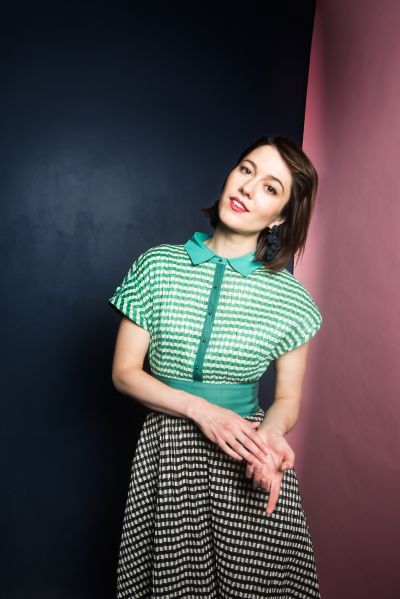 Then, of course, Fargo is often un-true, in the sense that UFOs descend from the sky, handcuff links cut through flesh like butter and, in Nikki Swango's case, we occasionally find ourselves in what appears to be the afterlife in the form of a nondescript bowling alley. That particular moment, which comes in the same episode as the fight in the woods, is as quiet as the events preceding it are loud. Echoes of The Big Lebowski run throughout—especially the life-affirming barside powwow between Jeff Bridges' The Dude and Sam Elliots' Stranger—but more surreal, with the same feeling of being in-between the cracks of reality as the Red Room in David Lynch's Twin Peaks.
Who better for Nikki to meet, then, than Peaks' own Ray Wise. Here, TV's most trusted goblin-faced actor plays Paul Marrane, possibly an angel, a devil, or something else altogether. "That's the nature of existence," Paul tells Nikki. "Life is suffering. I think you're beginning to understand that."
For Winstead, though, that understanding took a bit of time. "My first readthrough of a script is usually from the point of view of the character," she told me. "So when I read that [bowling alley scene] my first thought was…'what is going on?'"
But, again, the actress is more like her character than meets the eye. Ray Wise as otherworldly sage or not, both are quick learners. "The second time, it was clear this was representing some type of purgatory, that Nikki had entered some other dimension," Winstead said. "It's all very open to interpretation of exactly what that means, whether it's Biblical or not. But it serves its purpose for Nikki. Whatever it's meant to be, it serves its purpose."
Part of that purpose comes in the form of Marrane's tiny, ginger kitten named Ray, who may represent the reincarnated soul of Nikki's recently-murdered fiance, Ray Stussy (McGregor, belly-padded and bald-capped), as easily as he could just be a tiny, ginger kitten named Ray. In either scenario, the exchange is Winstead's finest performance of the hour, her eyes as tear-filled and genuinely moved as if they were locked on McGregor himself. "That was the easy part," Winstead said. "I was so in the character at that point that I just felt I could see Ray in that cat."
"When Ewan and I worked together that was such an easy thing to create," she explained. "It felt very real, and that bond felt very true. Throughout the second half of the season that was something I just really grabbed on to, that she is still being driven by her love for this guy. They're going to be a team, they were going to have this life together. Now she's going to do whatever it takes to make sure he gets his due in the end, what he deserves, which is what she always wanted."
But was it? Thanks in no small part to several decades-worth of female roles that fell under "two-faced" or "femme fatale" and not much else, audiences (me included) spent much of the third season waiting for the other shoe to drop when it came to Nikki and Ray, the inevitable betrayal. Because this is Fargo, after all, where truth and lies mix more often than blood and snow. Even the characters within the show's universe constantly call into question the legitimacy of a balding, paunchy parole officer marrying his gorgeous parolee.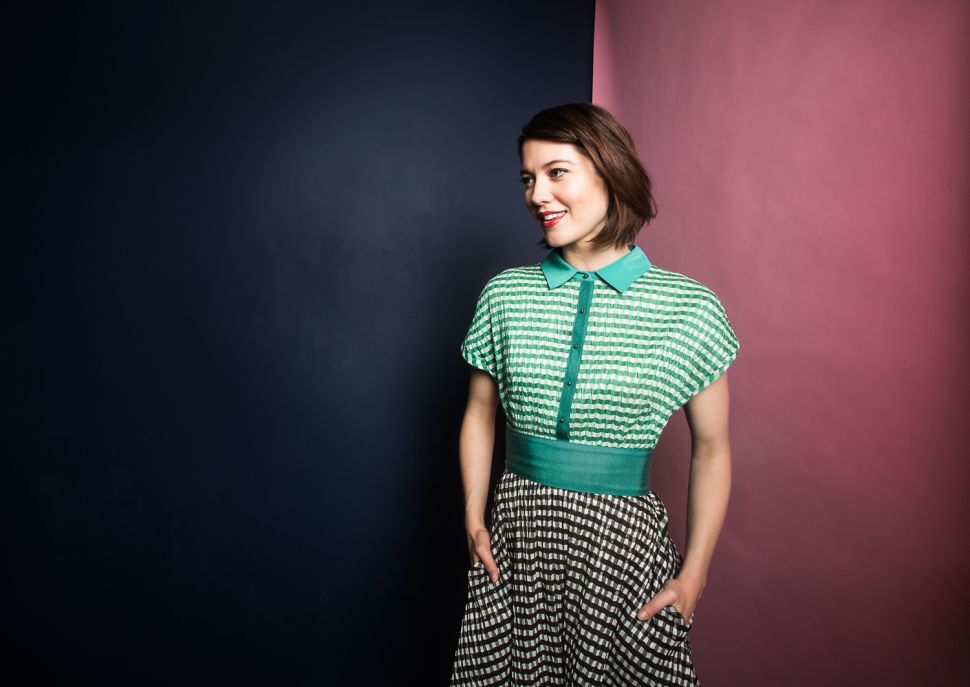 "It is about that, the truth," Winstead told me. "But is truth what other people believe? Or is it what's really happening?"
For a straight answer, if one even existed, Winstead immediately went to the source. "That was my first question for Noah [Hawley]," she said. "'Is this real? Is she manipulating him?' I was expecting an answer that was like, 'Maybe it's real, but there are moments where it's not.' Or, at least, I was expecting the answer to be complicated."
But Hawley—a notoriously detail-oriented showrunner who doles out details in advance cryptically, if he does at all—shocked Winstead by doing something decidedly un-Fargo-esque. He told her the truth. The actual truth.
"He just said, 'Yes. Unequivocally yes. She loves him,'" Winstead remembered. "It was like a load off. I was really grateful to have that to hold on to. Something so easy to know. Something unwavering."