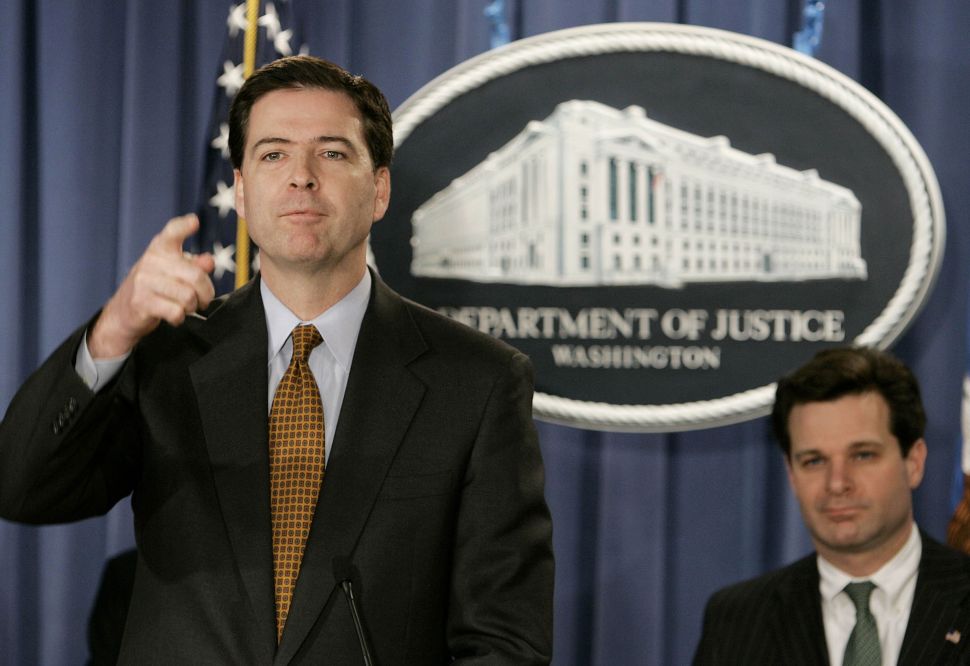 While Washington, D.C. and the rest of the country continually buzzed about the testimony of the old FBI director, most folks took little notice of Christopher Wray, the nominee who could turn out to be an even more important player than Jim Comey.
Comey's testimony, while an important part of a critical investigation, lacked fireworks. After all, a scene akin to A Few Good Men where someone accidentally blurts out some damaging testimony is more like Hollywood than authenticity. But last week gave Americans on both sides of the aisle a chance to think about what qualities the new leader of the Federal Bureau of Investigation should embody.
The head of the FBI should possess an adequate amount of experience handling terrorism and white collar crime and should also have the ability to conduct internal investigations. Given that the FBI is meant to be relatively insulated from political battles—by virtue of its term and mission—the candidate should not be overly partisan. And, finally, the candidate should have the right temperament in evaluations by colleagues.
Experience
President Donald Trump considered several politicians for the post, including former Democratic Sen. Joe Lieberman of Connecticut, current Texas Sen. John Cornyn, and even Congressman Trey Gowdy of South Carolina, according to Fox News. In the end, he settled on a candidate with extensive judicial and prosecutorial experience with the Justice Department at the national level.
"Chris Wray is a solid pick to lead the FBI," said F. Maxwell Wood, a former U.S. Attorney for the Middle District of Georgia during the Bush administration, in an interview with the Observer. "He headed the Criminal Division of the Justice Department during the George W. Bush administration and earlier in his career served as a federal prosecutor in Atlanta. That background gives him a real world understanding of the Bureau, how it works, its institutional strengths, as well as areas that might need improvement."
Of the high-profile cases for this Yale Law graduate, none are more important than prosecutions over 9/11 and the Enron scandal, according to CNN. Reports indicate that while in private practice, he was involved in cases concerning corporate crime and internal investigations.
Partisanship
For those concerned about any partisanship, Wray donated to the John McCain campaign in 2008, the Mitt Romney campaign in 2012, and the National Republican Senatorial Campaign in 2016 (though no donations were made to Trump), as reported by the New York Times. But he also aligned himself with Comey and Robert Mueller in a bid to stop efforts by the Bush administration to engage in warrantless surveillance ruled illegal by the Justice Department in 2004, even threatening to resign over the policy. He endorsed former Attorney General Sally Yates in 2015, showing some degree of balance in his approach.
Temperament
Wood, who served from 2001 to 2009, had this to say about Wray's approach that would give us clues to how he might act in his new position: "He is even-tempered and extremely intelligent. I had the pleasure of knowing Chris when he was heading the DOJ Criminal Division and in his earlier position as the assistant to the deputy attorney general at that time, Larry Thompson. I believe he will do very well in that position."
Barring some unforeseen scandal, it is likely that Wray will be confirmed by the Senate. He'll need all of his experience, ability to work with both parties, and temperament to keep the United States safe from terrorism, thread the needle on contentious judicial investigations, and ensure the law is properly enforced.
John A. Tures is a professor of political science at LaGrange College in LaGrange, Ga.  He can be reached at jtures@lagrange.edu. His Twitter account is JohnTures2.