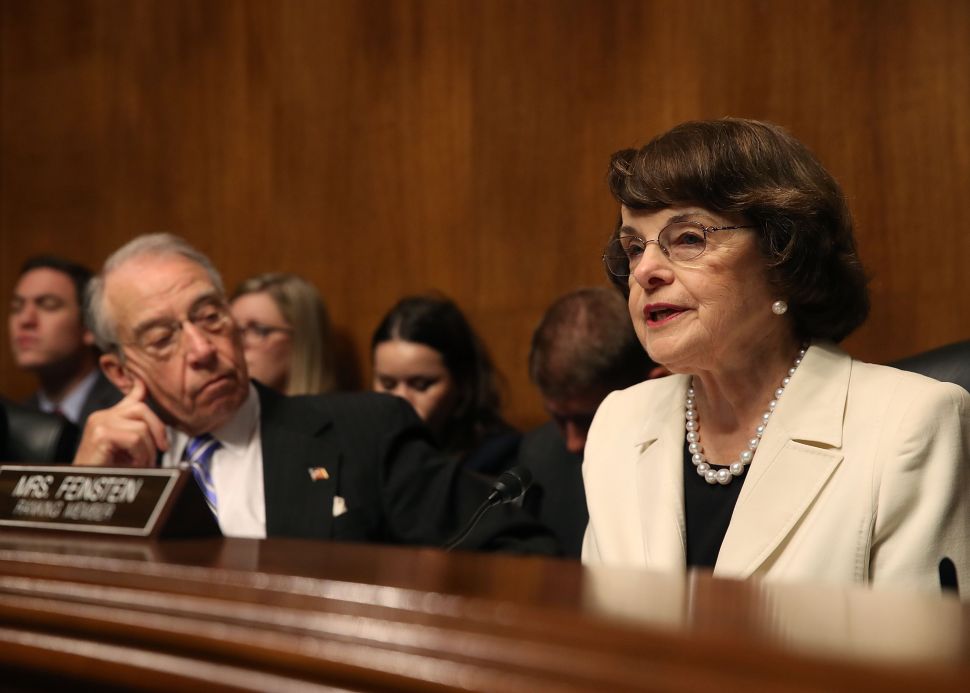 Sens. Chuck Grassley and Dianne Feinstein recently introduced the Stop the Importation and Trafficking of Synthetic Analogues (SITSA) Act of 2017. This act would create a "Schedule A" classification, banning importing new synthetic drugs deemed "substantially similar" to existing illegal drugs before testing their safety. If passed, the SITSA Act will be another step down the unfruitful path of prohibition.
Prohibiting a drug causes more problems than it solves. When a substance is banned, people can no longer rely on the government to enforce contracts for the sale and transport of the substance. This means that the only way to protect property and selling rights is through violence. Drugs don't cause violent crime—prohibition does.
Two years after Colorado legalized marijuana, the state experienced a 12.8 percent decrease in homicide rates. Colorado prosecutors charged 11,000 people with marijuana-related crimes in 2011 and charged only 2,100 people for marijuana crimes from January to October of 2015. It seems obvious that the number of charges would decrease when the drug became legal. What is less obvious, though, is the time, energy, and money saved when police aren't wasting time on victimless crimes.
Prohibition often makes drugs stronger and more dangerous. In 1971, just before President Richard Nixon started the official War on Drugs, overdose deaths rates in the United States were slightly above one in 100,000. By 2008, this number jumped to 12 in 100,000.
If possession of a substance is a federal crime, many dealers and users cease using the drug in low concentrations. The more potent the drug, the more worthwhile the risk, versus potential profit. This is why we saw a spike in hard alcohol consumption during prohibition while beer and wine consumption dropped significantly—and why all these consumption rates returned to normal after the 21st Amendment was ratified. The War on Drugs makes drugs deadlier.
The SITSA Act is an attempt by Congress to ban substances before the government can even identify them. Substances could be banned for a "predicted physiological effect on the human body." Grassley and Feinstein want to restrict drugs that they think might have an adverse effect on human health with no substantiated evidence.
The government's role is not that of an overprotective babysitter or frightened parent. Americans should be able to decide for themselves what substances to use if no federal testing has found them to be harmful.
This is reminiscent of the hilariously frightening "pass it to see what's in it" Obamacare debacle. Government officials want the power to ban substances without even knowing what they are. Don't worry, though, the government will figure out how harmful the drug is after it's off-limits for an indefinite amount of time. Federal regulation has stopped U.S. scientists from researching medical uses for marijuana, MDMA, LSD and other illicit substances. Prematurely banning the transport of new drugs will keep them unavailable for private medical testing.
Attorney General Jeff Sessions, the man who just asked Congress to let him prosecute medical marijuana companies, claims the U.S. is in the throes of a "historic epidemic" of drug use. He predicts more violent crime and a huge public safety risk if medical marijuana operations aren't shut down. Sessions doesn't understand that the danger, violence, and public health crises caused by drugs is not in their use but in their prohibition.
Portugal faced a similar situation in the late 1980s. At first, the country tried a rigorous conservative approach to drug use including social vilification and harsh legal penalties. It didn't work. By 1999, almost one percent of the population was addicted to heroin.
In 2001, the country decided to tackle the problem in a different way. Portugal decriminalized all drugs and focused on harm reduction measures. Since then, drug-induced deaths, AIDS diagnoses, and overall drug use have fallen significantly.
The U.S. government is actively harming its citizens with its predatory drug policy. The SITSA Act insults Americans, implying that the government knows what we should and shouldn't put into our bodies without any research to back up its claims. To curb the drug problems in America, we need to realize that prohibition invariably makes things worse.
Dylan Moore is currently a Young Voices Advocate.