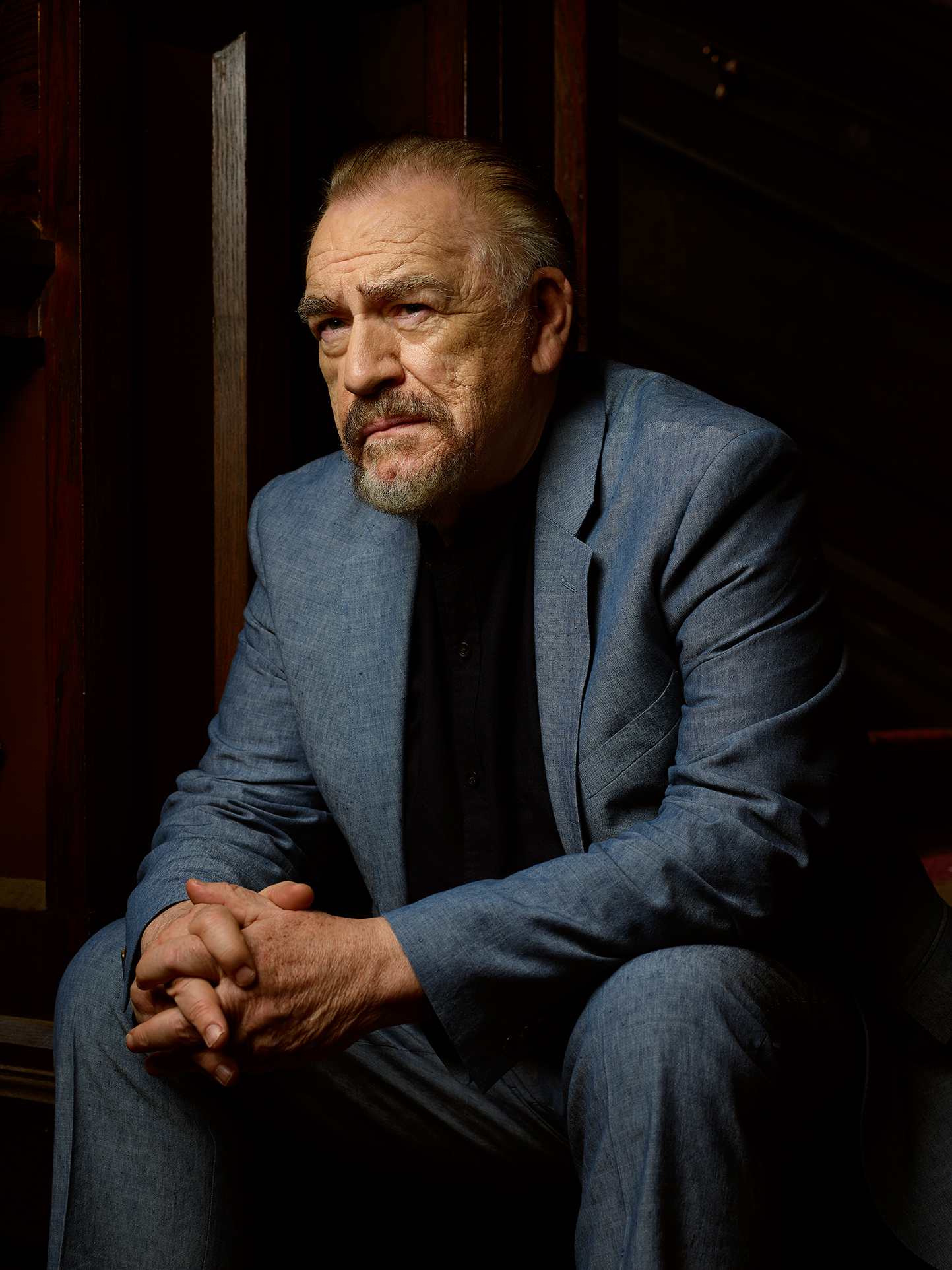 The morning I sat down with longtime journeyman actor Brian Cox amid the books and brandy of The Carnegie Club on the Upper West Side a shadow fell over New York City, stretching all the way from Manchester, England. Just hours prior, a suicide bombing took place during an Ariana Grande concert at Manchester Stadium, killing 23 and injuring more than a hundred. "A bomb goes off in Manchester," Cox began, his deep Scottish-accented timbre unmistakeable, even as he chose his words carefully, "I think of my two young boys, of my nephew who lives in Manchester. It's almost like the human experiment is a disappointing one."
"We've lost the sense of principle, haven't we? The sense of vision, sense of purpose," he continued. "It's like we're still paying this endless debt—the price left over from colonialism, factionalism, reaganomics— this debt that gets mounted, and mounted, and mounted and never gets cleared. We're particularly overdrawn when we lack leaders of conviction."
Cox paused to look up at a black and white photo of Winston Churchill, a cigar hanging from his grinning mouth, framed above our heads.
"Such as that man," Cox concluded.
That man was, after all, what we were there to discuss. Cox's next role is the former British Prime Minister himself in Jonathan Teplitzky's Churchill, a taut drama that chronicles the weeks leading up to the Allied Force's devastating but ultimately successful D-Day landings in 1944. From a performance stand-point, it's a masterclass from Cox, who veers neither into easy caricature or fictional character, but instead portrays a human being, frustrated, enraged and often deeply depressed at the number of young men sent to die on the beaches of Normandy with the flourish of a pen.
Part of the beauty of Cox's interpretation is the obvious respect the actor has not only for the role, but for Churchill himself. The frustration, then, comes easily, because its respect the actor so clearly does not bestow on the politicians of today.
"So much circles back to the hubris of the Iraq conflict, part of our endless debt," he said. "Then we have guys in power now who are ridiculous opportunists. They're immoral. I find it extraordinary that the president of these United States could be recorded being so abusive toward the opposite sex, and yet this man could still be president."
The irony is not lost on Cox, though, that in the uncertainty of the 1940s Churchill himself was an oft-despised public figure. The actor's own parents lived through the war and, Cox tells me, remained vehemently anti-Churchill throughout. "But he saved our country," Cox said, referring to the first months of Churchill's Prime Minister stint, in which the tides of WWII turned considerably. "He saved the world, in a sense. That was his destinial moment. People talk about men of destiny, like Mandela, or Napoleon, and Churchill is certainly part of that breed."
I asked Cox what he believes we've learned in all that time, between World War 2 and the reassuring voice of Winston Churchill crackling over the airwaves, and today. The actor paused, long and almost dramatic, and when he finally answered it was to explain not what had changed in that time, but what has stayed exactly the same.
"Ignorance," he said. "It's ignorance. Bred in ignorance, fed in ignorance, and dead in fucking ignorance."
Cox glanced back up at Churchill, still grinning, frozen in time.
How, then, did Cox prepare to step into such an iconic role, to bear the weight of a historic figure besieged on one side by his own people and the other the approaching Nazi Germany? Would you believe it if the answer lay in Seth McFarlane's animated talking baby, Stewie Griffin? Because, somehow, it does.  "I was watching a program with my sons called Family Guy," Cox explained. "There is this little boy, Stewie Griffin, who even looks like Churchill. He's got that English accent. He's cantankerous. He's a genius, he's brilliant, but no one listens to him but the dog.
"It's Churchill's inner child that is most important over everything else, I found," he continued. "They say all babies look like Churchill, and Churchill looks like all babies. His radio broadcasts were done on a regular basis but they were a voice he put on, it was an act of performance. Of course, the greatest performers are children. They have no fear."
In Stewie Griffin, Cox found the unlikeliest of kindred spirits and, odder still, he found his way into portraying Winston Churchill. "I was like that as a child," he said, "because my father died when I was eight. My mother had a series of very serious nervous breakdowns, which meant I didn't have a parent. So I needed my Churchill to have that sense of isolation. There's Stewie Griffin, me, and Winston Churchill. That's the trio."
It's random, offbeat tidbits like this that turn any conversation with Cox, even an occasionally dour one, into any hopeful actor's dream. With a decades-long career that bounced between stage and screen as often as it did between villain and hero (hell, he was Hannibal Lecter five years before Anthony Hopkins), any answer he gives is peppered with quick gems that could be taught in drama school if you wrote them down quick enough.
For example, Artistic Breathing 101:
"When you play a role, it's quid pro quo. It's not all one way," he said. "It's more about what it gives to you than what you give to it, that feeling of another human being dealing with his life. That's always, for me, been fascinating. Whether you play Göring [in 2000's Nuremberg], or Hannibal Lecter, you begin to understand what a vast thing it is that you're doing. For young actors nowadays, everything is so quick. They're not quite stopping to breathe. Celebrity is one thing, but breathing is another."
Or, on the Topic of Playing Winston Churchill, Specifically:
"Ultimately, he's a human being. All of these extraordinary men and women who did these extraordinary things, they're human beings," Cox said, "They sleep, they eat, they have sex like we all do. That's the great thing about my job. It's like Shakespeare, 'hold the mirror up to nature, to show virtue her own feature.' That's the job. You just come in and you do the job. The rest is cant. The rest is bullshit."
That's an important thing to understanding Cox as a person and as an artist. He referred often to acting as "the job," a mundane phrase he used several times, while radiating a genuine, palpable love for the craft; two conflicting mindsets that ensure the actor will never regret starring in, say, 2001's low-budget cop-comedy Super Troopers, but will recall a specific review of the film, a specific line, no less, sixteen years later.
"As you get older, you don't remember successes, you remember those things that went wrong in your life," Cox said, with a laugh. "You remember reviews you got for things like Super Troopers. In England, this critic, a very good critic called Cosmo Landesman, wrote 'if Mr. Cox needed the money I'm sure someone could have lended it to him.' That review doesn't grasp of the reality of the situation, which was A) There's no way Super Troopers was a money job, and B) You do it for joy. You do it because it's sublimely silly. Now it's one of the best stoner movies of all time. But you always remember the opposite viewpoint. You just do."
"To answer your original question," Cox said, as our conversation wound down, "we've learned nothing. It's like the quote, 'you think I know fuck nothing, but I actually know fuck all.' It's true. We haven't learned anything. But that's why we keep going."
And there's something honest to that, to the type of freewheeling optimism Cox displays at 70-years-old that one would expect more from, well, a child.
"I do keep going back to that idea of the child," Cox told me. "It actually brings to mind someone like Donald Trump. He just wants to be liked. But he's bitten off more than he could possibly chew or digest. You can see in Trump the abused child, very clearly. He's kept his child, but it's an abused child. And he'll never realize it. The penny won't drop, and that's the tragedy of his life."
Once again, Cox's eyes returned to photo of Churchill. "The penny did drop with him. I think that's what kept him going."
So what keeps Cox himself trudging along, always forward? It's simple, really, summed in a quote from his mentor, the late Scottish actor Fulton Mackay. "He used to say, 'we just follow our mercenary calling and draw our wages.' And that's true. You do that. Continue on. Despite it all, you do that."