Denis Leary is the Patron Saint of Bros.
The giant of 90s stand-up comedy and Rescue Me star unleashes his full-throated bro-ness with glee as he narrates Ford Motor Company's "Born To Baja" 360 video. It covers the F-150 Raptors's competition in a 1,000 mile off-road race in Mexico.
"The Baja 1000 is known for being the toughest track you can possibly go to. Taking the Raptor there proves the durability of the truck, to show the world," he intones—leaving a dramatic pause, "what a badass it is."
A bit much, but it worked. That Baja video did the best job holding viewers' attention among last year's debut slate of Ford's virtual reality offerings, according to company representatives presenting Tuesday at the Interactive Advertising Bureau's Mobile Symposium in Midtown. Ford saw better than expected brand lift among Millennial and Gen X males after a year of experiments with goggle-optimized video.
Ford Motor Company didn't give any specifics on brand lift in "brodom" sub-demographic in its presentation today.
Ford's interest in VR as a design and engineering tool has been well covered, but using it as a brand building tool is new. There's usually an early mover advantage for brands that get into buzzy new media, and those benefits accrued to the Dearborn, Michigan-based car company as it began rolling out 360 video experiences aimed at consumers over the last year. Virtual reality in 2016 earned Ford increased brand awareness with a new audience, consumer engagement and earned media across the tech press.
At the heart of its strategy, Ford built an app specifically for virtual reality, available on the Google Play and iOS store, in order to reach its most engaged followers. Their app has had 12,000 downloads to date, but by republishing its VR content across multiple platforms, it got views up into the millions.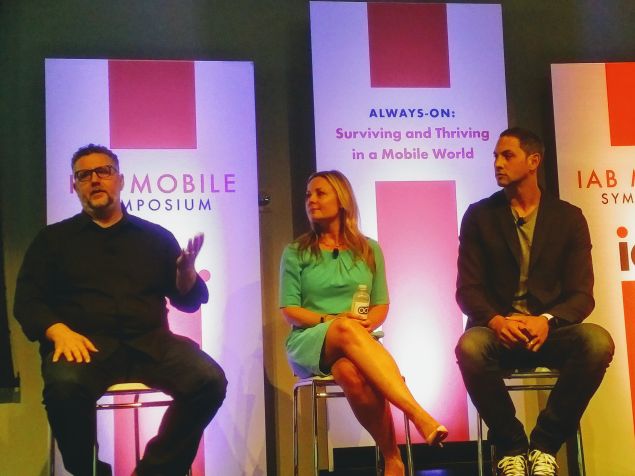 Three members of the team that created FordVR presented on its results. The initiative started with an immersive video about the 24-hour race at Le Mans. The eight-minute video takes viewers inside the grueling long race, featuring the company's $400,000 supercar. That first video saw the most organic reach for the company, due in part, no doubt, to the content debuting in a new experience. It probably also didn't hurt that Ford won the GTE Pro Class.  
"If you haven't already dabbled in the VR space, you've certainly been pitched VR," Lisa Schoder from Ford told the crowd of publishers and ad buyers. "We were no different."
It wasn't the return to Le Mans that convinced higher ups that the time had come for the car giant to experiment with an edgy new kind of content. That distinction goes to The New York Times. When The Times began releasing stories in 360, using a Google Cardboard app, that became convincing. It showed VR wasn't as much a niche medium anymore, but something that could reach anyone interested.
Rather than dabble with one film and see how it played, the company committed to a full slate of content before it started its first day of filming at Le Mans. It has six films available in the app now.
One film, October's "Ken Block's Gymkhana NINE," earned 17 million views across platforms. Another title for it might have been, "The Fast and the Furious: Seven Million Drifts." It's a stunt-driving-don't-try-this-at-home video. Bro candy.
And it's working for the company, but Scrhoder was clear that Ford's not over-committing on VR in 2017. Though internal teams are now putting VR ideas into their campaign pitches for every Ford project, the company's only picking experiences well suited to a 360 experience. "Just because you can doesn't mean you should," she said. "If you can tell the story in 2D and it's the same, you should do it."
In 2017, the key to their choices will be "fewer but better stories," she said. Translation: high-five worthy experiences only, guaranteed.