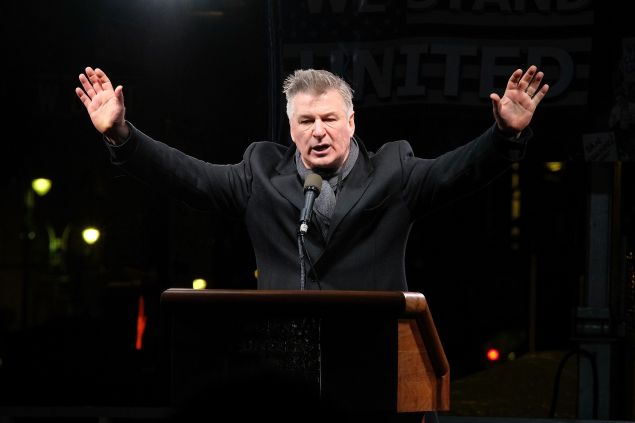 A fundraiser with 30 Rock star Alec Baldwin raked in a record $5.1 million for the most prominent PAC supporting New Jersey Democrats in this year's legislative races, organizers said Thursday night.
General Majority PAC, a 527 group aligned with South Jersey power broker George Norcross, said the $5.1 million haul was believed to be the highest fundraising total in New Jersey for either party at a single event.
The cash will come in handy for Norcross and his allies, shoring up what might have been lost in a pair of intramural feuds this year. The state's largest teachers union, the New Jersey Education Association, had given millions of dollars to General Majority PAC in previous election cycles but is now running attack ads against Norcross and one of his closest friends and allies, Senate President Steve Sweeney.
Meanwhile, Assembly Speaker Vincent Prieto, a Hudson County Democrat who is facing a challenge to his speakership from Central Jersey and South Jersey, has just assumed direct control of the Democratic Assembly Campaign Committee. The DACC has been an important vehicle for Assembly Democratic candidates in tight races, and Prieto has signaled he will only fund candidates who support his policy priorities.
Baldwin headlined for nearly 1,000 Democratic officials and donors at the Collingswood Grand Ballroom on Thursday evening. Norcross and the PAC's director, Susan McCue, were joined by Phil Murphy, the front-runner in the Democratic primary for governor.
"Everyone who cares about making real change for New Jersey owes a debt of gratitude to Alec and the leaders who helped make tonight such a great success," said Tricia Mueller, the PAC's secretary-treasurer.
Harrison Neely, executive director of Senate Republican Majority, the lead fundraising committee for GOP efforts in the state Senate elections, said money alone can't save bad candidates.
"Majority PAC dropped millions of dollars on Chris Brown's head in 2015, he was outspent 4 to 1, and he still beat Colin Bell," Neely said of one of the closest races in the previous cycle, in Atlantic County. "We have superior recruits up and down the state, and we'll have the resources to tell their story and get our message out."
A high-powered crowd of state officials — including Sweeney, Senate Majority Leader Loretta Weinberg, Assembly Majority Leader Lou Greenwald, and Assemblyman Craig Coughlin, who has announced enough support to become the next Assembly speaker if Democrats perform as expected in the November elections — were on hand at the Baldwin fundraiser, along with state Sen. Paul Sarlo, a top Sweeney ally, and Assemblyman Jerry Green, a prominent Coughlin backer.
Prieto, who had been listed on the invitation, did not show up. Neither did Assembly Budget Committee Chairman Gary Schaer, a Prieto ally who had also been included on the invitation.
Tickets went for $2,500 a pop.
"New Jersey Democrats recognize that change begins at home, and next year, with the election of a new Democratic governor and strong Democratic majorities in both chambers of the General Assembly, there will be a real opportunity to increase the number of jobs, raise wages, fix school funding and repair our crumbling infrastructure," Mueller said. "While Washington, D.C., obsesses over tweets and leaks, New Jersey Democrats are preparing to get big things done beginning January 2018."
Update (10 p.m.): The executive director of the Senate Republicans' lead fundraising committee chimed in and this post has been updated with his comments.