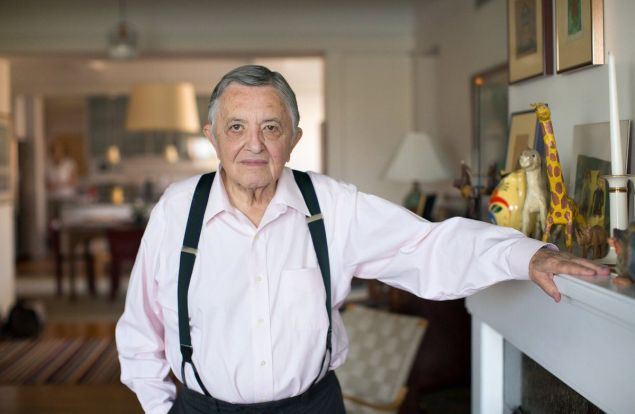 Gabe Pressman, New York's first television reporter and a legendary journalist whose career lasted over 60 years, died this morning at the age of 93. Pressman's wife Vera said that he passed away in his sleep after a brief illness.
Pressman spent most of his career (over 50 years) at WNBC in New York.
"This is an incredibly sad day for the WNBC family," station president and general manager Eric Lerner said in a statement. "Gabe Pressman was a television icon who served our viewers for more than 50 years. He was truly one of a kind and represented the very best in television news reporting."
Born in the Bronx on Valentine's Day 1924, Pressman was a combat naval officer during World War II. After graduating from Columbia School of Journalism in 1947, Pressman worked briefly as a print reporter—he traveled Europe for 15 months on a Pulitzer scholarship writing stories for the Overseas News Agency.
Pressman then returned to New York, and in 1951 he began anchoring NBC's Shell Oil News, New York's first local television newscast—initial episodes were only five minutes long. By 1963, however, the show had expanded to 30 minutes.
Aside from an eight-year stretch at Fox 5 from 1972 to 1980, Pressman spent the rest of his life as an NBC reporter. He covered nine mayors and 13 presidents, interviewing everyone from Elvis Presley to Fidel Castro along the way. He was also everywhere news broke in New York, from Woodstock in 1969 to the World Trade Center on 9/11.
Active (and tweeting) until the last days of his life, Pressman—now a "senior reporter"—covered the St. Patrick's Day parade for NBC earlier this year. He was also a regular for 65 years at the annual Inner Circle dinner, where New York journalists get to make fun of the politicians they cover—the troupe referred to him as the "Dean of the New York press corps."
It wasn't all fun and games for Pressman, however: he also stood up for the rights of journalists, fighting back against restrictions on press access (such as only taking "on-topic questions" at news conferences). He criticized New York City Mayor Bill de Blasio in particular for his many "closed press" events.
De Blasio doesn't seem to have any hard feelings, however—he, along with many other politicians and journalists, paid tribute to Pressman on Twitter:
Pressman is survived by his wife, four children and eight grandchildren.