Perhaps one of the most surprising results of Georgia's congressional special election is how gender was a non-factor. Pre-election polls showed that men preferred the female candidate, Karen Handel of the Republican Party. Meanwhile, women flocked to Jon Ossoff, the male candidate. And it's not a slight difference.
In a survey from Landmark Communications just a few days before the election, Karen Handel had a double-digit lead among men—54.3 to 43.8 percent. Jon Ossoff led among female voters by nearly the same margin—54.9 percent to 42.5 percent.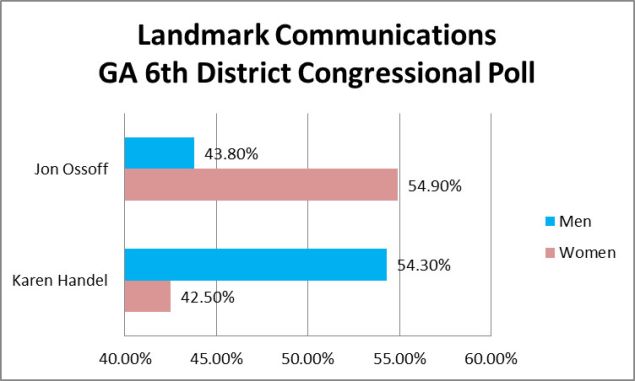 Perhaps now would be a good time to point out that Handel is the first woman Georgia has elected to the House of Representatives. The Peach State has never picked a woman for the U.S. Senate or governorship either.
Critics who think that gender still factors into electoral outcomes will point to CNN exit polls from the 2016 election that show Donald Trump won the male vote and Hillary Clinton took the female vote. Both won their gender by double-digits.
However, when you're talking about the first-ever female candidate on the general election ballot for a major political party, 54 percent is a small advantage. After all, African-American support for Democrats jumped seven points from 88 percent in 2004 to 95 percent when Barack Obama appeared on the ticket in 2008.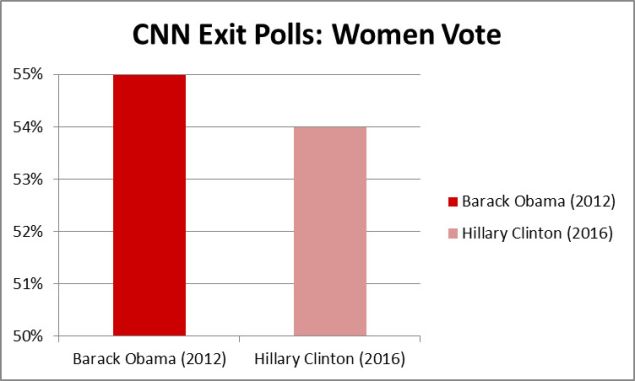 In the 2012 CNN Exit Poll, 55 percent of women voted for Obama. In other words, female support for Democrats actually dropped a point when Hillary Clinton was on the ticket.
Since 1992, women have been winning offices and have held a record number of positions in the gubernatorial mansions, the U.S. Senate, the House of Representatives, statewide offices and state legislative posts. Perhaps women are starting to feel more comfortable picking a candidate based on ideological grounds and are disregarding gender altogether. Surely, a lot of sexist attitudes about female competence in politics have been proven wholly wrong.
"I think women are predisposed to see charitable purposes as a proper role of government, so it is not a surprise that they don't gravitate to the Goldwater/Reagan GOP," a Georgia state legislator told me on the eve of the Handel-Ossoff race. "Also, you see a gap between married and unmarried women. As marriage continues to decline, the proportion of left-leaning women increases."
Another gap once occurred between African-American women, who are more likely to vote for the Democratic Party than white women. But that's also changed in recent years. For example, when Sarah Palin was on the GOP ticket in 2008, white women were slightly less likely to vote her than the Bush-Cheney team four years earlier, according to the New York Times exit poll. The moral of the story is that a female candidate doesn't necessarily bring in the female vote. It's still about the candidate and issues.
"I think the media's assumptions about politics and gender/race are terrible," another Georgia Republican added. "I think individuals are growing, through life experiences, away from the traditional demographics. I think women voting for Trump had nothing to do with their gender and more to do with their understanding of politics affecting their lives."
John A. Tures is a professor of political science at LaGrange College in LaGrange, Ga. He can be reached at jtures@lagrange.edu. His Twitter account is JohnTures2.