Avid followers of tabloids and/or Instagram are well aware that Gigi Hadid recently debuted a new look. That's mostly due to the fact that she's stopped working with stylist Monica Rose (just like the Kardashian klan) and has enlisted the services of Mimi Cuttrell. So far, that has resulted in Hadid donning a head-to-toe yellow outfit from Sally Lapointe and a rather covered up getup from The Row for the CFDA Awards. Her new look is refreshing, creative and boundary pushing.
This weekend, Hadid was photographed in her most experimental look to date. She paired a simple white t-shirt with a pair of Y/PROJECT jeans (that turn into booty shorts at the snap of a button) and tied her Aquazzura stilettos over the ankles of her pants. She also accessorized with two snakeskin accessories, including an extremely tiny bag from Jason Stalvey.
However, it was her jewelry that really stood out. Hadid piled on the bling, including four necklaces and two different types of earrings, all by Jacquie Aiche. In addition to the moonstone and mother of pearl number and a honeycomb made from labradorite, she was wearing a rose quartz Potion Bottle. Yes, the model of the moment wore a witch's accessory, on a 14K gold chain that was studded with diamonds.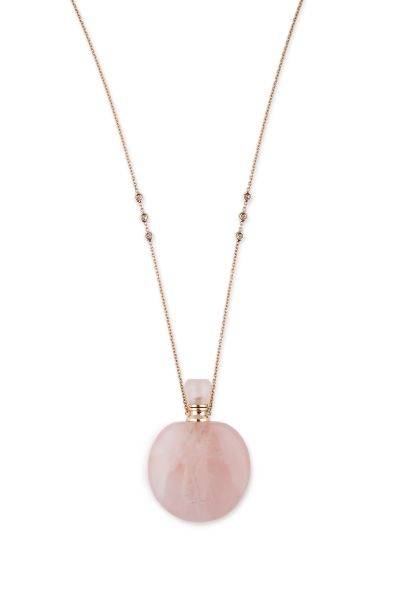 According to Aiche, this piece of jewelry is "a spiritual journey through the senses," as the hand carved vessels are meant to be filled with essential oils.
"I have always been a believer in the power of aromatherapy. I use essential oils daily to enhance my mental and physical health," the jewelry designer explained. She likes to fill her Potion Bottle with bergamot, geranium and lavender oils, which help keep her calm and centered while playing around with diamonds. The Potion Bottles are made from gemstones including turquoise, rose quartz, lapis, agate, tiger's eye and citrine, all of which have wellness benefits on their own. For example, rose quartz is known for its heart healing properties, lapis is good for quick stress release and citrine is celebrated for bringing good luck.
If the whole essential oil and wellness thing isn't for you, the Potion Bottle can also be filled with the perfume of your choice. It's a not-so-subtle way to make sure you smell good all summer long.
Just know that this form of wellness does not come cheap; Aiche's Potion Bottles range from $3,190 to $5,940. However, it just might be the chicest way to let your friends know that you have, in fact, joined a coven. It's a cool witches club though, because celebs such as Blake Lively, Alessandra Ambrosio, Haley Bennett and Nicola Peltz are all members and have a Potion Bottle of their own.