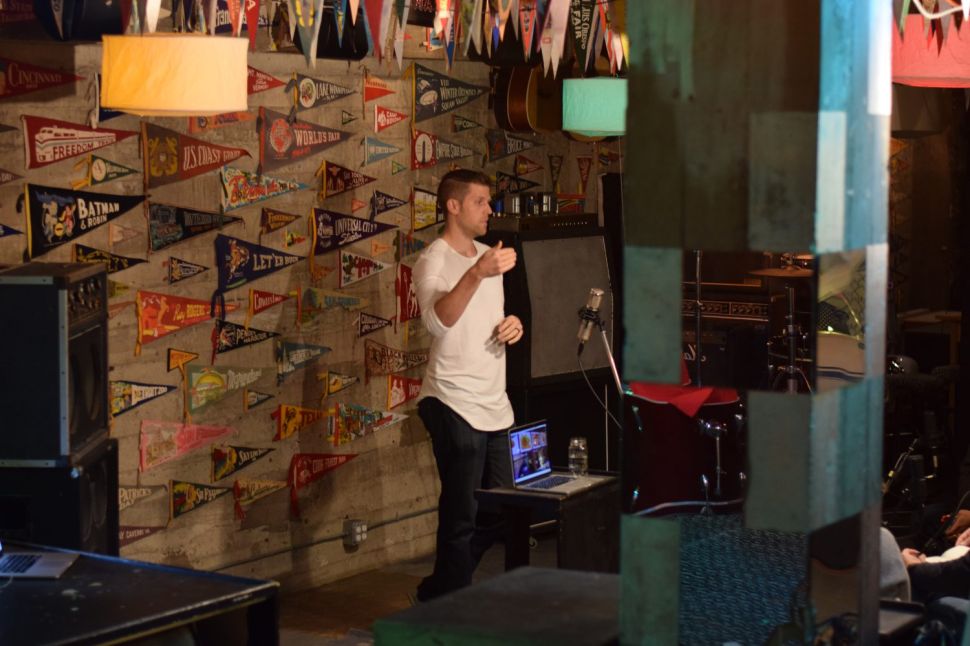 Josh Muccio's second season of his podcast The Pitch is so different from season one that he wanted to take down all the old episodes, as though he were starting from scratch. It's good that he has left some up. Following how projects change over time is part of what makes it fun to build loyalty to a media brand. When Facebook turned ten, lots of websites did posts where they published old screenshots from the company's earliest days. If you like something, it's fun to see how it evolves.
Muccio's show has always let audiences listen in as startups pitch investors, but season one came off more like a practice pitch, while season two has real money on the line, Shark Tank style. The new direction sounded good enough that Gimlet Media acquired the show. Muccio's second season is largely finished and the first episode will debut on June 14. His team is recruiting founders now for season three.
On the show's first season, Muccio and another investor would sit down with a startup, listen to the pitch, ask some questions and then talk on tape after the entrepreneur had left the room (we liked this one), but on episode 12 he confesses to 500 Startups partner Sheel Mohnot that he felt the episodes up to that point didn't sound real enough.
Gimlet also liked the idea of raising the stakes, showing someone take a shot at actual money. "We have always been interested in reality as a genre," Matt Lieber, Gimlet co-founder, told the Observer in a phone call. "This is our first shot at doing reality radio."
On the first season, investors weren't committing to the reality of the pitches. Muccio points out to Mohnot how guest VCs would make statements such as "I would follow-up" rather than "I will follow-up," which suggested that their conversation with the founder had been playacting. To combat that, Muccio decided to see if he could get a small handful of investors to commit to making decisions on tape, with founders in the room (pending due diligence).
He found the investors, so the second season significantly amps the drama. "We really tried to take a more narrative storytelling approach," Muccio said. The second season was primarily recorded over two days at a studio in Silicon Valley. Founders would stand in front of a panel of the same five investors, give their pitch, get questions answered and then the investors would say whether they were in or out. The founder stood in front of a group of seated investors. It was meant to feel like a real performance, not a chat. No slides were allowed, but founders were encouraged to demo the actual product. 
On Season One, the investor got the last word. In Season Two, the show gives the last word to the founder.
"We actually follow up after the fact," Muccio explained. At the end of each show, Muccio brings the founder back to talk about developments at the company since the recording and next steps. These conversations take place a couple months later. It helps to nail down whether funding really came through after the company got vetted, what they did with the money or what's happened if all the investors passed.
The Observer got a preview of the first couple episodes. We don't want to spoil anything, but for those that listen to episode two, we'll just say this: the founder's right, retail sucks and shut up about iPads. KTHXBAI! 
The fact that the show left this listener with opinions at the end probably counts as a win to Gimlet. The network's shows "are driven by curiosity, integrity and surprise," Lieber said. It also happens to have a strong base of entrepreneur or wannabe founders as listeners. "The thing that stuck out when we heard from Josh is he takes listeners in the room where real entrepreneurs are pitching real investors for real money," Lieber said.  
Gimlet's first show was StartUp. Its first season covered the launch of Gimlet itself. Its second season followed another young startup, The Dating Ring. Since then, its editorial direction has broadened, but it has held onto and built a loyal audience that likes business driven narratives. The Pitch gives that audience more business-oriented content, but with a completely different format. The first episode of The Pitch will go live both on its own feed and also as a Startup episode. That kind of cross promotion is one the chief reasons why podcasts join networks.
Season three will be taped in New York City and post in October. Startups interested in pitching on the show can apply here. Muccio said they are looking for all kinds of startups, not just digital products. Startups should consider that the team wants narratives, which means real facts about real events, lessons learned, growth, tension and change—not the sugarcoated dreamland of infinite growth and frictionless progress founders prefer spinning.
The next season will probably get taped in a third city, because, Muccio said, "We want to promote the mindset that you don't need to be out in the Valley to do something good."