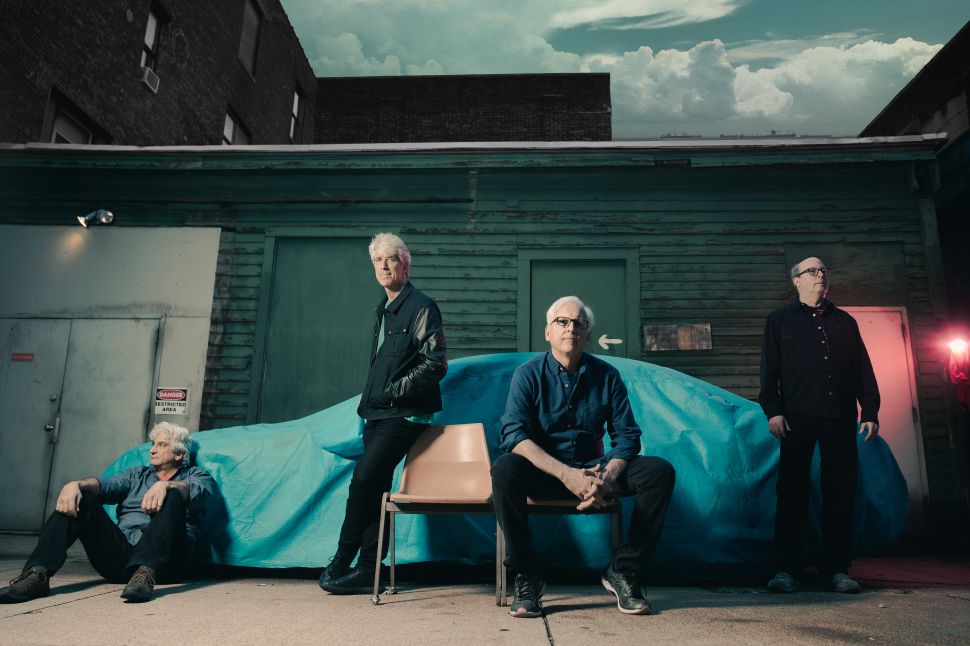 "It's basically about how privileged people feel oppressed in different ways, and it got me thinking about the ways by which they actually are," Glenn Morrow says about "Keira Knightley," the lead single off the eponymous debut from his new band Glenn Morrow's Cry for Help. "Everybody feels the need to be free, and there's a lot of ways to be enslaved. And that's what occurred to be when I saw Keira Knightley on the nightly news."
Produced by Ray Ketchem (Okkervil River) at Orange Road Studios in Montclair, NJ, the album marks the first time Morrow has released his own original material since 1989. Back then, he was an artist on the intrepid indie label Bar/None Records out of Hoboken, a town he represents both in sound and spirit through the distinctive blend of pub rock, punk and AOR that's come to define the Mile Square City these last 40 years by playing in such influential groups as The Individuals and Rage To Live. Now he runs the imprint, which has released albums from such acclaimed acts as Yo La Tengo, They Might Be Giants, Freedy Johnston, Evan Dando and The Feelies through the years and continues to drop gems like Make It Be, this year's excellent collaboration between alt-pop great Jason Falkner and underground hero R. Stevie Moore. Yet for Cry for Help, Morrow chose another label to release it on. In fact, it's the one that exists in the office next door called Rhyme & Reason Records, which is run by former Bar/None employee Emmy Black, who founded in imprint in 2015. For the singer, being back on the other side of the desk has been an enjoyable experience.
"We share an office and she told me how she really, really liked the record and wanted to put it out," he explains. "And she's been doing all the marketing and coordinating, which has been fantastic for me. She's got all these great ideas, like the family tree poster of all the Hoboken bands and coasters we can send out to bars. It's been a lot of fun. It's great to be an artist on a label again. I was very grateful when she stepped in."
Backing up Morrow on the album is a team of Hoboken luminaries, including drummer Ron Metz, bassist Mike Rosenberg and lead guitarist Ric Sherman, all of whom play with the energy of men a fraction their age on such key Cry cuts as "Pony Express," "Let The Kid Come Out" and "When Night Falls." And though one can easily trace the barstool boogie of the record back to the heyday of pre-gentrified Hoboken, it was the late music critic Robert Palmer's acclaimed 1982 book Deep Blues that provided the true heart to the 11-song set.
"Robert really championed the Hoboken bands when he was a rock critic," Morrow says of the late author, with whom he worked alongside at the celebrated punk/new wave magazine The New York Rocker. "I had reread Deep Blues and that informed the new stuff. I was 21 when I read it the first time. But now with Spotify, you have access to every blues record he writes about. When I was 21 and reading it, it was impossible to access all of that material. I also have a much deeper appreciation for where everything comes from now, and so much of rock 'n' roll comes out of the blues. It's something you don't hear too much in today's indie bands."
Morrow also cites the night he reunited with his former bandmates in both The Individuals and "a", a short-lived group which also featured Richard Barone of The Bongos, for a concert on the closing night of the legendary Hoboken rock club Maxwell's as another vital catalyst to his decision to begin making music again.
"It was the first time in my life where I felt like I really needed to move forward," he explains. "I think prior to that I wanted to put the past back together or something. And we did that closing out Maxwell's. So I was like, 'Well, what do I do now?' I felt like there was this big open space to create something that I hadn't really had my head in until then. I finally felt like I had something to say."
And while he remains as busy as ever while Bar/None continues to forge full steam ahead into the second half of 2017—revealing that the label recently picked up a good portion of the Alex Chilton solo catalog to revamp, for instance—he's certainly focused on making this return to his pub rock roots as meaningful as it can be.
"It's been so much fun being in a band again and reconnecting with people and playing shows," he states. "We played in Fair Lawn, N.J., the other night on a bill with a bunch of other bands. It was this place called Stosh's, and it had this old school wraparound bar. It really reminded me of the places I used to play as a teenager. It feels good just to go out there and play. Right now I feel like, 'Man, I'll perform anywhere.'"
Glenn Morrow's Cry for Help celebrates the release of their debut album on Wednesday, June 28, at HiFi in New York City.