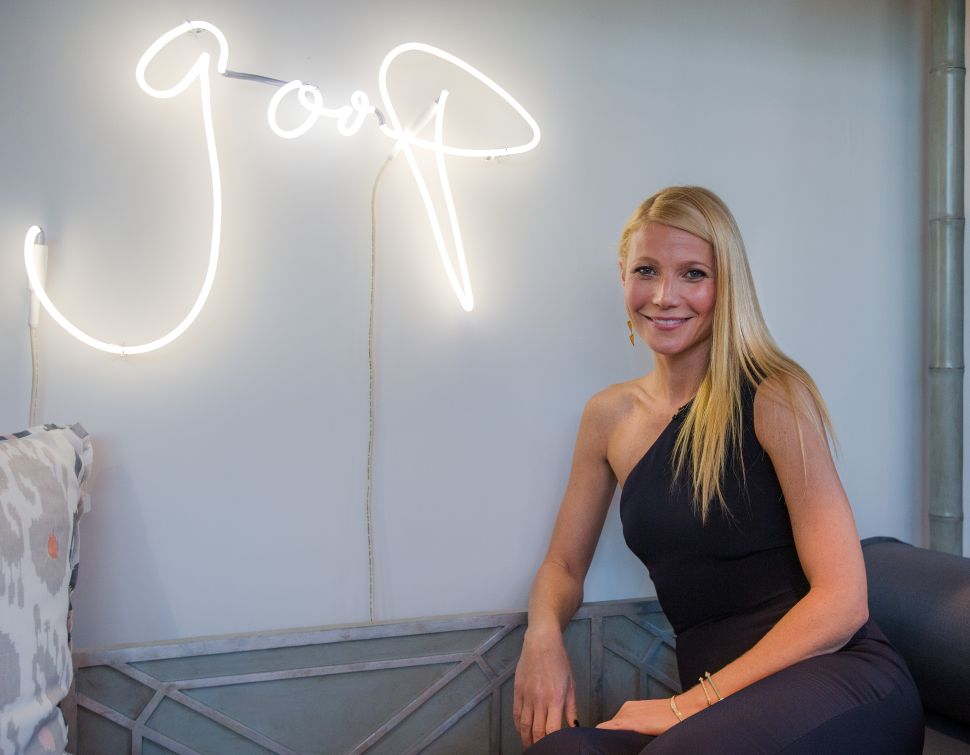 This Saturday, some of L.A.'s finest will be gathering for the first ever "In goop Health" wellness summit, led by goop goddess Gwyneth Paltrow herself. According to the official website, the summit will be an "intensive (but fun) day" that will include panels, keynotes, and "restorative interactive sessions" from fitness trainer Tracy Anderson, writer Jenni Konner, actress Cameron Diaz, designer Tory Burch, and other leading medical, nutritional, and psychiatric specialists.
The summit also promises a bunch of very new-age activities, like "crystal therapy," "aura photography," a "flower remedy station," a "sound bath," an I.V. drip for detoxing, a foam rolling session to reduce toxins, and manicures.
Of course, the most exciting part is the swaaaaaag, as well as the food and drink. We got a look at the vendors and the items they will be serving. They are extra goop-y.
Date Caraway Pumpkin Seed Granola, Cacao Coconut Granola, choice of Cashew-Date Milk or Strauss Cow's Milk from Botanica.
Certified Clean Coffee Beans blended with Brain Octane Oil, Grass-Fed Butter & Bulletproof Pasture-Raised Collagen Protein from Bulletproof Coffee.
Summer Sex Dust Tonic, Golden Beauty Dust Tonic, Blue Brain Dust Tonic from Moon Juice.
Kale Cookies & Cream from by Chloe.
Ginger Peach Kefir Smoothie Bowl from Lifeway Foods.
https://www.instagram.com/p/BVHB6UMFDgf/?tagged=kefirsmoothie
Tempeh Bulgogi, Paleo Deli Turkey, Macro from Kye.
https://www.instagram.com/p/BUpc8gWAX52/?taken-by=kyesmontana&hl=ur
Yuzu Salmon Poke Bowl + Tuna Poke Spring Rolls from Sweetfin Poke.
Greenhouse Chip, Shroom Shake (which includes the "10 most prestigious medicinal mushroom in one beverage" – Agarikon, Blazei, Chaga, Cordyceps, Lion's Mane, Maitake, Mesima, Reishi, Shiitake, Turkey Tail), Immunity Shots, and Maca Chip Cookie Dough Bites from Lifehouse Tonics.
True to form, the tickets range from a reasonable $500 at the Lapis level, a pricey $1,000 at the Amethyst level, and a hella VIP $1,500 for the "Clear Quartz" tickets.
If you can't make it to the event, though, don't despair! We've got the recipe for the summit's signature cocktail, so you can DIY and goop in the comfort of your own home.
GOOP KOOLAID
3 ounces Tito's Handmade Vodka
1/2 ounce olive juice
1/2 ounce vermouth
1 scoop Vital Proteins Collagen Peptides
2 martini olives