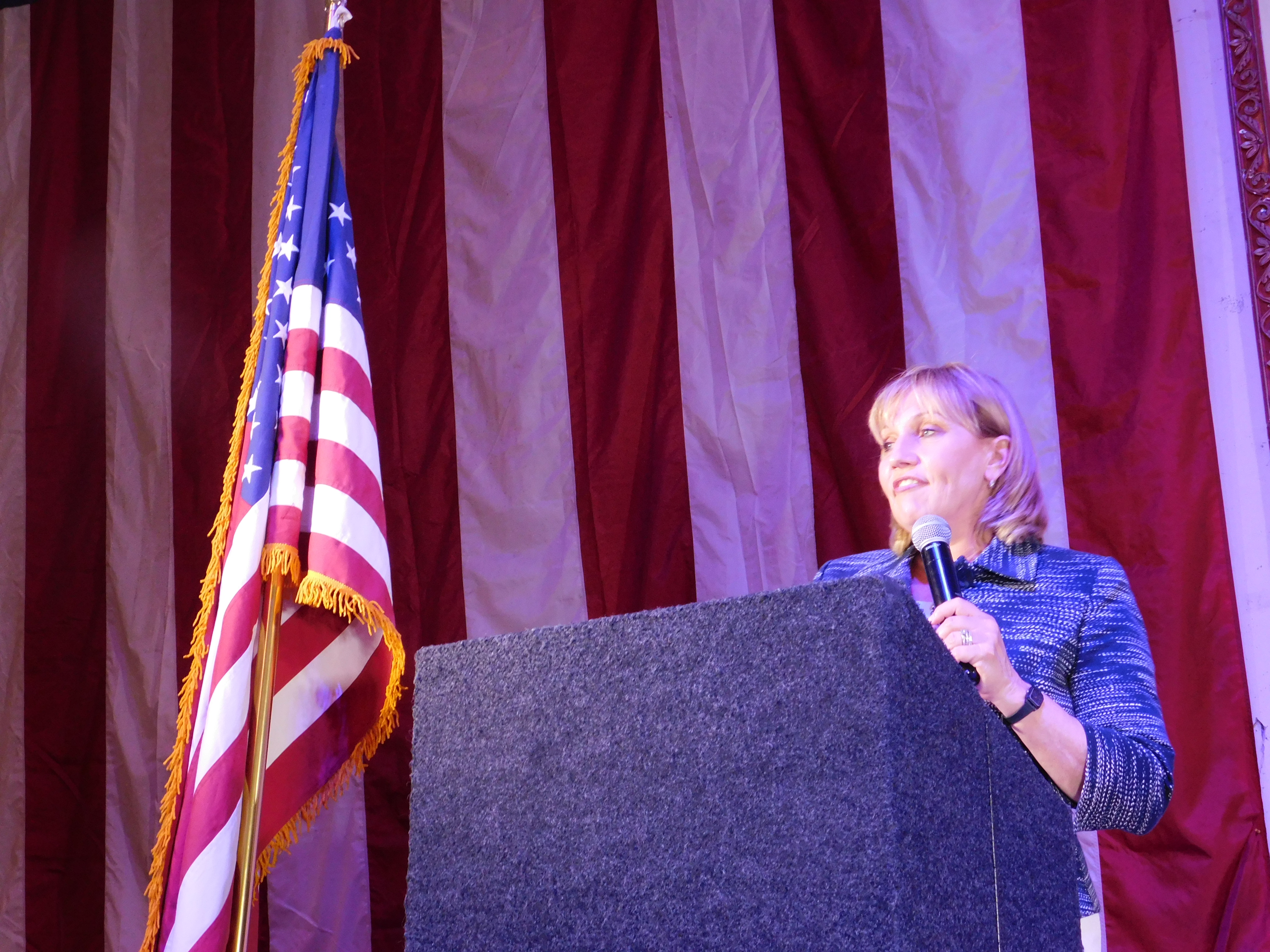 EDISON — Lt. Gov. Kim Guadagno, the Republican nominee for governor, stood at the foot of a two-story American flag as she addressed attendees of an interfaith Ramadan dinner sponsored by the American Muslim Council, a group and political action committee dedicated to getting Muslim Americans involved in politics.
"Muslims of all backgrounds in New Jersey … have helped to build our state. I came here to thank you for that," Guadagno said. "You need to give yourselves a round of applause for everything you have done for the state of New Jersey."
On Thursday, Guadagno spoke of the need to come together as Americans even in divisive times, alluding to the Wednesday morning shooting in Virginia that critically injured U.S. Rep. Steve Scalise of Louisiana.
"Dinners like this and gatherings like this all over the country but mostly in New Jersey show us that we are really united, that we really have more in common than we are apart," Guadagno said. "We are all men, women, mothers, fathers, children and we all want the same things for our children."
Guadagno said that events that bring different groups together are an important part of the fabric of America and New Jersey, something that helps bridge gaps and keep interactions between groups with different beliefs respectful and tolerant. While Thursday's event celebrated Ramadan, it featured a number of faith leaders from different religious traditions.
"We need to focus on what we have in common, we need to focus on how we all achieve our goals, we need to focus on what is important to all ours lives as people," she said. "I thank you because tonight is all about humanity."
By reaching out to Muslims, Guadagno is further separating herself from President Donald Trump and his much-disputed call to ban those arriving from several majority-Muslim countries, including war-torn Syria, from entering the United States. AMPAC was opposed to Trump's election in November and supported Democratic candidate former Sec. of State Hillary Clinton in that race.
Trump is an unpopular figure in New Jersey and Guadagno did not endorse him while he was running for the presidency but has since said that she would welcome him to campaign for her as she pursues the governorship.
Guadagno's remarks at the event were made in her capacity as lieutenant governor, a role that has made her the Christie administration's liaison to the business community. Republican state Sen. Sam Thompson (R-Middlesex) was also in attendance.