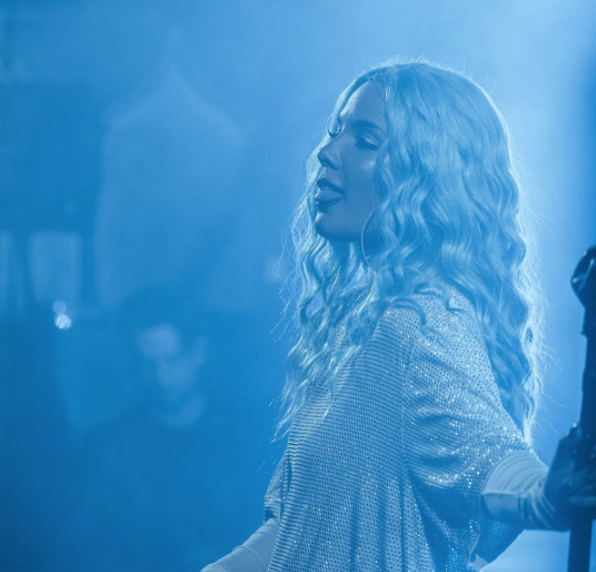 When Halsey first emerged with long blue hair and songs about sexual conquests and sadness, her brand of hyper-personal alternative pop felt entirely original. On her 2015 EP Room 93 (arguably her best work to date), the teen sang about one night stands, drug use and loneliness. And in interviews, she was more outspoken and candid than other bubblegum pop stars, who steadfastly avoided saying, or singing, what they really thought, especially in a time of political turmoil. Now, she's quickly on her way to having the top album of the summer.
Halsey was once just Ashley Frangipane, a blue haired Tumblr teen who was unafraid to connect directly with her audience. "I could not fathom for a second having any of you guys hurt me," she told the audience during a secret show for her most devoted Spotify listeners at the Angel Orensanz Foundation on the Lower East Side. Wearing sequins and sneakers, she launched herself into the crowd during "Young God."
The sprawling, dramatic venue was the perfect backdrop for her latest album, the endlessly ambitious hopeless fountain kingdom, inspired very literally by Romeo and Juliet. As blue-haired girls pushed up against the barrier, tattooed models lazed on red and white sofas, surrounded by the tarot cards Halsey has been using to reveal key details about the story.
It wasn't until her collaboration with the Chainsmokers (the human equivalents of Axe Body Spray) that Halsey sold out Madison Square Garden. Sure, she had collaborated with Justin Bieber, and was even briefly rumored to be dating him, but the EDM earworm was arguably the song of summer, heard everywhere from grocery stores to Jersey Shore nightclubs. Suddenly, Halsey was the next big thing, with an upcoming album set to usher her in as one of the greats.
And so came the endlessly hyped hopeless fountain kingdom. Halsey took to social media, where she got her start, to leave clues for her devoted followers, who developed theories of their own. One prevalent thought is that the album is dedicated to her ex-boyfriend, a drug addict in Bed-Stuy (yes, off the Halsey L-train stop). Entire Twitter threads are devoted to their mysterious, angst-ridden relationship.
[youtube https://www.youtube.com/watch?v=kzQTc0-iBX8&w=640&h=360]
Her latest album is more R&B than alternative, sounding much like The Weeknd and the slew of sleepy sex songs that seem to be taking over the airwaves. The moody "Eyes Closed" is even co-written by The Weeknd and co-produced by Benny Blanco, the Dr. Luke protege behind Britney Spears, Katy Perry and Miley Cyrus. Most of the album is co-produced by Lido, Halsey's on and off boyfriend (although most recently she's been spotted with Machine Gun Kelly, inspiring a Justin Bieber meme).
One standout is "Strangers" a single featuring Fifth Harmony's Lauren Jauregui. Like Halsey, Jauregui is openly bisexual and came out in an open letter to Trump earlier this year. And with the opening, "She doesn't kiss me on the mouth anymore," it's the first mainstream pop song of its kind.
Halsey was influenced by the emo music of the early aughts, citing Taking Back Sunday as a favorite. Their influence is obvious in her confident stage performance, where she takes lead singer Adam Lazzara's mic swinging to heart. It was so pervasive that Brand New created a "Mics Are For Singing, Not Swinging," T-shirt as part of their long time feud.
Introducing "Heaven In Hiding," a song reminiscent of early Britney Spears, Halsey told the rapt audience it was her favorite from the new album. Other than people from "blogs and posh magazines," the crowd was entirely made up of her super fans, who sang every lyric from the album released only days ago.
And when she played one of her first singles, "Hurricane," she told the teens, "This song is a reminder you don't belong to anyone but yourself," as they finished her sentence. As she co-wrote and co-produced every song on the ambitious album, Halsey has certainly achieved independence as a pop superstar. And like "Heaven In Hiding" says, she can put on a show.