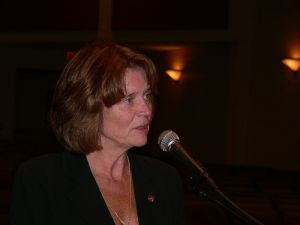 Senate President Steve Sweeney rolled out an endorsement from a leading health care labor official on Monday, days after New Jersey's largest teachers union formally backed his Republican challenger in the November election.
Ann Twomey, president of the Health Professionals and Allied Employees, called Sweeney "an experienced, principled and proven leader" who "has stood with our nurses and health care workers when they were organizing for their collective bargaining rights, fighting for just contracts, and advocating for safeguards to protect quality patient care standards."
The HPAE is the largest union for registered nurses and health care professionals in the state, with around 13,000 members.
"At a time when labor rights and health care coverage are threatened in New Jersey and across the country, we need an experienced, principled and proven leader in the Senate to protect the most vulnerable in our community from ruthless health care cuts and who will stand up with our union members to safeguard their rights," Twomey said in a statement.
Sweeney (D-Gloucester) is under fire from the New Jersey Education Association, the state's largest teachers union and one of the most influential forces in state government. The NJEA through a super PAC has been attacking Sweeney in digital ads and mailers this year and has made unseating Sweeney a top political priority.
Among the list of grievances for the teachers union, perhaps the biggest is Sweeney's decision to withdraw a promised ballot question that would have guaranteed pension funding through the constitution last year. The pension system in general is under a mountain of debt in New Jersey, and the fund for teachers and school workers is in the worst shape of all. Sweeney and Gov. Chris Christie also teamed up to reduce benefits for public workers in 2011, which the NJEA has not forgotten.
The teachers union went so far as to endorse the Republican candidate this year in Sweeney's 3rd District, Salem County GOP Chairman Fran Grenier. He does not share a lot of their school-funding priorities, but at least he's not Sweeney. And Grenier says he will work to secure teachers' pensions.