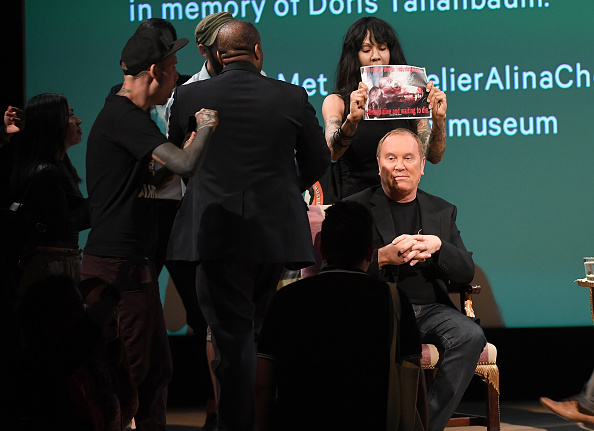 With a net worth estimated to hover around the $1 billion mark, you'd think there's little that could rattle designer Michael Kors. As he took to the stage at The Met with Alina Cho, the latest in The Atelier with Alina Cho discussion series, the fashion designer was full of signature one-liners and hilarious anecdotes.
But the evening honoring the former Project Runway judge quickly descended into pandemonium. Ten minutes into his talk, while he was sharing a story about the time when he tried acting in his early twenties, a crowd of anti-fur protestors broke into the Grace Rainey Rogers Auditorium. The angry demonstrators stormed the stage and began shouting.
"Animal fur is not fashion!" "Where the hell is your compassion?" The protestors chanted, with one angry member even exhibiting a banner that read "Fuck Fur." When some of the protestors got too close to Kors, the designer exited the stage, with his husband, Lance LePere in tow.
This isn't the first time the designer has been the target of protests; he was heckled in a similar fashion this September outside his Soho store in New York City, according to WWD. Despite murmurs that he wouldn't return to the stage, the fashion mogul eventually reappeared in his seat and resumed the discussion, to a standing ovation from the audience. As they say, the show must go on.
"Fashion is not for sissies… Listen, I had the ceiling fall during a runway show and hit Suzy Menkes on the head. The show must always go on," the designer exclaimed.
Following the interruption, Kors touched on his coincidental debut at the Met Ball in 1980 alongside his date, Vera Wang. He also discussed his low-key wedding to LePere "We got married on the beach, grabbed pizza and went to see The Help! It was the most genius day!" Kors made sure to touch upon his extensive philanthropic work in eradicating world hunger; to date, he has provided 15 million meals to those in need through his work for God's Love We Deliver.
Rounding up the talk, the fashion veteran dwelled on his top tips for success. "You have to be passionate…you have to be curious and you have to be aware of the landscape, but just go right on ahead and make it happen."
Having done just that for 30 years, it will take more than a mob of angry protestors to deter Kors from his course.