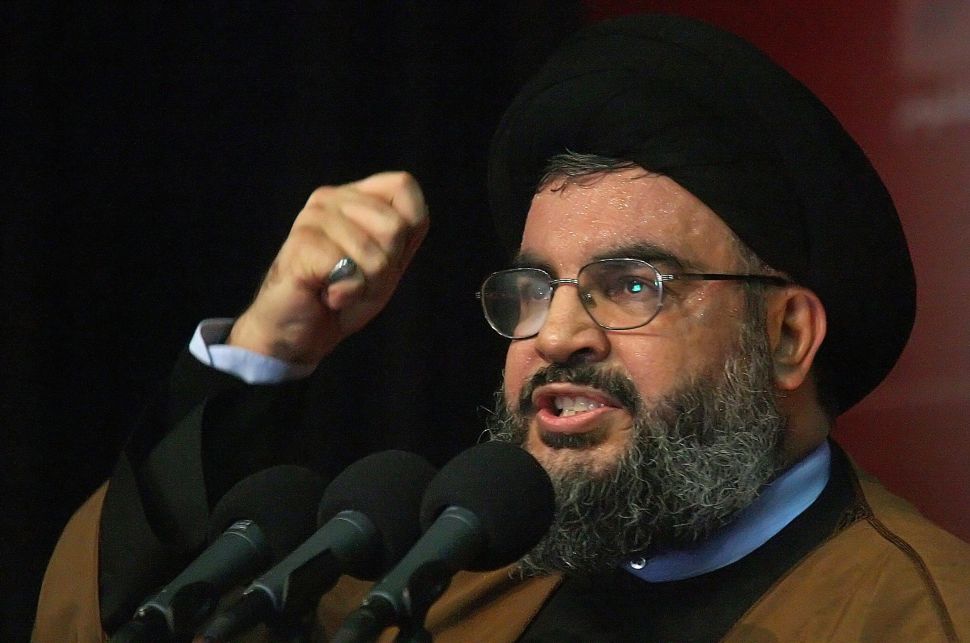 Hezbollah leader Hassan Nasrallah issued a warning a warning to Israel: If war breaks out, Israel will confront tens of thousands—if not hundreds of thousands—of Arab and Muslim fighters.
Although certainly fighting words, words are just that: words.
Nasrallah threatened Israel in order to make certain that Israel does not intensify its activity against Hezbollah in northern Lebanon. He is clearly worried that war is on the horizon.
He made his comments in a TV appearance commemorating al Quds Day, also known as Jerusalem Day, saying, "The Israeli enemy should know that if it launches an attack on Syria or Lebanon, it's unknown whether the fighting will stay just between Lebanon and Israel, or Syria and Israel."
He continued, "I'm not saying countries would intervene directly, but it would open the door for hundreds of thousands of fighters from all around the Arab and Islamic world to participate in this fight from Iraq, Yemen, Iran, Afghanistan and Pakistan."
Without realizing it, Nasrallah has revealed a lot of information. We now know that there are fighters from all over the Muslim world—Iraq, Yemen, Iran, Afghanistan and Pakistan—fighting alongside Hezbollah as it fights ISIS and defends Syrian President Bashar al-Assad.
That Iraq, Yemen and Iran would lend fighters is not a big surprise, but it is that Afghanistan and Pakistan would. Now that we know how far Hezbollah's circle extends, it is probable that there are large numbers of fighters from Indonesia and China as well.
Thank you, Nasrallah, for spilling the beans.
The Hezbollah leader is, understandably, under a lot of pressure. Tensions continue to intensify. Syrians and Hezbollah fighters attack ISIS in the Golan Heights. We know that some of their rockets have, inadvertently, landed in Israel, and Israel has retaliated with heavy retaliatory aerial raids. Further, it was not a small amount of misfired rockets that landed in Israel; it was 10 rockets at a time. The Israeli response was not an overreaction—it was necessary.
Obviously, the Syrians and Hezbollah are trying to prevent ISIS from cutting off Damascus, the Syrian capital. Under normal circumstances, Syria and Hezbollah would go to great lengths to ensure their rockets didn't land in Israel. But these are not normal circumstances. Syria is under so much pressure—from both rebels and ISIS—that they are just shooting. They are successfully hitting ISIS, but they are also missing.
Israel cannot afford to look the other way and permit this situation to continue. Neither Israel nor Hezbollah want to engage in war.  The last time they went to war, which was in August 2006, 1,200 Lebanese and 160 Israelis were killed.
The Israeli IDF chief of staff has said that if there were to be a conflict with Hezbollah, Israel will be able to accomplish in two days what it took they 34 days to accomplish in 2006. This might be an exaggeration. Surely, Israel's military ability has increased over the past 11 years, but so has Hezbollah's.
Israeli Prime Minister Benjamin Netanyahu told his cabinet that he sees Iran's hand both in Lebanon and in Syria and that Israel must make certain that Hezbollah's weapons' capabilities do not improve. He said, "We also view with utmost gravity Iran's attempts to establish itself militarily in Syria as well as its attempts to arm Hezbollah, via Syria and Lebanon, with advanced weaponry."
In a public statement, Netanyahu also noted that it has become clear that Hezbollah is manufacturing their own rockets and missiles and that they received the technology from Iran. This is Israel's way of warning Hezbollah that Israel will be targeting those missile factories in the near future.
Nasrallah's troops are battle hardened. Over the past six years, they have been trained by Iran and gained real experience fighting ISIS in Syria. The situation is explosive. A single match could ignite the entire region.
Hopefully, this will remain a war of words, not weapons.
Micah Halpern is a political and foreign affairs commentator, author the "The Micah Report," online and host of the weekly TV show "Thinking Out Loud w Micah Halpern." follow him on twitter: @MicahHalpern