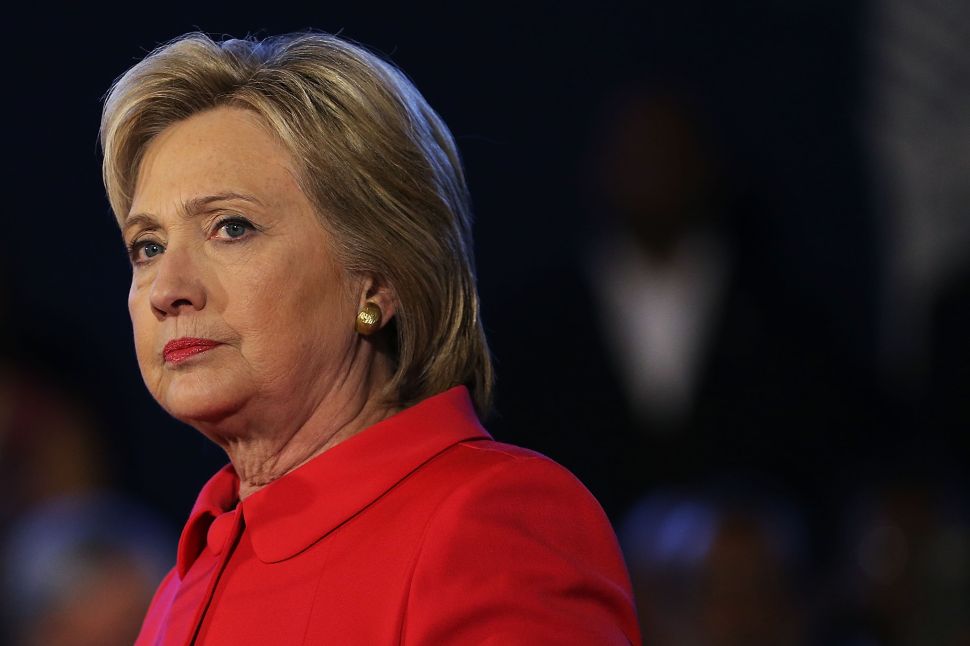 On May 31, Hillary Clinton gave a candid interview with Walt Mossberg and Kara Swisher at Recode's Code Conference in Rancho Palos Verdes, Calif. Throughout the interview, she recycled the same excuses, scapegoats and talking points that she and her supporters have used since losing the presidential election to Donald Trump.
She even cited a new excuse: the Democratic National Committee. "So I'm now the nominee of the Democratic Party. I inherit nothing from the Democratic Party," she said. "I mean, it was bankrupt. It was on the verge of insolvency. Its data was mediocre to poor, nonexistent, wrong. I had to inject money into it." While this might be true, Clinton ignores how the Democratic National Committee was being run and fails to explain why she immediately hired its chair, Debbie Wasserman Schultz, to serve as honorary chair of her campaign's 50 State Program, since she thought the DNC was bankrupt and useless. She claims that she saved the DNC, but her candidacy worsened its disconnect with the party's support base and disenfranchised progressives who were burned by the DNC violating its charter in favoring Hillary Clinton over Bernie Sanders. Her campaign used the Hillary Victory Fund, a joint fundraising committee between the Clinton Campaign and DNC, to boost the DNC's bankroll and launder money to itself, circumventing campaign finance rules and selling out the party's infrastructure to corporate lobbyists and PACs, which were initially banned from donating by a 2008 rule enacted by then-President Barack Obama.
In another segment of the interview, Clinton said she took responsibility for losing the election but continued rattling off excuses and casting blame on others. "I take responsibility for every decision I made, but that's not why I lost," Clinton said during the interview.
In truth, Clinton had many factors working in her favor. The Democratic leadership overwhelmingly supported her candidacy, even before the primaries began. Over half the party's superdelegates endorsed her before a single person cast a vote. Almost every major publication in the country endorsed Clinton in both the primaries and general election. Celebrities endorsed her and campaigned on her behalf. Dozens of establishment Republicans broke with their party to support her campaign. This support gave Clinton and her campaign the arrogant notion that her victory was inevitable. Once the primaries ended, Hillary Clinton was the only person preventing a Donald Trump presidency, and the responsibility in failing to do so lies with her alone.
Clinton also claimed that the mainstream media failed to cover her policies, but a study on the 2016 election conducted by the Wesleyan Media Project found "Clinton's message was devoid of policy discussions in a way not seen in the previous four presidential contests." The study also found that her campaign failed to air advertisements until the last week of the election in the swing states she ultimately lost. Clinton's failure to campaign in Wisconsin is infamous, but she blamed voter suppression and voter ID laws for her loss in the state. However, if her campaign had bothered to show up there, they would have likely overcome these obstacles.
Clinton also blamed the fake news phenomenon. However, an analysis conducted by a Stanford University researcher found that fake news didn't tip the election in Trump's favor. The study found that while fake news was more prevalent in support of Trump, the most widely believed fake news stories were favorable to Clinton.
She also claimed that Trump was manipulating his image on Twitter. "Who is behind driving up Trump's Twitter followers by the millions. We know they're bots. Why? I assume there's a reason for everything. Is it to make him look more popular than he is?" she said. While Trump's Twitter audit score is 51 percent, meaning that roughly 49 percent of his followers are likely fake accounts, Clinton's audit score is even worse: 48 percent. In her criticisms, she ignores the ethical concerns of manipulating news, which her campaign and Super PACs were found guilty of doing. Emails released by WikiLeaks exposed that several mainstream media journalists exchanged access to the Clinton campaign for their independence and often published stories on behalf of the campaign. One of Clinton's Super PACs, Correct the Record spent at least $1 million to "correct" criticisms of Hillary Clinton online. Clinton isn't concerned with fake news; she's concerned with fake news that opposes her.
She mentioned the letter from FBI Director James Comey as a factor that sandbagged her chances to beat Trump. "We thought we were going to win," Clinton said. "I knew that I'd taken a tremendous hit after the Comey letter, and later I understood the role that WikiLeaks played in it. But the Comey letter was measurable. You could see my drop." However, her assumption relies on the same pollsters that grossly overestimated her chances of winning the election. Nate Cohn of The New York Times published an article on May 8 noting that Clinton's polling was in a downward trajectory before the letter was released and actually went up shortly after. Cohn wrote, "The timing of these polls—particularly when they were taken and when they were released—has probably helped to exaggerate the effect of Mr. Comey's letter on the presidential race." Blaming the letter also ignores that her actions warranted an FBI investigation. Yet, she insisted on running for president despite knowing that the investigation would be a liability.
That she gave highly paid speeches at several Wall Street firms was brought up as well. Clinton cast aside this criticism simply stating, "They paid me." Her response ignores the basis for the inquiry, which is that Clinton's relationship with Wall Street hurt her relationship with working, middle class, and low income Americans.
Clearly, Hillary Clinton has not learned from her failed presidential campaign. Her looming political presence will only impede the recovery of the Democratic Party.