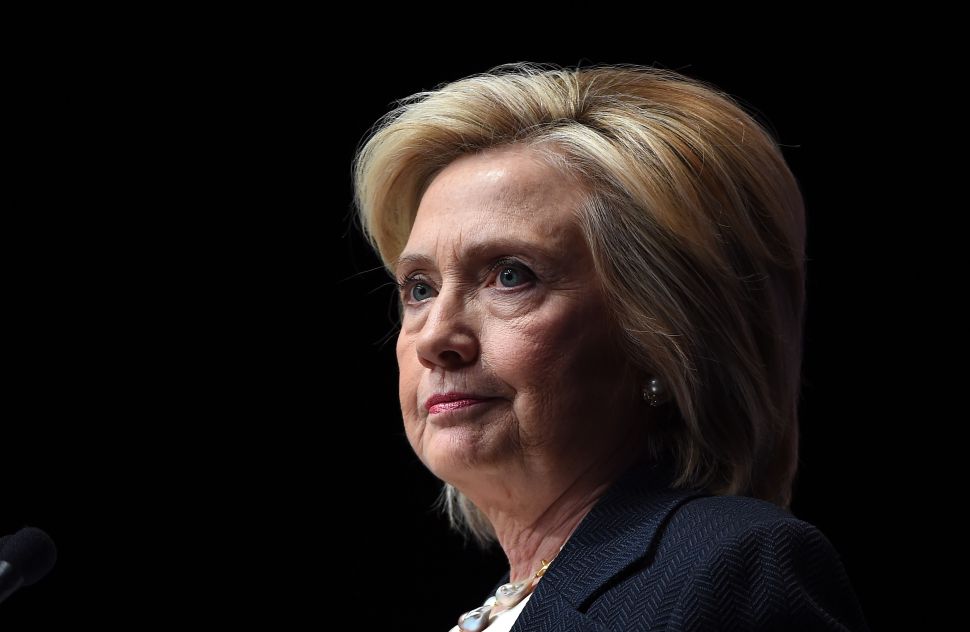 Hillary Clinton weighed in on the Russian hacking scandal during her appearance at the Code Conference in Rancho Palos Verdes, Calif. this week.
It's about time, since her political aspirations were the biggest victim of the Trump-Putin conspiracy to rig the election.
She has finally explained how they did it: with 1,000 Russian agents and bots, in case anyone was wondering.
The criminal activity during the election was especially insidious, because—according to Clinton—the Russians seized control of the minds of low information voters by purveying falsehoods on Facebook and fanning them on Twitter.
She surmises that they never would have known how to control minds of stupid people without an agent who had a visceral understanding of America's political underbelly: Donald Trump.
Sure, the Russians could have hired consultants who polled America's displaced working class to develop strategies to influence them, like her campaign did, but they were smarter than that.
Instead, they teamed with the great hotelier and soothsayer Trump, probably because they had compromising pictures of him, or something.
Hillary tried to warn us during the campaign that there are deplorables out there who didn't know she was good for them. These people were prepared to defy SaturdayNight Live skits and vote for her opponent.
When she identified them and the basket they lived in by name at the swanky LGBT for Hillary Gala in New York City headlined by Barbara Streisand, everyone was surprised that America's political underbelly did not retreat in shame and vote for her.
Because that's how politics works. Candidates call out marginal voters, mock them and their families, scold them for being stupid, and then count on their vote. You don't need Russians to tell you that.
Hillary had access to the person with the best understanding of all of America's political landscape, a man who—even if the Russians published pictures of him doing really bad things—would still carry Ohio by 20 points: her husband, Bill.
He was probably saying, "Hil, you've got to secure Ohio. Just go to a drug rehab facility in Massillon and show empathy."
To which she probably responded, "Do they have an airport?"
That's the problem with deplorables. They don't have an airport or a five-star hotel with a ballroom that your motorcade can speed to after your plane lands to meet with donors. All they have are ice skating rinks and high school auditoriums. And the Trump campaign had already booked those.
Then there was the logistical problem. How was Huma supposed to schedule 15 minutes of empathy training when you're already booked to appear at an endless string of Springsteen, Beyonce, Katy Perry, Jay-Z and Stevie Wonder concerts?
Hillary isn't stupid. She was making her own play for America's political underbelly by betting that they would slavishly follow the preferences of celebrities, just like her Washington consultants told her they do. How dare they break form and follow the bots instead of the Boss. If deplorables are going to make decisions based on superficialities, the least they could do is hitch themselves to the ones she was driving.
Two things about the scandal presently gripping Washington.
First, the Russians probably have people working to exert influence on social media. Pretty much everybody does, even McDonald's.
Second, the Trump campaign had staffers who favored a diplomatic rapprochement with Russia. Why not?
Every time CNN finds evidence of either point, it's presented as breaking news and in somber tones as if the factoid proves that the Trump campaign colluded with Russia.
The problem they have is connecting Russia's bots to Trump's campaign. Because when anyone tries to make that connection they wind up sounding like Hillary Clinton.
As the hacking scandal enters its 11th month, it was good to finally hear from the victim, if for no other reason than to gain her assurance that she was not done in by her own political incompetence, but by the Russians. Now we just need evidence.
Don't worry, in our Constitutional system that's what the House, the Senate, the FBI, the Justice Department and special counsels are for.
The federal government does not exist to enact policies advanced by those whose votes have seized control of the three branches of government.
Instead, Washington is a self-serving echo chamber desperately searching for evidence that proves itself right.
They'll get to the bottom of this.
Thomas J. Farnan is an attorney from Pittsburgh, Pa.